[dropcap style="font-size:100px; color:#992211;"]M[/dropcap]r Big's Eric Martin struts onstage with an electric drill whirring in his hand and, wild man of rock that he is, no health and safety regulations can hold him.
He's not even got safety glasses on!
There's a sudden burst of energy as Mr. Big start their set with 'Daddy, Brother, Lover, Little Boy', and it's not a blown NiCad. It is, in fact, the throb of groove, a great kickstart for a night of bluesy hard rock crushed to pieces by insane guitar and bass shredding!
The first thing that strikes you is how good the backing vocals are, without the use of any backing tracks (which seems to be common practice for some croaking old rock legends lately). The dynamism and the physicality shown by Mr. Big's hardened troopers seem not to decrease. Will they ever get old?
Well, there is a sombre answer to that. Fact is, they have. But they don't let it stop them, or consign the fallen to the scrapheap. Next to the drum kit you see Pat Torpey, jiggling his tambourine and shakers, occasionally playing a minimal percussion setup, as well as delivering backing vocals. Forced by illness to quit the kit, he is nevertheless on stage, graciously described by Eric Martin as the driving force behind the band. It's certainly heart-warming, particularly when Torpey plays drums on the big ballad 'Just Take My Heart' as a one-off.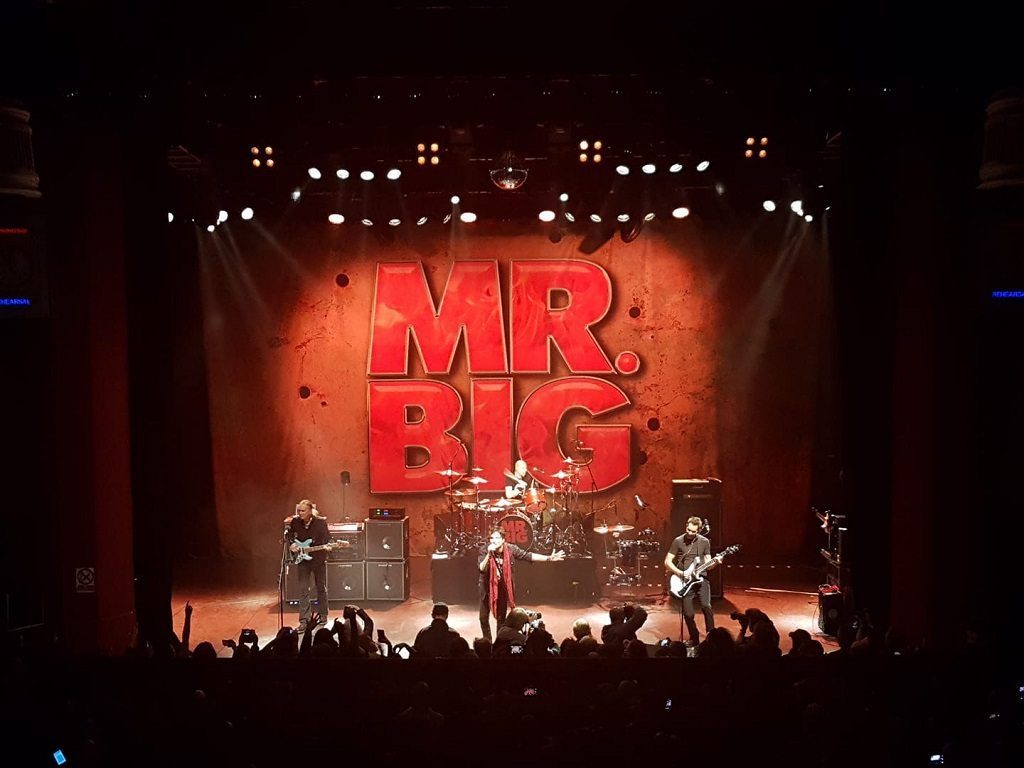 The special thing about this gig is that it features songs that Mr Big's die-hard fans have not been able to hear in one set since the band re-united in 2009. The set consists of tastefully selected songs from the first four albums, as well as 'Wild World' and the acoustic 'To Be With You' – songs that the less rabid fans usually wait for.
Paul Gilbert and Billy Sheean solos are obviously a must for every show. Gilbert's paid tribute to Malcolm Young (who sadly passed away only the day before) by playing the solos of 'For Those About to Rock' and 'Black In Black'.
There was a lot of appreciation for support bands Faster Pussycat and The Answer, as well as a cameo from The Answer's vocalist, joining Eric Martin for a duet of '30 Days in the Hole', His voice added a certain something to the song.
Even if true rockers never grow old, it is possible that they mature a little bit – when the opening chords of  'Addicted To That Rush' ring out, Eric Martin primly explains that 'that rush' is spiritual in meaning.Turns out that it's about love, friendship and sharing, and not only about sex after all. Note the difference 28 years can make.
Mr Big, Shepherds Bush Empire, London, 19 November 2017
Photo by Gultekin Irengun
Setlist
1. Daddy, Brother, Lover, Little Boy (The Electric Drill Song)
2. American Beauty
3. Undertow
4. Alive and Kickin'
5. Temperamental
6. Just Take My Heart
7. Take Cover
8. Green-Tinted Sixties Mind
9. Everybody Needs a Little Trouble
10. Price You Gotta Pay
11. Guitar Solo
12. Open Your Eyes
13. Wild World (Cover)
14. Damn I'm in Love Again
15. Rock & Roll Over
16. Around the World
17. Bass Solo
18. Addicted to That Rush
19. To Be With You
20. 1992
21. Colorado Bulldog
22. Defying Gravity
23. 30 Days in the Hole (Cover)

Meltem is a London-based 'wanderer above the mist', whose biggest passion – a flame that never burns out – is Rock 'n' Roll. She contributes to the magical (for some!) world of Rock 'n' Roll by being a rock singer, a rock musician, and a rock songwriter. She has worked with great rock musicians from all over Europe. Her history as a rock musician consists of multiple rock covers, originals (rock), rock tribute bands and professional recording sessions. Where she dwelleth rock resides.