[dropcap style="font-size:100px; color:#992211;"]B[/dropcap]eing the opening band of three when the audience are still filing into the venue is no easy gig.
It doesn't help when your microphone stops working during the second song of your set. But it takes more than that to faze Scorpion Child, a band hailing from Austin, Texas but no doubt possessing a vinyl collection predominantly closer to these shores and having spent some time expanding their heads. With nods to the 1970s bluesy rock of Led Zeppelin, Pink Floyd and Hawkwind, and headbangs to the 1980s metal of Iron Maiden and ACDC, this was music to shake your flares. A few hours away from Palm Sunday, singer Aryn Jonathan Black floated around the stage – a vision of an emaciated, sweat-
drenched Jesus, while the guitarist grooved like a retro pimp.
As the night wore on, the crowd and the bands turned heavier, in both senses of the word. Orange Goblin stomped on stage with assured aplomb – the fabulous furry freak stoners with attitude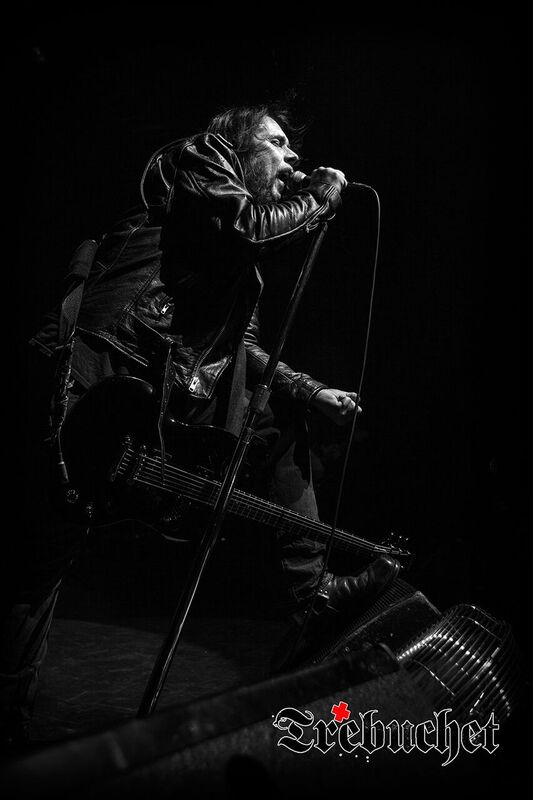 and featuring Cousin It on bass guitar. Having edged away from the doomier side of stoner rock, they tend to the more accessible side of the genre. With a list of influences as long as their well-conditioned flowing locks, from metal to rock to hardcore punk, they retain the obligatory lyrical references to Satan.
Having experienced both Christ and the Devil in the space of a half an evening, only God-like rock creatures from outer space would satisfy the baying crowd and our souls were ripe for the taking by the much-anticipated headliners, Monster Magnet.
The support bands had banners but Monster Magnet had a projector. Bigger, louder and just plain madder, they pillaged their back catalogue with the driving enthusiasm of a far younger band but the swagger of a truckload of corporate rock bastards squishing all those in their path.
They led us back to those 1990s days when grunge had given way to more metallic yet danceable hard rock not merely encompassing, but wholeheartedly embracing, the sleazier and stereotypical rock 'n' roll clichés. From beer to eternity.
Photos: Carl Byron Batson. Not to be reproduced without express prior permission.

Photographer, published poet, former party animal, body builder, grave robber
to the stars and renowned chainsaw juggler, Carl can often be spotted on his
Harley Davidson pretending to be in Terminator 2. He is also frequently seen in
the press pits of old London town, camera in hand, avoiding being hit by bottles
of wee and crippling his opposition with secret Kung Fu moves.