[dropcap style="font-size:100px; color:#992211;"]W[/dropcap]ith the domestication of vandalism or the obscenity of households, the writing is on the wall.
A thick and tangy smell of paint. That's what I first noticed as I walked into Lazarides Gallery off Oxford Street. Not a huge surprise, being an art gallery and all. However this was no heady oil paint or sweet and subtle watercolour. This was the blended stench of solvent, ink and PVA, and it filled me with memories of a misspent youth. This clearly defined and overpowering odour could only mean one thing. Dollhouses.
Whether or not this was intentional, the strong aroma of glue and plaster of Paris made this exhibit multi-sensory and childlike. There's nothing like noxious chemicals to stir my cerebellum.
The pieces were small scale representations of household scenes: a hearth, a bathroom; a doorway. Each had it's own cornucopia of graffiti decorating the scene. The graffiti pronounced metaphors and cryptic critiques which centred on a range of themes concerning waste, vice and disillusionment. The friezes depicted empty spaces, often mould ridden and with an air of abandonment. They made me think of dejected squats and derelict buildings.
My first and last question was therefore quickly established; was the artist making a statement about the beauty of graffiti or the tragedy of disuse? Perhaps Miranda Donovan was drawn to the symmetry of both concepts, a stigmatised anti-social product alongside a destructive societal oversight. We ignore the empty buildings but we pay attention to the vandalism of them.
The canvases for Donavan's colourful and poetic declarations were dollhouse like scenes. They had wonderful attention to detail, often with rust and mildew abusing the ornate interiors. Some were inviting, signatures of home life that were left understated. A lone chandelier hung within 'Voguish' symbolizing a room of opulence, a place to be charmed. The lights were now out and the walls were layered with giant curved letters and tight sharp scribbles. Illustrating how the scenes impressed upon you, making you see them as they would be when life-sized. Yet the choice to make these as microcosms of life, was pivotal to Donavan's message.
The curating of the works was also vital and very tactfully done. The placement of the pieces Shabby Chic and Identity caught my attention powerfully. One shows a room that had been covered with graffiti and then whitewashed to remove it. To its left was a chavtastic piece of branding vandalism, with Coco Chanel wallpaper and an Apple fridge. One depicts the removal of illegal art whereas the other shows the display of corporate graffiti, brand licensed tagging that encroaches in our homes and private lives.
The majority of the works reflected a cause and effect process, a social issue and the compounding effect it has on the home. Grub's Up was a kitchen frieze with graffiti of two pigs eating from a trough above the counter. Tags reminiscent of a serial killer decorated the kitchen drawers: 'feeding frenzy', 'greed', 'sloth' and 'more'. The harrowing use of tag script was also employed strongly in Overload, where a fireplace housed enough alcohol to get a Scottish army drunk. Tags saying 'we were happy', 'lived a lie', 'joke' are overwhelmed by the authority of the 'Repossession' stamp. The loss of the home due to overindulgence in vice is a story we all know but is told thoroughly and vividly at this exhibit.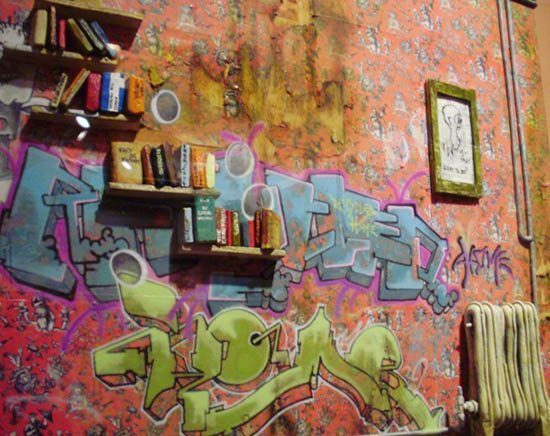 A plurality of voices vied for existence within the pieces, I couldn't be sure if some works were a diatribe on ecological issues, squatters rights or our wasteful nation. Waste was a larger piece that seemed to sense my dilemma, as the pipes within it wound and wove to unknown directions. A maze of metaphor. Nevertheless, the mystery was enjoyable. Delving into the works to make out a tag or zooming out to decipher the larger letters, it was exciting to find the clues for what a scene's message truly was.
On looking at the exhibit in it's entirety, it would appear to have a curving narrative. Altogether the pieces made more sense, showing an artist who is bearing bigger concepts in mind. What I took from the exhibit was the expression of society wasting, misusing and overindulging and then ignoring the consequences. Not wanting to read what's written on the wall.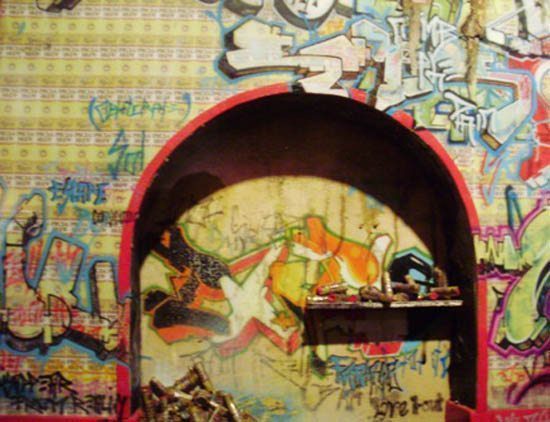 Graffiti as art is not new to the Lazarides Gallery, often revered as the place that "found" Bansky. Furthermore it is definitely not a new medium to Miranda Donovan, whose work has specialised in the art of social decay juxtaposed with affluent architectural design.
The fashionableness of these art works is partly due to the contained and safe expression of them. The pieces depict socially accepted vandalism since they are more like toys than actual life. I have to admit when I first heard of this exhibit I was looking forward to seeing whole walls covered in graffiti. Real bricks and real toilets smeared with statements like 'the power of now' and 'disappear from reality'.
Despite the games workshop style in which it was achieved (one piece looked like a model my brother built for his World Of Warcraft convention), Donovan produced a dark social commentary, micro-machine sized. She gave the urban home free rein to express disgust and contempt at the avarice nature of its occupants. Even plants became vandals here, any form of life and fruition intruded on the purpose of the room, to be lifeless.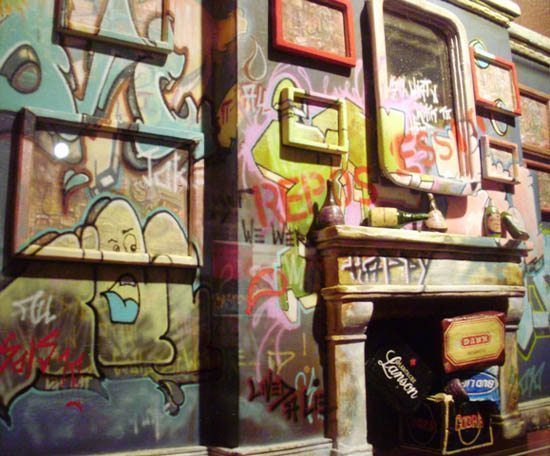 These dollhouse murals of indignation were both whimsical and poignant. Many of the paintings were sold the night I visited and quickly too. It made me think of that tale about The Elves And The Shoemaker. Instead of course the elves wore hoodies and low slung jeans and the shoemaker was an up and coming artist. Nevertheless the angle at which the graffiti was painted and the detail of some of the work made me seriously consider the use of ASBO pixies. The reek of the fresh spray paint even made me think the elves had only just scarpered from their antics. A sign of a true artist is when their audience doesn't realise or care that they are hallucinating on paint fumes.
Overall, The Home Unleashed is a great expression of civilisations frailty. It raises issues about excess within the home and ignorance without. If nothing else is accomplished by this exhibit, let it be said that London's most posh and elite class of art lover gathered together to closely examine graffiti covered urinals.
Lazarides Gallery, 24th Feb – 23rd March
(Images copyright Ruth Carlisle)

Ruth currently works as a creative administrator within the arts sector and writes an interactive e-novel called Beyond Pages. Her illicit and dangerous affair with London involves white cubes, free bars, site specific cabaret and experimental performance art. Ruth's main academic and journalistic interest is festivals, having worked at Glastonbury, Reading, Latitude and Canterbury Fringe.
A burner with an eclectic taste in music, Ruth Carlisle was recruited to write music reviews for Trebuchet based on her grudging respect for doom metal and deep love for progressive art punk.
Follow her on twitter – @ruthieless_c