[dropcap style="font-size:100px; color:#992211;"]T[/dropcap]he Meat Puppets are one of those inspirational bands that took the morass of punk and brought to a creative level in excess of it's originals.
Beset by turmoils personal and popular indifference they've struggled though to get to other side.
Influential underground darlings until Kurt Cobain featured them and their twisted country on Nirvana's MTV Unplugged performance to widespread interest and critical acclaim. Notoriously difficult to pin accessibly within the country/folk genre, the Meat Puppets are probably more akin to Captain Beefheart than Neil Young, strange guitar figures circle about, seemingly aimless but then suddenly reaching a soul-stirring crescendo that strikes deep (see the final section of 'Plateau').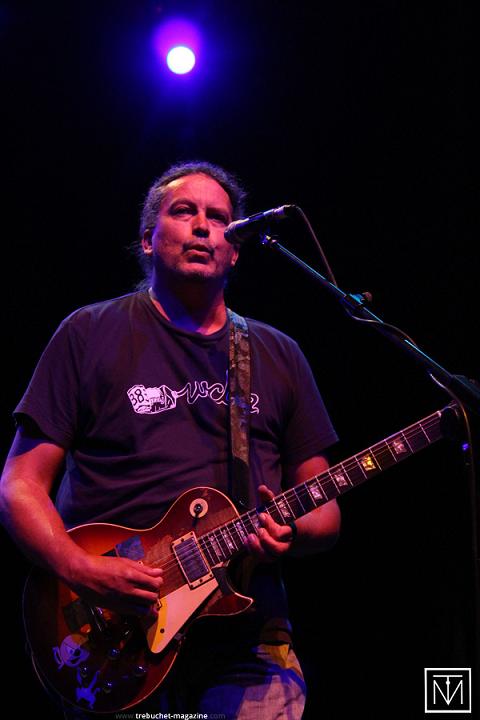 Just as strong acid results in moments of extreme clarity, the music of the Meat Puppets often swings dangerously close to the hard shoulder before zooming straight ahead as the road seems to bend with the traveller.
Stories abound of the brothers Kirkwood's prodigious appetite for drugs, however none of these excesses seemed to have diminished the quality of their recordings which never wavered from  worthwhile  – where somewhere on each record the listener can find real inspiration without needing to search around.  Would the same weird glory be found onstage?
Plagued with some instrument troubles the youngest Kirkwood, Elmo (son of Curt) had trouble getting his guitar in tune. However, unperturbed, the elder Kirkwoods languidly rolled into a short best-of set that included the Nirvana-approved tracks from their second album.
Trippy and meandering as the hastily recorded studio version of themselves, live, the Meat Puppets just about delivered the goods musically. Curt only really took off during 'Plateau' and 'Lake of Fire' and Elmo was often so low in the mix that you couldn't hear what he was playing most of the time. Chris was the real star of the showing, bringing a vital energy as he rumbled, gurned, and brought a much needed moving focus to the performance.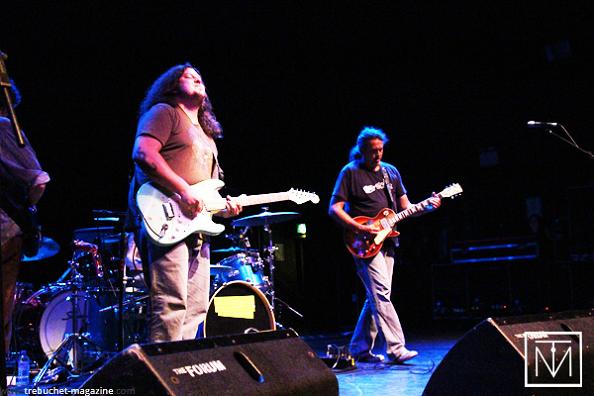 In the final estimation there were moments of electrifying brilliance at this show. However, in the main the set played out with a quiet restraint that didn't do the songs much justice. Technical issues perhaps. In the past the band has suggested that they like to annoy audiences and play with expectation. Perhaps 'Sloop John B' was aimed at such a response, however it appeared that with exception of Cris, the band wasn't really moved to be moving.
Last word. The Kirkwood brothers are the alpha and omega of what great music is all about. I'd have a beer with them any time.
Setlist:
The Monkey and the Snake
Touchdown King
Plateau
Up on the Sun
Comin' Down
Oh Me
Sloop John B (The Beach Boys cover)
Lake of Fire
---
The Meat Puppets played The Forum in London on June 8th. Yeah, we know it's been a while.
Photos by Kailas Trebuchet