[dropcap style="font-size:100px; color:#992211;"]I[/dropcap]n Part 1 of our Lydia Lunch interview the Dada priestess talked to Trebuchet about America.
In Part 2 we get a little trashier, into her collaborations and the gossip within indie rock. If Part 1 set an evangelical tone then consider this a more grounding experience in the prurient nerd knowledge and jibes against the person that belittle and thrill in equal measure.
Read on, MacDuff.
---
Trebuchet: Tell us about Retrovirus and Big Sexy Noise.
Lydia Lunch: Well Retrovirus is a retrospective of my career from 1977 onwards and Big Sexy Noise is what I do now.
Retrovirus started about a year ago when I was asked to write the introduction for a book called Ripped – a book about t-shirts (I hate T-shirts, I never wear them). I decided to write this intro for a book on DIY t-shirts. The fashion institute of LA was having an event on the t-shirts. I wanted to do Big Sexy Noise, but the American situation with work papers is so complicated now, I said I'd just put something else together. I decided on Retrovirus.
I had worked with Algis Kizys who had worked The Swans before Foetus (he's amazing) and Bob Bert, drummer from Sonic Youth, Pussy Galore etc. He's just one of my long term friends, and Weasel Walters, a man for the job as he knew my material so well. We had so much fun and so we decided to continue. And there you go.
Big Sexy Noise has been going on for quite a while. We've got a new release coming out soon. It's a double album, a studio album called Trust The Witch which was recorded, came out for two weeks last year and disappeared immediately. The other is a live record of the band as a three-piece.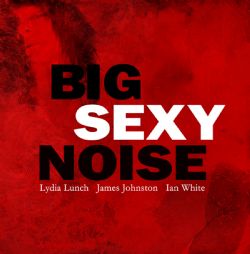 Trebuchet: and you've worked with Eugene Robinson of Oxbow.
LL: Eugene is like my brother. I tell people that when we're together. If you knew what I look like it'd be him, and if you knew what he looked like it'd be me. I love Eugene Robinson. Eugene and I did a collaboration with Phillipe Petit called Strings of Consciousness. I don't know else anyone who laughs like a girl but can choke you out in two minutes or less.
Trebuchet: Eugene wrote a book called Long Slow Screw that has the same name as a Swans song. Story goes that Eugene rang to run it past Gira and Gira didn't say a word, just slammed the phone down.
LL: Sure, he's an asshole. You can be as bitter and as brutal as you want but you have to really know who is not the enemy. That is what is most surprising to most people when they meet me, that I'm really nice. I love to encourage people. I never insult my friends, I'm never mad at anybody, I don't care. On top of not caring – you want to be an asshole? Be a fucking asshole! That's fine, I don't care. But there's a few people that just have to torture everyone.
[quote]If people need a
hug they should
have a hug,
no biggee[/quote]
It's not my friends, it's not people that are talking to me, it's not people that have interest in what I do, it's not my fans. My fans come to me and they need hugs. If you ever stick around after one of my shows the amount of hugging that goes on is insane. I'm Mother fucking India! If people need a hug they should have a hug, no biggee.
I like to make people feel good. Hang around with me alone for five minutes doll, and I'll show ya how nice I can make ya feel. Y'all never have felt better in yaw fucking liiiiiiife!
It's all part of the addiction.
Trebuchet: There's a YouTube clip of you talking to Joe Rogan….
LL: I'm sure there is. Has he become Buddhist now or something?
Trebuchet: Actually, he might be.
LL: Wow! I was only joking. How did I guess? Look he just got a bit riled because he didn't like the fact that I told him that we shared some of the same attributes, and he wanted to confront me about that.
Trebuchet: It did escalate quickly.
LL: Let him go, the little puppet. His five minutes of non-fame doesn't… I don't even care. Who cares? His five minutes on YouTube out of 54 years of my fucking life. Joe fucking Rogan and his Buddhist bullshit. Fuck off. Jujitsu this, bitch. One bullet – enough said.
Trebuchet:  Bookslut ambiguously concluded of you: "It's to the reader to determine whether Lunch's study goes deeper than that, or if instead, it's a kind of literary and philosophical repetition compulsion, a reprisal of greatest hits from male nihilists, sexual adventurers and chroniclers of deviance."
LL: I like that. What's wrong with that? Why do I have to go deeper, is that not enough? Read between the fucking lines, why should I have to go deeper – who goes there? It's for the reader to decide. They're assuming there's a greater dogma underneath all of it, a point that I'm only hinting at. I don't really understand what they're looking for.
Trebuchet: A philosophy perhaps.
LL: May I recommend Philosophy in the Bedroom by the Marquis de Sade, or Dialogue Between a Priest and a Dying Man.
Actually, de Sade was very important for me to read at the age of 12 or 13, and it was the philosophy, not the racier material. It was the fact that, incarcerated or not, he was going to do what he was going to do. Those pages had to be smuggled out. The fact was that the disgustingness of the bourgeois had to be illustrated, and he was going to do it. I think people take what he wrote too personally, they don't take it in a greater social context. They always accuse him.
They don't see the poetry, they don't see the philosophy.
---
Part one of this interview with Lydia Lunch can be found here.
Big Sexy Noise's Collision Course/Trust the Witch is available from 28th October from Cherry Red Records
[button link="http://www.cherryred.co.uk/shopexd.asp?id=4328″ newwindow="yes"] Cherry Red Records/Big Sexy Noise[/button]
Big Sexy Noise, Fat White Family, Broken DC | Wednesday, October 02 | 8pm £11, adv £9
Lydia Lunch and Gallon Drunk's band BIG SEXY NOISE
RAUNCHY ROCK FOR THE ROUGH ROAD AHEAD! BIG SEXY NOISE was bound to happen.
From Hangover Hotel and Smoke in the Shadows to the most recent multimedia performances of Real Pornography and The Ghosts of Spain, the three rabble rousers (known collectively as Gallon Drunk) have in a series of ever morphing configurations collaborated with Lydia in creating psycho ambient sound scapes in the service of propelling forth spoken word exorcisms in her decades long prophecies of societal collapse, moral bankruptcy, and global corruption.
And according to the No Wave Nostradamus herself "It's time to stop complaining, quit your crying and embrace the coming End Times. Let's fucking rock."