[dropcap style="font-size:100px; color:#992211;"]M[/dropcap]elbourne band Teenage Mothers were in fact neither.
Their lyrics however were very much teenage pseudo-angst poetry.  You know what I mean: "my girlfriend's left me and I want to kill her" type of thing.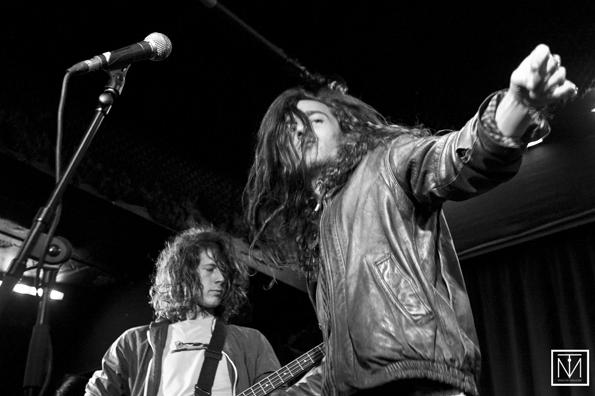 But just as I wished that they'd stayed on the other side of the world and become obsessed with Dungeons and Dragons rather than guitars, they surprised me with a catchy pop punk number, "Mother Satan".  Apparently the recorded version is produced by Jim Sclavunos, no less, although to my mind the song works better live. The lyrics were as cliché as before, but at least my toes were tapping.
Hot on their heels were three piece, Comanechi.  It's difficult to believe that frontwoman, Akiko Matsuura was at one time also their drummer.  Some people really should not be stuck behind a drum kit.  Wearing so much facial glitter it's a wonder her tiny frame didn't collapse under the weight of it all and sporting a tight black bodysuit, she flung and twisted herself all over the stage as if made of rubber.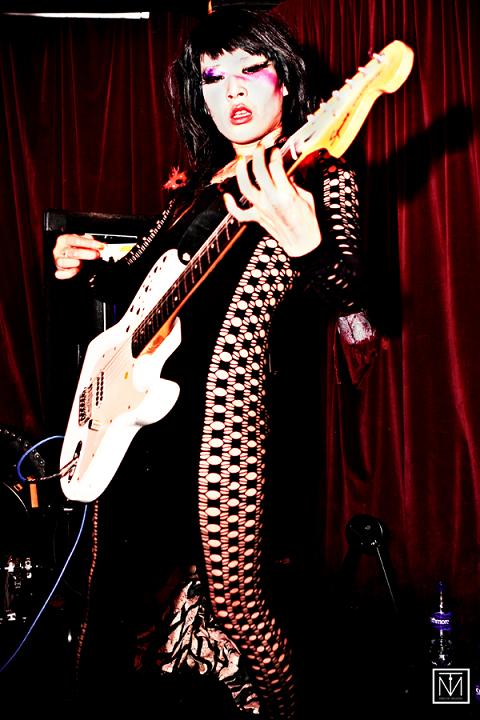 With vocals at times reminiscent of the late, great Poly Styrene, the music was impossible to pigeonhole.  Just as one thought: "This sounds a bit like Bikini Kill," it would switch to some dark doom laden metal riff.
Lofty guitarist, Simon Petrovitch made use of his extensive array of pedals and "is he old enough to get served at the bar?" drummer, Charlie Heaton held it all together with a tight and energetic performance on drums, but the crowd couldn't tear their eyes away from Akiko as she tore through them screaming, "Don't touch me, I'm disgusting!" and recruiting new fans by the score.
The Borderline was full to capacity by the time Lydia Lunch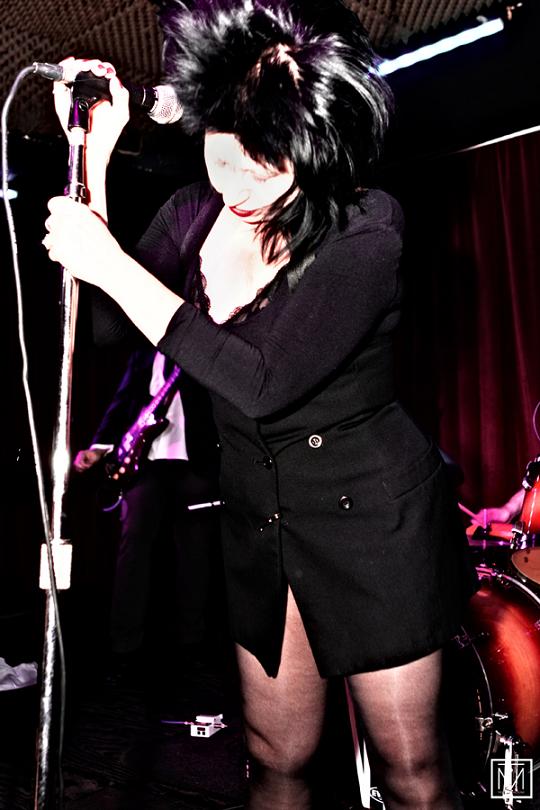 entered the stage with her band, Retrovirus.  Featuring Weasel Walter on guitar, Algis Kizys (Swans) on bass guitar and Bob Bert (Sonic Youth) on drums, this was more of an alternative super-group than a backing band.  Although no longer resident in New York, Lydia Lunch is best known for being a fundamental cog in that city's "No Wave" scene back in the late 1970s.
Tonight's set worked fairly chronologically through her work from 1977 onwards.
Of course it was everything you would expect it to be – well rehearsed, authentic, moody and dark.  As a documentary of alternative American sounds it worked well, and of course the audience were already converts.
But surely the whole point of No Wave was to challenge the musical norms at the time and break boundaries.  By its very nature, it was meant to be provocative and short-lived.  It was never meant to be a museum piece in a retrospective over three decades later. Musically there was little to criticise, but there also seemed to be little by way of progression.  As a history lesson, it was a success. But there was no glimpse of the future.
Lydia Lunch opened by stating, "Retrovirus – you either get it or you don't".
I've never seen the point in nihilism.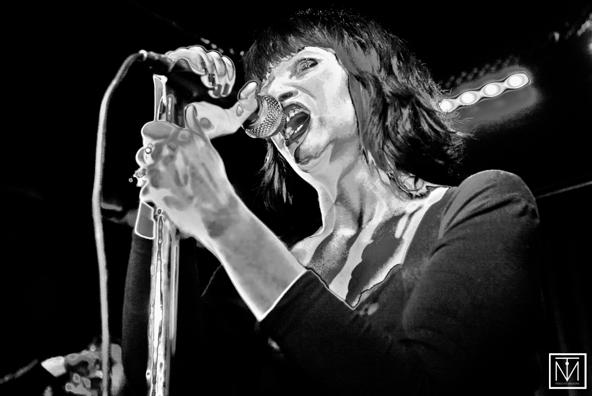 LYDIA LUNCH + COMANECHI + TEENAGE MOTHERS
BORDERLINE, 19 AUGUST 2013
Photos: Copyright Carl Byron Batson (not to be reproduced without the photographer's prior consent)