[dropcap style="font-size:100px; color:#992211;"]G[/dropcap]ot any jungle in, guy?
Go on. You're big enough and clever enough to know the difference between the halcyon glow of rave-survivor nostalgia and the enduring appeal of a genre that was and is legit whatever the decade.
---
Soundcrash presents a night of heavy beats and basslines with…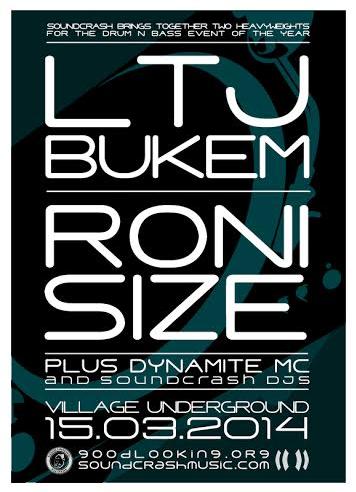 Soundcrash return with another night of bass, following a sell out the last time around, legends of the Drum and Bass game LTJ Bukem and Roni Size are back for round two! This time the two will be gracing the Village Underground sound system with the best of the jazz and hip hop influenced D'n'B that these Maestros have to offer.
Emerging out of the late 80's as a DJ, LTJ Bukem discovered his passion for drum and bass when exploring the realms of jazz fusion. So it's natural that when Bukem's career as a DJ progressed in the early 90's and he found himself delving into the studio, it was these frantic breakbeats in tandem with the melodic, yet almost awry basslines of jazz instrumentation that informed Bukem's creations, developing a progressive and textured sound equal parts anthemic and tranquil.
The album was entitled Logical Progression and marked Bukem as an innovator, a tag that has stuck through his work on his own esteemed Good Looking Records imprint, and still bears strong today as Bukem continues to DJ extensively across the globe under his 'Progression Session' banner.
Bristol native Roni Size is one of the U.K. jungle scene's most respected names, with production credits spanning dozens of labels, projects, and releases. Although not as quick to rise to acclaim (either critical or popular) as peers such as Goldie or LTJ Bukem, Size's influence as a producer, label owner, and committed underground magnate figured him as one of the emerging sound's true pioneers.
The breakout success of his debut album New Forms (including Britain's prestigious Mercury Award) finally confirmed his stature and vaulted him to a greater degree of popularity than any other drum'n'bass producer. It's safe to say that there is no possible chance of you leaving The Village Underground disappointed!
Line-up: LTJ Bukem + Roni Size
Date: 15th March 2014
Times: 10pm – late
Venue: Village Underground
Tickets: EarlyBird £15.50, £17.50
The aim of art is to represent not the outward appearance of things, but their inward significance. – Aristotle