[dropcap style="font-size:100px; color:#992211;"]A[/dropcap]dvanced music and powerful dynamics, Austrian three-piece Mother's Cake are set for big things.
With elements of Rage Against the Machine and dollop of 90s melodic grunge they're at a pivotal stage where bands either become big or become footnotes. Talking to Trebuchet after their clamorous European support slot with Limp Bizkit, they're already playing to big crowds, but what do they make of it all? Where does it go from here?
Sprawled on couches and ramshackle chairs in a Brixton Academy dressing room amongst the press teams and management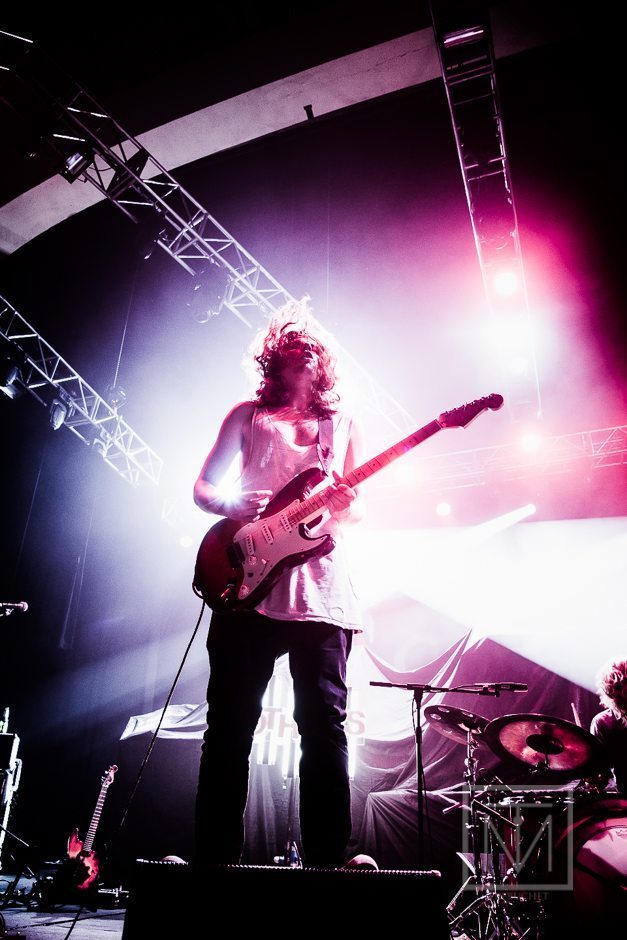 cautioned not to smoke, three tired musicians awaited the barrage of questions. Up close Yves Krismer (Guitar Vocals), Benedikt Trenkwalder (Bass) and Jan Haußels (Drums) are quite young looking and, having played for almost a decade in various groups and guises, have earned a maturity when it comes to how they make music.
This is continental rock, confident in itself, sounding good, but with a hesitance. This is England. Is it really Ground Zero for wider careers? We often forget the access and range the English language affords. The language of record companies, international tours and musical history, is the lingua franca of 'next level'.
But is there a level 2 for this band, and if so, how are Mother's Cake going to make their future for themselves? Does the answer lie in the past?
"We started in 2009. We just met and started to jam. We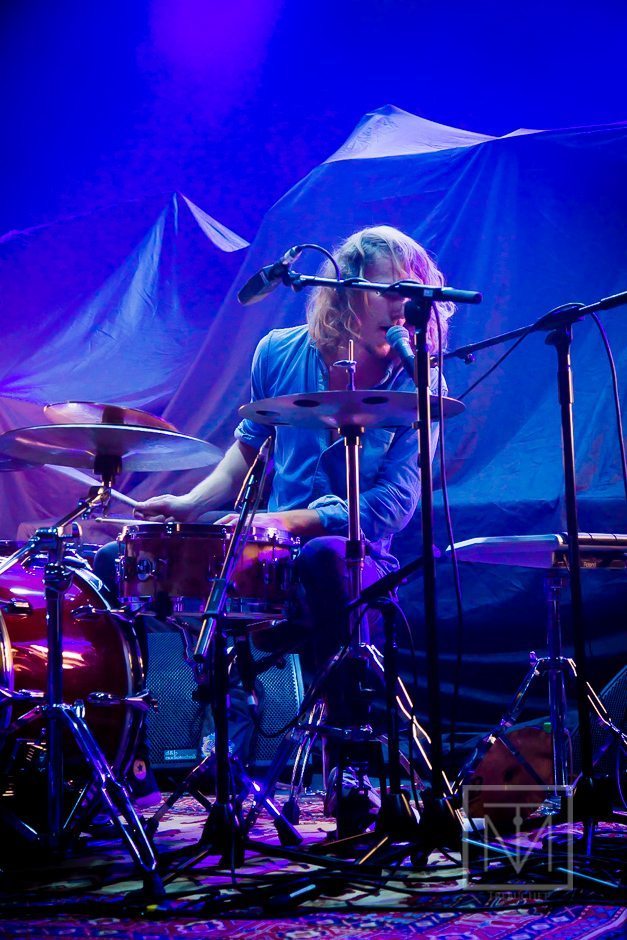 didn't have lyrics until around 2013. We did sing before that but it was a fantasy, like Sigur Ros, but the crowd wanted more. It came to point where we had to have lyrics.
I think we are now in stage where we are changing how we write songs. We don't have an idea how we'll do it, but we're trying different things.
The first record was jamming. We jammed a whole lot, it developed over almost two years. So the second record (Love the Filth) came from that. We worked it out at home and then pre-produced it and worked it out together in the rehearsal room. The third we're working on is where we're trying to work out what we're doing. The other records had a selection that we liked and we put them on the record and hoped for the best With this record we want to make a record that fits a mood or fits a style (as a whole).
When you are three people everyone has to do as much as they can. You don't have a guy in the back who's just plodding along or whatever, playing one note every half hour.
On the other side, what makes us love playing in this band is that all of us have so much space to do different things and to play to the max.
But now we are having fun reducing ourselves and minimising what we do, getting older and all that shit (laughs). But it's fun trying to reduce."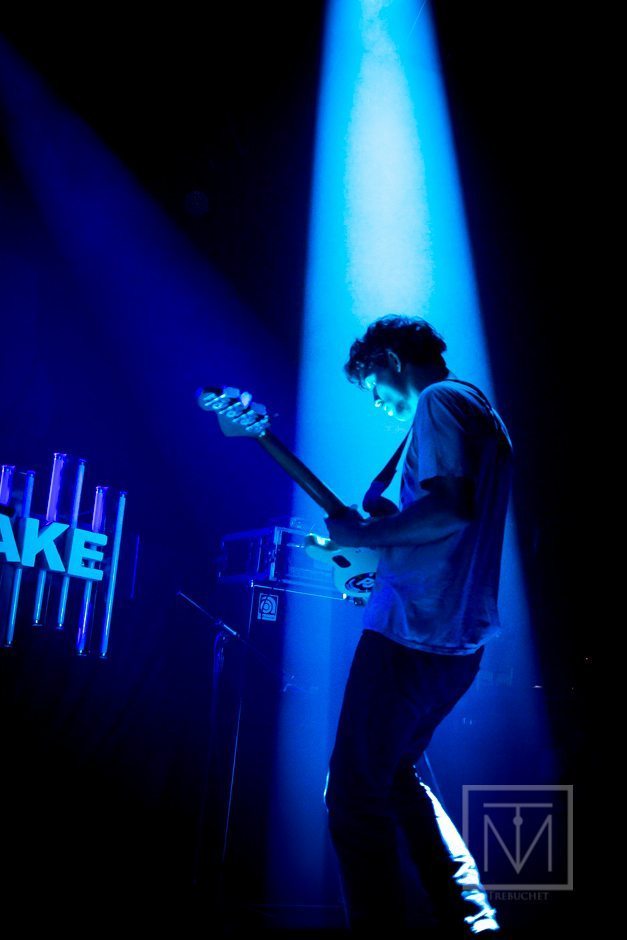 Great warbles of noise, huge strokes of sound painting sonic abstraction. All with a syncopated drum and bass (not the dance music) workout. The vivid colours of earlier work have been tempered with a force. The change is subtle, and suggest a move to becoming something else. Perhaps more psychedelic?
"No, actually we're getting harder. The first record was way more funky. We're a modern hybrid band I guess. With Filth there is a concept there in some way but it's really just about the concept of filth. It's as simple as that (or not). Gojira is basically a big lump of filth but is also lovable, so… love the filth.
It's super basic for us. Love being dirty. Loving sounding dirty. Not everything is supposed to be perfect. Especially on stage.
It's the x factor!"
In 2010 Mother's Cake won a national music competition called Local Heroes Austria. Propelled into a wider field of attention (not least for the competence of their individual members, who won commendations for their talents) they released their debut Creation's Finest in 2012. Yans and Benedikt's previous band Brainwashed was rumoured to have toured with bands like Le Tigre and Velvet Revolver and, no strangers to the peccadilloes of the road, they can recover the situation when things go south.
"People love it. We've had plenty of shows where we played it pretty perfect but people didn't really move. But then we've had other shows where it was a bit weird and people preferred it. Take tonight for instance, when the bass monitor died. It added something to the show, everyone gets super focussed when something like that happens. If you commit to the filth then you can have a good time.
One time the bass effects stopped working completely, so he just had a clean channel, but it was at a festival so we had to do it. So we played about one note and the drums fell off the riser! Everything went wrong but people really got behind us. "
Mother's Cake's performance before Limp Bizkit was strong. Despite the equipment issues they played a solid set, jumping on monitors, drawing our the drama of slower passages, and by the applause, winning a few new fans.
The album's out in October (Love the Filth October 16th), we've got a tour going, perhaps, but we can't speak about it too much at the moment.
We're also working on film project with Austrian TV called Artists in Residence and we're making this Spinal Tap-influenced mockumentary. One on level we're basically just playing as a band, but we have a character called Johnny who is this 80s rock guy stuck (hilariously) in the past. He's actually a friend of ours from California so it doesn't sound fake. He's like super stuck in the 80s and trying to finds the rock and roll in Austria. That's coming out in September. People will be able to find it on YouTube. Also, we have a live record out called Off The Beaten Track which is basically Creation's Finest but played very differently live. It's also on YouTube. It's about 45 minutes long and has a bunch of guest musicians on it.
Normally live in between songs we continue the structures and take it somewhere else. Supporting, we weren't able to do this. But on Off the Beaten Track you get to hear some of things that we do. For instance we had Ikey Owens (Isaiah Randolph "Ikey" Owens) playing with us, who played with the Mars Volta and also Jack White. He died unfortunately of a heart attack. But he's on our first record.
Discussing the videos, movies, and tour footage they've released, it sounded like Mother's Cake was interested in the visual aspect of performance. When they're headlining I wondered whether they put on more of a show?
If the tour sells well we bring a lot! We always have a show in Innsbruck where we live, where we try and do something special. At one gig we had an elephant, sometimes we have a giant vagina and we all come out of the vagina.
(Making the Gojira video) We came together on that idea but the one before also had a successful video ('Soul Prison'). In that video we captured the idea in a day and luckily we found a room in a disused building that had all the different furniture. We started to put it all on the roof and paint it all white. It all happened in one day. Off the Beaten Track we also did together. Our thing is to get people thinking 'What the fuck?!'
Photos by Kailase Copyright 2015.
[button link="http://motherscake.com/ " newwindow="yes"] Mother's Cake[/button]
Live shots from Brixton Academy gig