Previously unreleased film score from critically acclaimed contemporary composer Clint Mansel (Pop Will Eat Itself)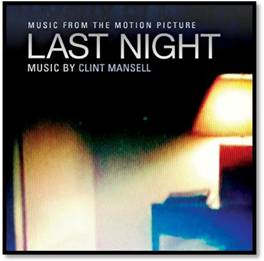 Music From the Motion Picture Last Night – Released April 16th 2012
"Like the finest writing I've read, Clint's music grips unexpectedly and stays with you as long as it does in exactly the same way. Clint provided tone, shading, pacing and the indefinable otherness only music can." – Massy Tadjedin (Director)
One of the world's most exciting modern composers, Clint Mansell, is responsible for the creation of a plethora of epic and celebrated film soundtracks, including Requiem For A Dream, The Fountain, Black Swan, The Wrestler and Pi, through his lifetime collaboration with groundbreaking film director Darren Aronofsky.
Mansell's soundtrack to the 2010 romantic drama 'Last Night' has been unavailable until now, and this original recording of the sought after film score provides a legion of fans a chance to appreciate his emotionally charged compositions all over again in a different context.
The beautiful, piano-driven score (featuring the widely familiar end credit song 'Final Movement' with vocals by Peter Broderick), can be appreciated as an enhancement of 'Last Night's' scenes and script, but stands alone as a masterpiece in itself, to be enjoyed by dramatic cinematic music lovers around the world for years to come.
Stay tuned.
The aim of art is to represent not the outward appearance of things, but their inward significance. – Aristotle