[dropcap style="font-size:100px; color:#992211;"]P[/dropcap]aying out the considerable fee now attached to new music releases on vinyl encourages, perhaps ironically, a more selective approach to one's listening pleasures.
It's expensive, dammit. Buying recordings on vinyl demands a certain commitment, it's not cheap and there's a physical product cluttering up your otherwise pristine living environment. A record is for life, we should note, not just for Christmas. Certainly, the tactility of the medium has its rewards, as does the larger format artwork, but at twenty-five quid a unit, the music needs to be bloody good.
Nitin Sawhney's Live at Ronnie Scott's is that rare thing – an album that you know is going to be worth it, but isn't a legacy reissue from the usual crew of bestseller behemoths. Sawhney's compositions are difficult to categorise at the best of times, but the limitations (or strengths, you could argue) of a live setting and restricted number of bandmates dispenses with a number of descriptors usually associated with him. Cinematic, this performance is not. Nor does it feature tape loops, orchestral samples or any of the post-processing effects and techniques with which Sawhney might more habitually tinker his compositions.
What we get instead is an intense and focused live performance, much of it channeled via the technically exact vocals of Nicki Wells in a variety of languages. Along with the languages, the musical patrimony of various cultures is touched upon, with western pop-rock, flamenco, fado, blues and beatbox interwoven into the recurring rhythms and melody of raga. Or that could be the other way around. Regardless, western pop song structures underpinned with the insistent expression of tabla percussion is an intoxicating combination. When joined by Ashwin Srinivasan's breathy Bansuri Flute figures there is a hint of Ian Anderson hovering in the soundfield. That in itself feels like an ourobouros of reference, given that Anderson's flute lines mirror the cultural appropriation of all things Indian to late '60s rock, so whether Sawhney is referencing Anderson's referencing or whether he's even referencing Anderson at all… is a matter of guesswork. Regardless, it's very nice.
It's also exactly the sort of minimal, acoustic, mildly jazzy live recording that screams to be put onto vinyl. Digital recording and mixing make for a product that can't truly be called analogue, we know. Nevertheless, there are some recordings which feel more analogue than others. Seven musicians on a stage in Ronnie Scott's is a setup that offers enough detail for the ever-delightful sound separation of vinyl to project to the listener, with a distinct sonic 'space' between the instruments and voices. The mastering is warm, the grooves generously spaced and the recording (an aggregated series of cuts recorded over three separate live sessions at the venue) flawless.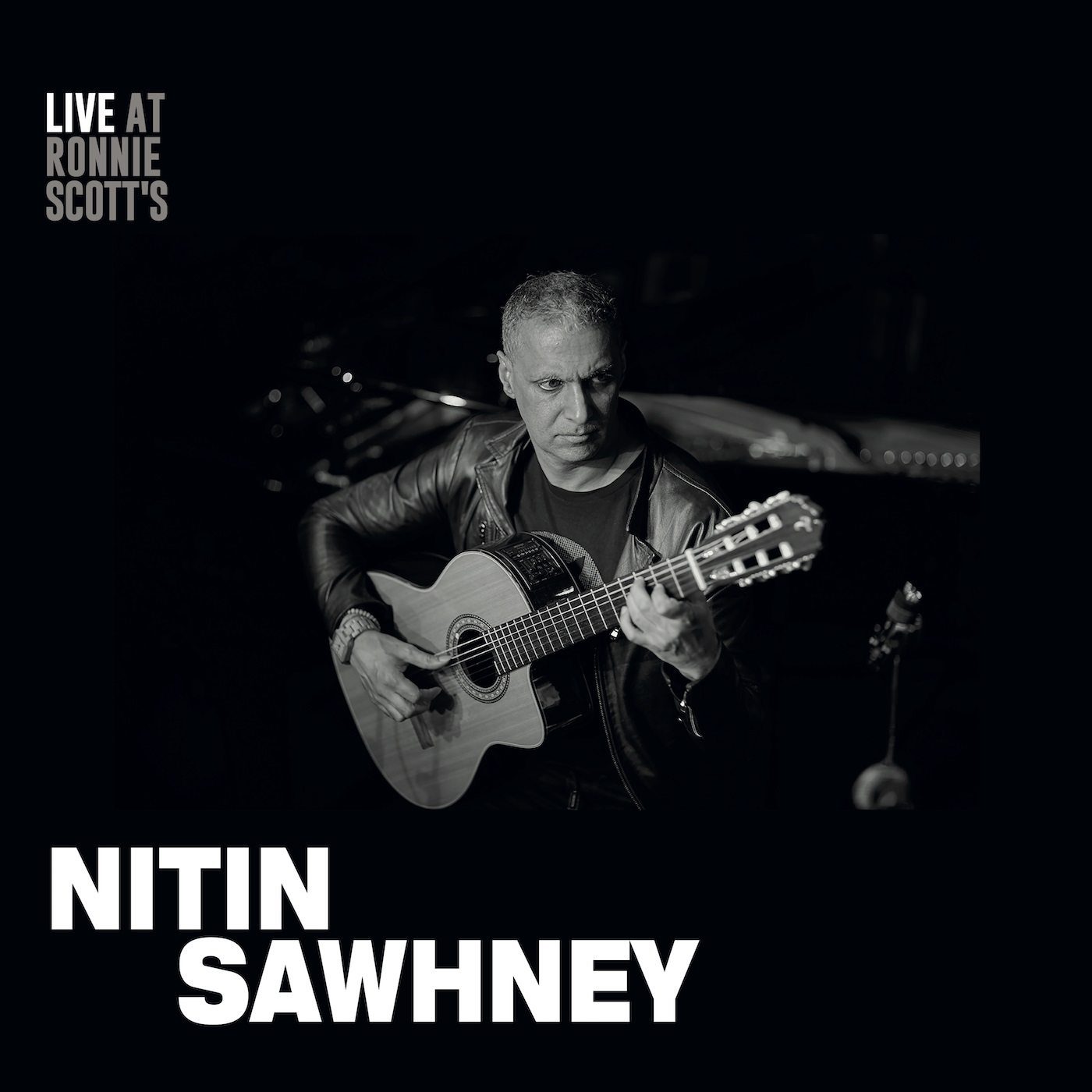 If there is an established musicological link between southern blues grooves and Hindi raags, Sawhney has plumbed it in 'Sunset', he and Nicki Wells slipping effortlessly between the respective traditions in a high-momentum groove that brings certain trip-hop stylings of the more grandiose type to mind. The record (if not the set – it's not made clear whether the setlist remained the same from night to night) moves on to 'Dark Day' without much pause, this time referencing a more modern acoustic drive of the Melissa Etheridge school. Which would be unremarkable, except for those tabla beats leading the soundbed down the lesser trodden path. By the time that path becomes familiar, Sawhney adds another element to the heady brew – are we hearing klemzer rhythms and intonations in 'Homelands', or are they in fact mariachi? Perhaps the song title is the clue – what seems 'exotic' for some is home for others. Side one runs out with a flamenco-inspired paso doble spliced with subcontinent instrumention. Once again, he makes it work.
Side two is, by tradition, the more contemplative face of vinyl recordings. The pace is slowed down and the musicians given more freedom to follow their inclinations on solos. Kicking off with the 'deep, reflective stuff' (his words) of 'Tere Khyal', close harmony vocals shared by Sawhney and Wells perform the requisite chill out duties, before the percussive vocal pyrotechnics of 'The Conference' give way to an extended percussive… percussion solo which, like many percussion solos, is technically impressive if not quite compelling listening.
'Breathing Light' is a piano-led slow-build which starts out in a Joni Mitchell mode before morphing into a rilling vehicle for flute and cello interplay. Consider it as a fully-modded and pimped up middle-eight of the Beach Boys' 'Feel Flows'. Following track 'Nadia' sees Nicki Wells channel an inner Ofra Haza in octave-traversing vocal gymnastics, all delivered in an intimate and evocative manner without once succumbing to the plague of the over-emoted bellow. One more geographical point is touched for the closing track, 'Riverpulse'. In this case it's Portugal, as somehow or other Ashwin Srinivasan coaxes a guitar to imitate the instrumentation of a fado ensemble to close out an otherwise jaunty Appalachian Blues jam.
It's stunning technique and vision from a collection of fine, fine musicians under the direction of a man whose credits, collaborations and accolades cover as much ground as the continents and cultures his music references. An outstanding performance, recording and musician. Christmas present, perhaps?
Nitin Sawhney's Live at Ronnie Scott's is out today on Gearbox Records.

Sean Keenan used to write. Now he edits, and gets very annoyed about the word 'ethereal'. Likely to bite anyone using the form 'I'm loving….'. Don't start him on the misuse of three-dot ellipses.
Divides his time between mid-Spain and South-West France, like one of those bucktoothed, fur-clad minor-aristocracy ogresses you see in Hello magazine, only without the naff chandeliers.
Twitter: @seaninspain