[dropcap style="font-size:100px; color:#992211;"]J[/dropcap]ennifer Korsen's work first came to mainstream attention late in the summer of 2014.
She, along with a long and impressive roster of graffiti and street artists, had come together under the curatorial direction of author and academic James Daichendt for Flower Pepper Gallery's group show Skate & Create.
I'd attended the opening and covered the show for Life in LA, and in doing so, I couldn't help but notice how few women were included in a exhibition comprising some fifty artists.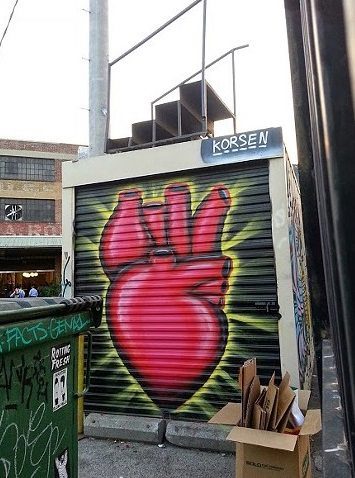 The reality is, the female population is largely unrepresented in the world of graffiti and street art.
This is not to say that there are more than many amazing women out there, tearing it up right along side their male counterparts. I just found it ironic that a movement, which helped give voice to many living within marginalized communities, continues to perpetuate a gender bias.
That said, Korsen didn't begin her career on the street. She started as a studio artist and actually spends most of her time at The Hive Gallery and Studios, where she currently holds residency. Korsen just happened to find herself working with a slew of street artists after receiving a substantial boost in recognition for her work once she starting posting stickers and posters of her signatory hearts around town.
Today, Korsen has her hand in a little bit of everything, which is the direct result of her undeniable passion, veracious tenacity, and incredible work ethic. In addition to spending her time in her studio, carving out hearts with a jigsaw, among other things, she also is committed to working with various organizations, such as Kidspace, Art of Elysium, and UNICEF, among others.
Of course, Korsen also allots a good amount of her time amount of her time on the street, producing public art pieces. From Downtown Los Angeles all the way to the Westside, Korsen's anatomical hearts can be spotted on large walls, in abandoned phone booths, and mounted to street signs.
So, why the heart? According to Korsen, the heart is a powerful symbol; it is "the great equalizer that most people connect to, but for very individual reasons. The full emotional spectrum – love, hate, vulnerability, strength, connection, life, death, pleasure, and pain – can all be recalled just by looking at the heart."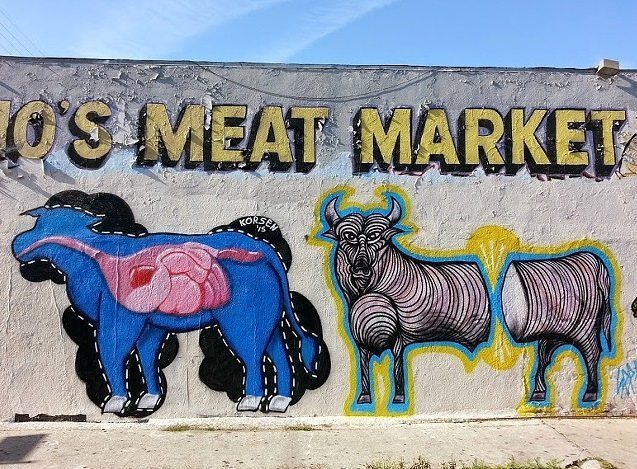 While Korsen has chosen to use the heart as a recurring motif in her work because of its power to resonate with so many, her fascination with anatomical imagery stems from her own, very personal experience. The pain she experienced as a child, watching her mother lose her life to cancer, had a deep and profound effect upon Korsen.
Using one's experience to produce something for the public to see and thus judge is no easy feat. Yet, it is what makes for great art that has the capacity to inspire, which is what Korsen has aptly managed to do.