[dropcap style="font-size:100px; color:#992211;"]T[/dropcap]hankfully for Apologies, I Have None; Camden's Electric Ballroom seemed to magically fill moments before The Movielife took the stage.
Despite some line up chops over very recent years and as first support slot for The Movielife, Apologies gave an impressive, confident and tight knit performance with Josh McKenzie going flat out on vocals to impress the Ballroom audience.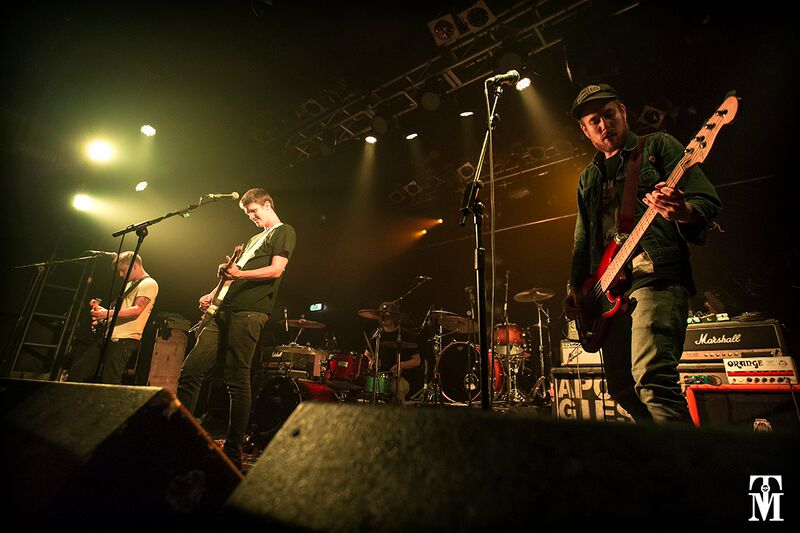 Coming in as sandwich filler was Gnarwolves, who had obviously brought the party faithful with them. If Josh McKenzie had delivered a vocal 10, then Gnarwolves' Thom Weeks had surely pulled out the Sharpie and stuck on an extra digit.
Gnarwolves pretty much bent the audience over and batted their set straight up the respective Gary Glitters, with Weeks spitting out the lyrics over the gritty, stripped down sound. Despite some minor technical problems Gnarwolves delivered on the punk attitude on all counts, and like Apologies, appeared to take the performance straight through the red line.
From through the smoke came legendary The Movielife. Vinnie Caruana leant towards the slathering fans and said, "Let's carry on from where we left off, shall we?". Carry on he surely did, buzzing around the stage like an acid infused pinball, and proving time hadn't dampened the punk rock spirit or the sheer energy of The Movielife.
It was if they'd never been away and the band delivered a mighty combination of tunes, working the head and body in equal measure. 'Face or Kneecaps', 'Hand Grenade', 'Single White Female' and of course 'Jamestown' slapped the throbbing, sing-along audience in to an almighty frenzy. More tuneful than many of their old East Coast contemporaries but lacking none of the frenetic hardcore energy, this was a performance as passionate as ever.
For a band who most thought would never reunite (including the band themselves) this return to the stage was grasped with relish, exorcising pain and exuding sweet satisfaction in equal measure.
Photos: Carl Byron Batson. Not to be reproduced without express prior permission.
[button link="http://www.themovielife.nyc/" newwindow="yes"] The Movielife[/button]

Photographer, published poet, former party animal, body builder, grave robber
to the stars and renowned chainsaw juggler, Carl can often be spotted on his
Harley Davidson pretending to be in Terminator 2. He is also frequently seen in
the press pits of old London town, camera in hand, avoiding being hit by bottles
of wee and crippling his opposition with secret Kung Fu moves.