[dropcap style="font-size:100px; color:#992211;"]K[/dropcap]nifeworld are the brainchild of Kavus Torabi, who also plays guitar with Guapo and  punk-prog legends The Cardiacs.
The band have made something of a name for themselves on the live circuit. An eight-piece band with a brass section and a bassoon, they play what is best described as completely bonkers psychedelic rock. They have wowed festival audiences and headlined the successful "Stabbing a Dead Horse" tour with Trojan Horse and The Fierce And The Dead.
Their second full-length album is their first record to feature the current eight-piece version of band, and it successfully captures their big live sound of eight instruments and five voices. It's a record that takes psychedelia, jazz, hard rock and all kinds of other things, then puts them in a blender to produce something that sounds quite unlike anything other band in the current scene.
Jagged angular guitar and woodwind riffs alternate with rich vocal harmonies and sometimes sinister atmospherics. There are hints of the late Frank Zappa's off-the-wall approach to melody and arrangements, and occasional flashes of various 70s King Crimsons. Torabi's occasionally goofy lead vocal contrasts with the layered harmonies of Melanie Woods, Chloe Herrington and Nicki Maher.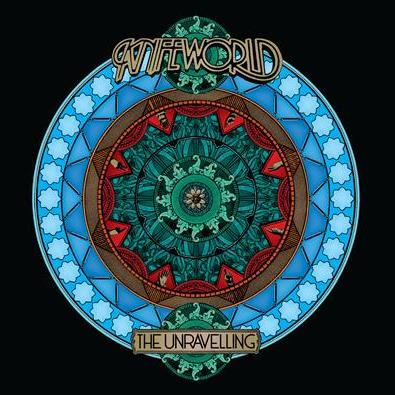 It's an ambitious and very varied record. "The Skulls We Buried Have Regrown Their Eyes" (which has to be the song title of the year) features electronic soundscapes interrupted with a brief but frenetic squalling burst of free jazz. Then there's the stripped-back spookiness of "This Empty Room Once Was Alive" with its atonal guitars and piano. The minute-and-a-half long "The Orphanage" has a punk feel. There are strongly Zappa-esque jazz-rock instrumental passages in "Send Him Seaworthy" and "Destroy the World We Love". But if anything characterises the power of Knifeworld in full flow it's the big wall-of-sound workouts "Don't Land On Me" and the closing epic "I'm Hiding Behind My Eyes".
The Unravelling is a major step forward for Knifeworld, and reflects their current live sound far more than any of their previous recordings. Fans of Zappa should find a lot to like about this record, as should anyone who thinks there should be more bassoons in rock. But this is a record for anyone looking for something determined to strive beyond existing stagnant music forms. Which Knifeworld certainly do.
Out now on InsideOut Music