[dropcap style="font-size:100px; color:#992211;"]A[/dropcap]idan Baker is without a doubt one of the most interviewed electronic musicians on the internet.
Even a cursory search brings up a cornucopia of Aidan Baker interviews that go into the recording process, his personal beliefs, why he writes, and what his perspectives are on the rather singular opinion that he's bloody good at making music.
Aidan Baker Interviews
Jack did pretty good Aidan Baker interview for ATTN
This one from Subcide covered a good amount about Nadja touring as a couple.
The challenge then is to uncover some of the lesser-known things about this instrumental polymath, and ask the definitive questions that neither make the interviewer lo0k good nor really reveal much about the personality of the subject. Factoids if you will, stuff that we just wanted to know.
It seemed right at the time and we went with it.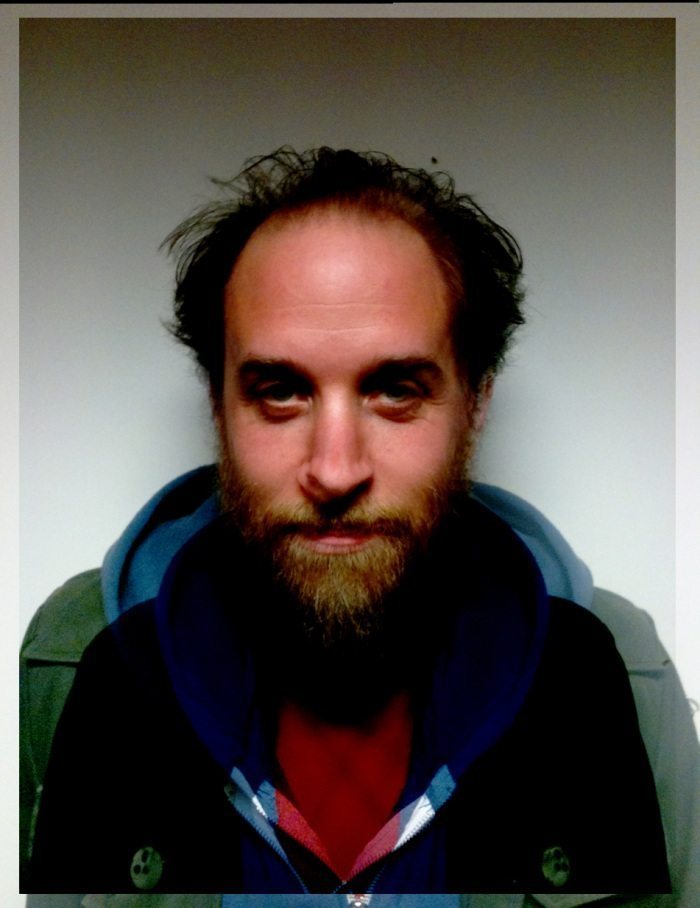 Trebuchet : Being familiar with your ambient work Already Drowning seems a very different direction for you? Do you see this more song orientated music as THAT much of a new direction?
Aidan Baker : Yes and no. I do have other albums which are more song-oriented—"Scalpel" and "Only Stories," for example, are kind of folky and "Green & Cold" and "Figures" are sort of shoegaze/slowcore.
I guess Already Drowning is something of a culmination of my song-oriented material, deliberated more crafted and composed in a song-structured way, the album intentionally presented as a song-cycle.
I hesitate to use the phrase 'concept album,' considering that usually gives rise to negative connotations, but there is something of a narrative thread to the album and the songs are interlinked more than just thematically.
You've said in previous interviews that you work by trading files back and forth with Already Drowning. How did you manage to get such a cohesive feel to the vocal performances working this way?
I did work in person with Clara Engel and Liz Hysen in Toronto and Joanna Kupnicka in Berlin, but the others all sent me their vocal takes via file sharing.
I gave the singers free rein to do what they wanted with the vocal tracks but I did do all the mixing of the vocals and instrumental tracks—so I suppose that idea of cohesion was in the back of mind during that process. Trying to balance the uniqueness of each vocal take with the sense of continuity necessary to make a cohesive album.
[quote]I hesitate to use the phrase 'concept album'[/quote]
Did you write the lyrics on the Already Drowning?
Yes—although I gave the singers license to edit and rearrange the words as needed to suit the vocal delivery. Joanna Kupnicka and Geneviève Castrée did the German and French translations, respectively, for their tracks.
What attracted you to the theme of nymphs? Was there a personal connection you wanted to explore?
I found myself encountering these recurring motifs and themes in a few different books I was reading at the time I first started working on the album—Angela Carter, A.S. Byatt, Anna Kavan, for example—all of whom have a similar interest in reworking and re-presenting folktales and myths, particularly in a feminist context.
So it's more an intellectual attraction, I suppose, although on a personal level, I did find myself encountering nymphs and water spirits in actuality—from various statues in Berlin, like the cover image (of "Der Seltene Fang" in Viktoria Park) to walking around before playing a show in Luxembourg and seeing images and references to Mélusine, as one version of the myth has its origins in Luxembourg….
Are you planning to take the record on the road?
I would have to tour with a full 4-5 piece band to reproduce the songs as they appear on the album, but I did play variations of some of the songs from the album while on tour last month with A-Sun Amissa wherein they acted as my backing band. And on my upcoming tour, my touring partner Insect Ark will be joining me in reinterpreting some of the songs from the album.
Any particular people you'd take with you to perform the album?
I would like to take everybody who performed on the album on tour with me, but that isn't likely to happen….
What are you favourite albums from your own work?
That's kind of difficult to answer…I suppose I'm proudest, at the moment, of Already Drowning but some others might be Green & Cold, Liminoid/Lifeforms, Letters, and The Spectrum Of Distraction.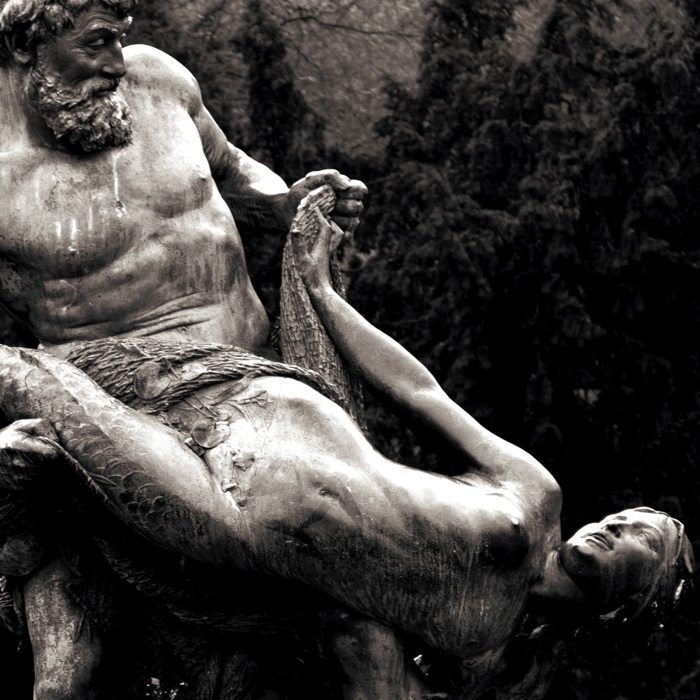 What is relationship with your audiences?
I have some dedicated listeners, a few of whom I've met in person, but the majority of whom I only know through email correspondence. I don't know how exactly I'd describe that relationship, although of course it's gratifying to know there are people out there devoted to my music.
A lot of your work is improvised. Is there a difference in the improvisation you do in a studio and the way it feels when you're in front of an audience?
In a studio, there's more freedom to let things evolve gradually and move slower, simply because the listening environments of home- and live-listening are different. I sometimes feel the need to hurry improvisation or change more rapidly in front of an audience to be more engaging… it comes down to finding a proper balance between engagement while still maintaining a natural evolution within the sound.
What is your live set up?
Usually just an electric guitar, a small mixer, and some effects pedals.
What effect or plug-in could you not live without?
I don't use any plug-ins. And while technically I can still make music without any effects pedals, it is nice to have a delay pedal….
You've suggested in other interviews that you push yourself into areas of musical unfamiliarity (instruments and set-ups) and limitations (only acoustic). Once you're in that situation do you try and create something familiar or do you try and make the unfamiliar more musical?
It's a combination of both—sometimes attempting to create something familiar with an unfamiliar set-up results in something entirely new.
Have you ever thought of working with Mark Kozelek? and if so how would you image it would sound? Is there any particular way you'd go about making music together?
It would be great to work with Kozelek…  although I don't know how that might come about or what exactly we might do together. It might be interesting to have Mark singing over some heavy, abstract drones…
What did you think about Mark Kozelek's cover of 'Like Rats' by Godflesh?
My expectations weren't high when I first heard about this cover, but upon listening I quite liked it!
Have you ever thought about doing another covers record?
I have thought about doing a solo album of covers, and have played live and recorded a few covers before, but I don't know if/when an album of covers will ever happen. I did record a cover of Red House Painters' 'Smokey,' but it's never been properly released.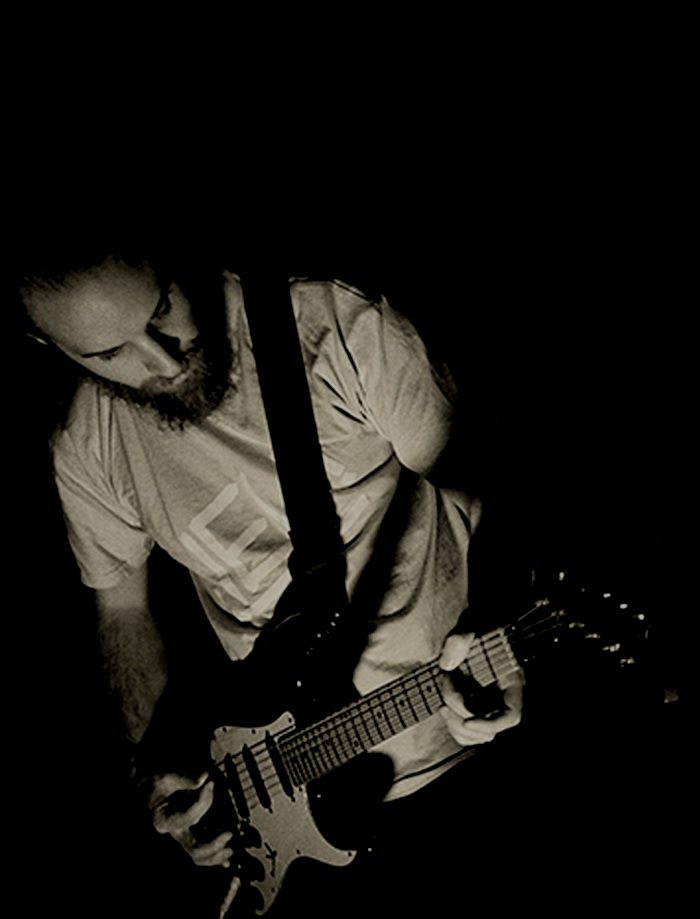 The melody on 'Mein Zwilling' is similar to the theme from the Straight Story (David Lynch) was this intentional?
While I am a David Lynch fan, I've never seen "The Straight Story." So, no—unintentional.
Your guitar looks like it has a Gibson explorer neck on a Pacifica body? How did that happen?
It's a Kramer Areostar ZX30 which were only made between 1987-89, which is when I got mine. It's basically a strat-clone and a pretty cheap guitar, but it's basically the only electric guitar I've had. It's not especially versatile, but I've found that it has a fairly unique sound which is hard to replicate with other instruments. So, to a certain degree, my sound and technique have been formed by this guitar—the limitations of the instrument determining methodology, sort of.
What's the best thing about being Aidan Baker?
Um…I don't know how to answer that.
---
Info on Aidan Baker / Already Drowning from Gizeh Records .
Already Drowning, a song-cycle inspired by various myths & folktales about female water spirits, marks something of a departure for Aidan Baker. While still retaining his trademark sense of ambience & texture, the tracks on this album are much more structured & song-oriented, embracing a minimalist post-rock, slowcore style & featuring a different guest vocalist on each track.
All words & music written by Aidan Baker (guitars, bass, flute, drums, trombone, piano, & field recordings), vocal melodies & interpretations/translations by respective singers. Additional musicians: Leah Buckareff (of Nadja – accordion), Laura C. Bates (violin), Nick Storring (of Picastro – cello), Carl Pace (of Beta Cloud – trumpet), & Laura Rodie (alto & soprano saxophones).
Track Listing
1. Already Drowning – Clara Engel (8:47)
2. 30 Days/30 Nights – Jessica Bailiff (8:55)
3. Mélusine – Valérie Niederoest & Maude Oswald (6:04)
4. Mein Zwilling, Mein Verlorener – Joanna Kupnicka (6:09)
5. Tout Juste Sous La Surface, Je Guette – Geneviève Castrée (7:59)
6. Ice – Liz Hysen (10:58)
7. Lorelei – Carla Bozulich (6:03)
Aidan Baker Biography.
Aidan Baker is a multi-instrumentalist, classically trained in flute, although his primary instrument is the guitar. Using various electronic effects combined with prepared &/or alternate performance methods, Baker creates music which generally falls within the ambient/experimental genres, but draws on influences from shoegaze & post-rock, contemporary classical & jazz.
Over the course of the last decade, Baker has released numerous album, under his own name, with his duo Nadja, & with various other group projects, on such labels as Alien8 Recordings, Important Records, Broken Spine Productions, & Robotic Empire. He is also the author of several books of poetry. Baker has toured extensively around the world, appearing at such international festivals as FIMAV, SXSW, Unsound, & Pop Montreal. Baker, originally from Toronto, Canada, currently lives in Berlin, Germany.
Aidan Baker North American Tour Dates 2013.
28-03-13: Casa Del Popolo, Montreal, QC*
29-03-13: Aviary Gallery, Boston, MA*
30-03-13: Big Snow Buffalo Lounge, New York, NY*
01-04-13: First Unitarian Church, Philadelphia, PA*
02-04-13: Metro Gallery, Baltimore, MD*
03-04-13: Garfield Art Works, Pittsburgh, PA*
04-04-13: MOTR, Cincinnati, OH*
05-04-13: The Burlington, Chicago, IL*
06-04-13: Bright Ideas Art Studios, Sarnia, ON*
07-04-13: June Records, Toronto, ON*
09-04-13: The Ambient Ping, Toronto, ON (Whisper Room performance)
11-04-13: The Spill, Peterborough, ON (Nadja performance)
12-04-13: New Harbours Music, Hamilton, ON (Nadja performance)
13-03-13: Feast In The East, Toronto, ON (Nadja performance)
19-03-13: Musideum, Toronto, ON
*with Insect Ark