[dropcap style="font-size:100px; color:#992211;"]A[/dropcap] singer songwriter with a acoustic bend for the psychedelic, Jack Cheshire has slowly carved a career in a field of music (singer songwriters) where a lot of people might have missed him.
All that should change with his latest album Long Mind Hotel, a deeper and jazzier romp with strong songs and tight playing. It's a quiet achiever that could blossom into the sleeper album of the 2013 summer.
This new album seems to be wilder than your previous efforts. Why is this?
Jack Cheshire: I wanted to have a bigger sound with more dynamics. When the songs were finished I worked on parts with the band, each instrumentalist individually at first, then the whole band together. They are all such creative players, and they added so many elements that I hadn't planned or even conceived of.
[quote]You can definitely
tell I recorded
with jazz players,
though it's not
a jazz album[/quote]
Those few pre-recording rehearsals we had were amazing for me because I'd heard everything come together gradually and singularly; to hear it all played together and know that it worked was a beautiful thing.
Everything was still fresh so there was plenty of room for them to maneuver with their parts, and some of the sections were deliberately kept as improvised interludes and not worked on at all; I think that freedom translated into excitement.
When we were playing takes I was sectioned off in a separate room but the other guys were all in together and I could tell they were feeding off each other. The whole recording process was pretty intense, because we had so little time, but it had a great  creative energy which I think we captured.
What kind of set-up do you use live (same musicians or a variety)?
Jack Cheshire: I play with a variety of musicians from the album. Jon Scott plays drums, Andrea Di Biase plays Double Bass and David Pearson plays Electric Guitar. I still play solo shows sometimes, which is fairly minimal in comparison, but the songs still come across and I like the intimacy of it. I like playing different versions of the same songs.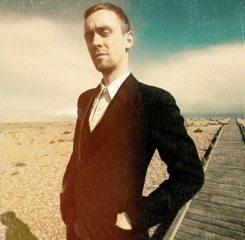 Your music has always been muted perhaps even introspective, is this a quality that you try and capture live – or do you push your music to be more extrovert in front of an audience?
Jack Cheshire: I definitely go in to my own little world when I play live. I suppose when it works best then everyone goes there with me. I love performing, but we don't put on a theatrical show or anything. It just revolves around us getting lost and in to the music.
What can we expect from the new album? Do you think you'll keep your old fans?
Jack Cheshire: It's more dynamic, sonically far superior, and pretty hallucinatory. You can definitely tell I recorded with jazz players, though it's not a jazz album. I think it's darker, more menacing than my previous works, but there's still that kind of meandering dreamy flow to it. I hope that people listen to it as an album, because I think it's a trip, I like the progression.
We didn't spend a long time recording Long Mind Hotel, we did the whole thing pretty much live, so it's a very honest representation of where we're at. There were some great moments in the studio, I definitely think we captured our sound. I am sure if people liked the other albums then they'll love this
one.
Who would your ideal/dream collaborators be?
Jack Cheshire: Mitch Mitchell on Drums, Charlie Mingus on Bass, Ray Manzarek on Fender Rhodes if we're talking dreamland. I'd love to make an album with Johnny Greenwood producing. I'm a massive fan of everything Kevin Parker (Tame Impala) does.
What still attracts you to music?
Jack Cheshire: The way I listen to albums has definitely changed as I've got older. I used to fall head over heels in love with records , get to know every lyric, note, beat and hiss until it was carved in my mind. I remember the first time I heard Dr John's Gris Gris, or Can's Tago Mago, and I was just spooked; it was spine tingling.
I think I'm more analytical now, approaching it a bit more intellectually. I suppose it's inevitable that you'll lose that sense of wonder at things the more you're exposed to them, and I also think its hard to devote as much time to specific albums these days because we're surrounded by so much stimuli and choice. Paradoxically the more I'm surrounded by different music the less deeply I seem able to take any of it in.
What still attracts me to it? It has so much power if it hits the spot. It's definitely a magical thing for me, so it'll always hold sway.
[quote]I've got too
much respect for
hallucinogenics to
want to take them
all the time[/quote]
What do you think of the psychedelia tag that you been given?
Jack Cheshire: I've always been into Psychedelia. When I was growing up my Dad used to play loads of West Coast records like The Doors and Jefferson Airplane, but he also had lots of English Psyche folk as well, stuff like The Incredible String Band, Doctor Strangely Strange and Pentangle. I was fascinated by it. The whole otherworldly vibe, and I remember sitting with him and having listening sessions and loving the ceremony of it all.
When I got a bit older I was fascinated by the drugs as well.
I've got too much respect for hallucinogenics to want to take them all the time, and I suppose I had to have a few bad experiences to learn that. But I remember the first few times I went tripping with my friends we just laughed our faces off, wandered round the park marveling at everything. I've always found the experience deeply thought provoking. I feel like I come away with some kind of coded message I need to untangle. And that is quite inspiring even if it's also a bit unsettling. It's definitely not all I write about though.
I've always found it difficult to describe my music to people, but psychedelic is definitely something I aspire to. So I am happy with this tag.
What should people do when they're listening to your record?
Jack Cheshire: Close their eyes and go with it.
—–
Press Release: Jack  Cheshire, master of vocal languor and melodious narrative, plays 'en famille' with his awesome musicians, on Monday 24th June at The Slaughtered Lamb. Showcasing new material, this show begins the run in to Jack's third album, Long Mind Hotel due for 2nd September release. His first studio album, it marks a decidedly stylistic change, due in no small part to all the other players being immensely talented jazz musicians.
Long Mind Hotel is littered with improvised interludes and there is an intensity to the work which lends it  great focus.
A single, 'Gyroscope' precedes the album on July 22nd
Featuring some winsome surf guitar and a drop dead Latin rhythm section, 'Gyroscope' spins cleverly under its own momentum, tracking a body on auto pilot, attempting to make some sense and focus of things.
Literally brimming with intriguing stories, it is exquisitely, poetically lyrical. Deceptively gentle, it piques the listener with moments of menace and an irresistible unhinged quality.
Jack's self-released debut Allow It To Come On, a lo-fi, intimate venture was widely lauded for its brooding, meandering melodies, nuanced psychedelia and minimalist production.
"…with his breathy Ian McCulloch-style croon…a burnished psychedelia creeps into the mix and takes this music to the skies."  Uncut
His second, 'Copenhagen'  – recorded in rural Sweden – had more of an intensity and focus, whilst retaining Jack's signature sensual languor. Recorded as a trio (Jon Scott – drums, Philip Moll – double bass), the production was far more expansive and enhanced by the addition of Djamilla Skogland Voss's backing vocals.
"…exquisite melancholy song writing in the finest traditions….mildly psychedelic……the vocals are attractively slurred and sleepy, the lyrics dreamlike and beautiful, and the melodies and arrangements…get right under your skin." ***** The Sunday Telegraph
A full tour will be announced soon, meanwhile:
August
16th DRAGONFLY festival.
27th Servant Jazz Quarters, London ALBUM LAUNCH
http://jackcheshire.bandcamp.com/