H

ave you heard the news? May brings v

irtuoso

 slide guitarist Sonny Landreth back to London in the wake of his Recorded Live in Lafayette 16-song album, his first live album in over 12 years.

Sonny Landreth, the king of Slydeco, has collaborated with the very top names in guitar over the years: Eric Clapton, Mark Knopfler, Eric Johnson, Derek Trucks – the list goes on and on. The noted slideman cut his musical teeth in The Red Hot Louisiana Band of zydeco king Clifton Chenier, and Landreth has since recorded and toured with artists ranging from John Mayall to John Hiatt.

If the news of Sonny playing live in London isn't quite enough for you music fans, POW POW, Sonny will be joined by Son of Dave, Canadian Singer-Songwriter Benjamin Darrell. Benjamin moved from Winnipeg, Manitoba to London in 1998 and joined the award winning band Crash Test Dummies. His solo career as Son of Dave started in 2000 and is a mixture of harmonica, vocals and beatbox which has been described as "Sonny Terry meets Bobby Rush" by Uncut Magazine.

Recorded Live in Lafayette added another major chapter to Sonny's tale, as new vocal and instrumental colours emerge, with guitarist Sam Broussard providing brilliant musical counterpoint to Landreth's innovative playing on songs like A World Away. "There's nothing like a slow minor blues," Landreth says, "I don't think there's anything more beautiful." Referencing Conn and Broussard's contributions to his composition, he adds, "This track has one of the greatest accordion blues solos of all time, only to be followed by one of the greatest acoustic blues guitar solos of all time. I'm blown away, and we never plotted out who was gonna play where on what."
"I love the frequent use of scotch snap rhythms that give that upbeat dance feel" Candace Arizona Gratton
If you've not yet heard Recorded Live In Lafayette yet, you should. This wonderful intoxicating album of bluesy-cajun-jazzy mash unashamedly gargles with its influences from Irish, German, African and Native American.
"Laissez les bon temps rouler"
The RockPit said, "What matters here though of course is the music and spread over two discs – one acoustic and one electric we get to hear some of Landreth's  best-known songs receiving some rather interesting treatments even managing to bring a new vigour and thrust to old favourites like perhaps his best known song Blues Attack.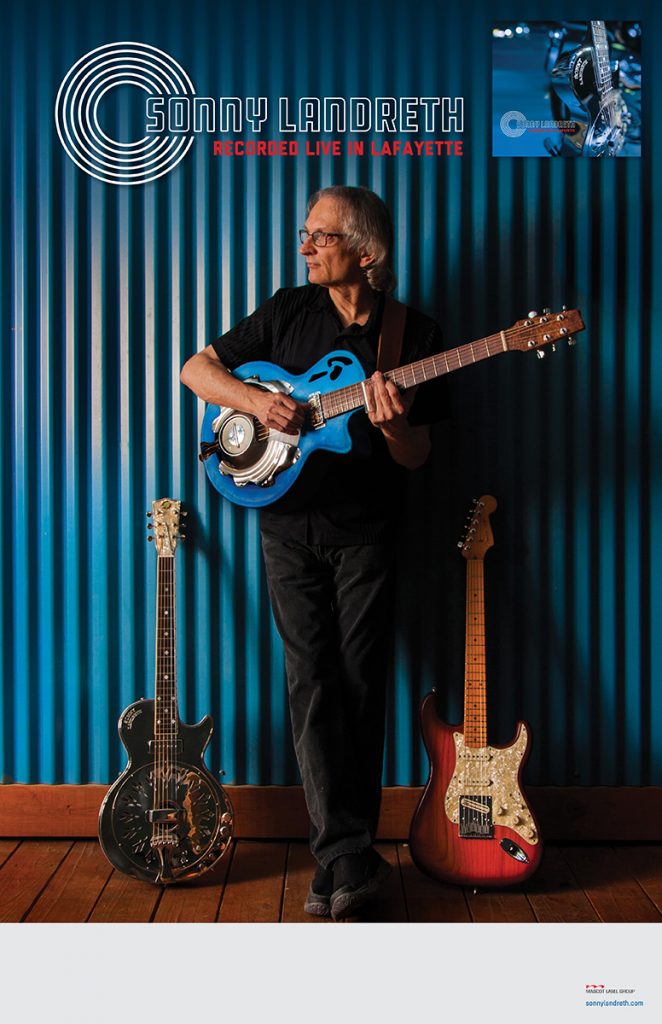 Recorded Live In Lafayette
2017, Mascot Label Group / Provogue
Disc One (Acoustic)
1. Blues Attack
2. Hell At Home
3. Key to the Highway
4. Creole Angel
5. A World Away
6. The High Side
7. Bound By The Blues
8. The U.S.S. Zydecoldsmobile
Disc Two (Electric)
1. Back to Bayou Teche
2. True Blue
3. The Milky Way Home
4. Brave New Girl
5. Überesso
6. Soul Salvation
7. Walkin' Blues
8. The One And Only Truth
Sonny Landreth – Official Site
Sonny Landreth will be playing an unmissable show at Islington Assembly Hall on Thursday 30th May 2019
For Polk Salad click HERE