[dropcap style="font-size:100px; color:#992211;"]A[/dropcap]
dam X (a.k.a ADMX-71 and Traversable Wormhole) has returned with an album incorporating the strongest aspects of these projects, but with a dirtier, and even (smelling salts at the ready!) industrial edge.
Adam X is open and unashamed about his industrial/EBM connections, in sad contrast to some other producers trying to play down the industrial aspects of their releases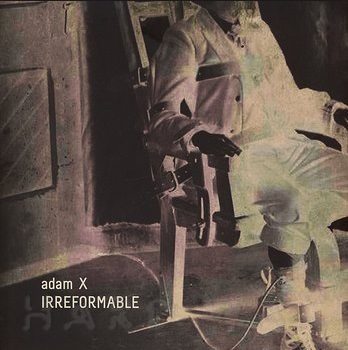 (and of techno generally) in order to appease a few holier-than-thou Detroit purists and clumsily witch-hunting hacks.
From their blinkered perspective, both Adam X and this writer are genuinely "irreformable". This is not to say that this is an industrial album, just that has a tough, industrial sensibility. Ten hard-hitting tracks with some of the tense atmosphere of Vatican Shadow, but with fatter, more muscular sounds.
'Interchanges' establishes tension from the outset. It's a pulsing scene-setter, coming across like a more muscular ADMX-71 track. 'Catenary' is precise and vivid, with a slight trace of 1980s-era Cabaret Voltaire and rippling, tactile textures. The science sample alludes to Traversable Wormhole, but here the style is more cutting. The first heavy-hitter is 'Binary Possession', with a distinctive bleepy pattern and corroded EBM sequences with an effect that's simultaneously claustrophobic and cathartic.
Everything comes together with 'On The Verge Of Decimation'. Despite the title, it comes across as tough but not mindlessly brutal. The structure is harsh and rigid but balanced by some more ethereal tones that maintain an interesting tension.
'Sheer Insanity' is based around a cleaner kick, offset by a blaring foghorn effect and nagging alarm sounds. This is followed by a more malevolent bassline liable to induce instant flashbacks to dark dancefloors in the small hours. The twist here is the manic, filtered take-it-or-leave-it vocal that forces its way in half-way through, intensifying the track further, although a purely instrumental version could work better for some. Played in the right (wrong) type of club at the right time this will have a huge impact.
'Irreformable' initially seems to be building up to something heavier, but the very well-syncopated sample creates a different effect that's nagging but memorable. The mood shifts again with 'In A Race Against Time'. A muscular bass pulse, cold details and bleakly anthemic chords give it a slightly dystopian air.
The slower but heavier 'Tornado Warning' opens with bleak chords that wouldn't sound out of place on a Dutch hardcore track, followed by a sample of an actual evacuation warning from the U.S. National Weather Service. Cleverly, the track is focussed on the tension of an approaching storm, rather than trying to simulate an impact that can only be genuinely catastrophic for those in its path.
Less dread-full but more sinister, 'It's All Relative' lays down a hard beat but takes its time, carefully de-escalating the album as frosty elements creep across its metallic surface, but not releasing its grip until the final seconds. The digital format also includes 'Small Black Object', a nervy, minimal track full of tense radio chatter and static that sound like a contemporary update of Front 242's paranoiac 1980s soundscapes.
This isn't an album for those seeking total dancefloor catharsis or a purist, minimal experience. The fact that there's no final release, only a series of exercises in dark tension, is a real strength, making it an appropriate and, for those who can take it, perversely energising soundtrack for increasingly bleak times.
Adam X Irreformable
Label. Sonic Groove
Format. Vinyl, CD, Digital
Cat.Number. SGCD-01 (Digital), SGLP-01 (Physical)
[button link="http://www.sonicgroove.com " newwindow="yes"] Sonic Groove[/button]