[dropcap style="font-size:100px; color:#992211;"]I[/dropcap]mpericon Festival is a brand steadily gathering momentum among the UK's hardcore inclined over the last few years.
This year it made the step from last year's affair at Manchester's Ritz to the (higher-capacity) main room of the Academy complex up the road, and boasting a clusterfuck of diverse 'core merchants including headliners Suicide Silence and The Ghost Inside. However, we're still bound by that 'one stage all-dayer' format and I won't bore you with a lengthy dialogue on the rise of smaller festival events catering to niche audiences. I guess I can settle on pointing out that, while a solitary stage doesn't exactly inspire much choice, it does give increased focus on every band playing and room for growth next time (if you aren't familiar with Manchester Academy, it's like a music-y Hogwarts… every time you visit, it's sprouted a few new performance spaces and the butterbeer's gone up another six quid. There's plenty of room for growth if they stick around here).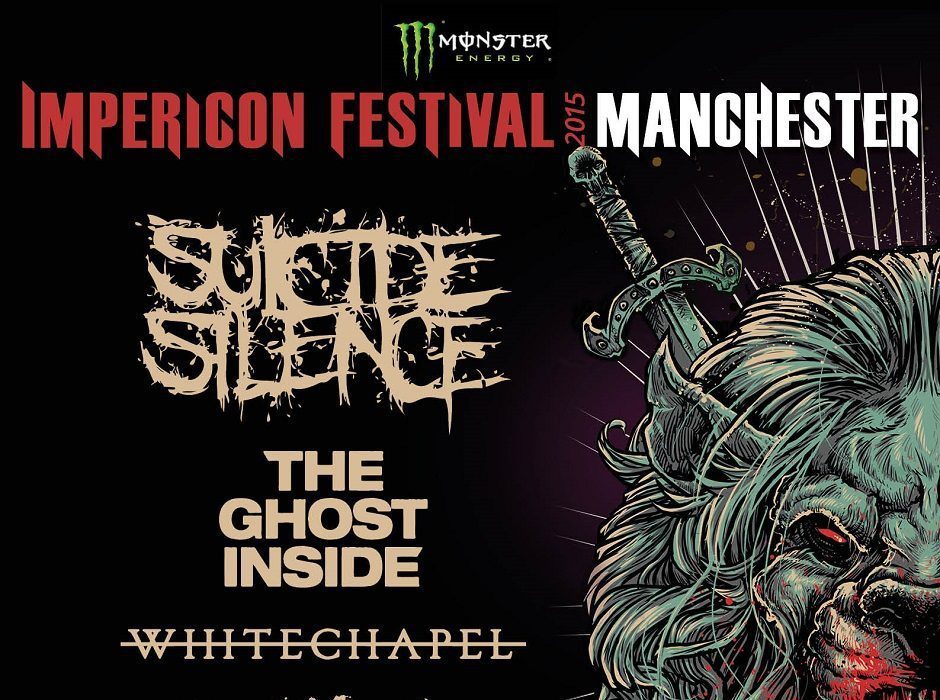 I was a bit gutted to show up on the day after a bit of a battle to find the correct stage times, only to miss openers Adept due to the lengthy queue outside the one open box office berth. From the sound of it outside, they gave the building a bloody good rattling and drew a decent crowd in doing so. I was, at least, inside in time for hotly-tipped Southampton beatdown mob Desolated, who enter to a dodgy audio track before chucking it into nine billionth gear with 'Death By My Side' (that one you can't have missed if you were on the UKHC II Facebook group about a year ago). There are a lot of kids in Deso hoodies there on the day, and this throws them into a rapture of punchies.
It's a good pick for an early billing, as it's clear a lot of people are here to throw down, but in all honesty the repetitive, down-tuned chugging gets tiring after a few tracks. While sonically it's as confrontational as you can get, their stage presence on the massive Academy stage fails to live up to the hype…. Perhaps more of a curiosity draw and a controversial one at that, as over the course of the set quite a few people drift off for a beer/smoke. (Even a couple wearing the band's own merch, weirdly enough.) *Fashion*.
Manchester hometowners Ingested are next up. Apart from the fact we're no longer in Manchester, according to Jay Smith. It's '"SLAMCHESTER" now. The crowd roars in approval, and the blast-beaty mosh generals whip themselves up some crowd movement. Tracks like 'Anal Evisceration' land well and provoke some properly decent pit action, and of course it's not a good set unless you earn yourself a bollocking from the venue for ordering up a wall of death.
And now for something completely different, in the shape of Being As An Ocean – who manage to start late, despite Ingested finishing early (apparently on the orders of aforementioned angry venue). Comparatively, their sound is bouncier, rather than the raw aggression of the previous two bands, with a lot more emphasis on melody and… is that a bit of clean vocal (WHOA!)? It's a bit of a shame to report, but the crowd seems to have thinned out slightly, yet there's still a mostly full room and quite a bit of crowdsurfing to make up for it (though encouraging and handing out free merch to the most prolific crowdsurfers in a venue that prohibits crowdsurfing doesn't strike me as the most astute of ideas).
Technically it's a pretty sound performance from the Californians, though today's ever-present battle to achieve a decent level of stage presence once more rears its head, despite frontman Joel Quartuccio's best efforts in throwing himself about and spinning in little circles. The preachy-sounding spoken vocals don't particularly help matters, and the abrupt ending to the set (probably down to the late start) puts paid to an enjoyable, yet perhaps odd, choice of band for this point in the day.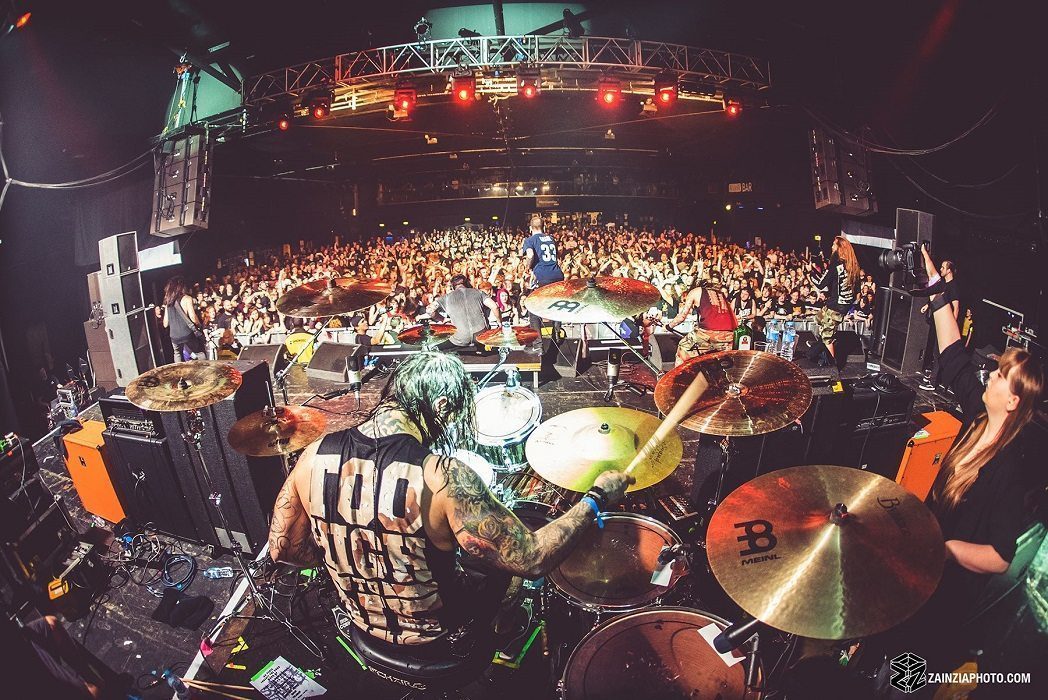 It's back to cantankerous vocals and angry riffery with Carnifex, who are admittedly tight as hell. Also, repetitive as hell. That said, the irascible San Diego Deathcore 5-piece pull in the biggest crowd of the day so far and they are the first to truly work the full stage (maybe because of the two massive banners filling out the back of it). Recent hits like 'Dark Days' go down particularly well. Blast beats threaten to burst some eardrums and while the consistent tempo becomes a bit draggy towards the end of the set, the circle pits are fun. As are the lasers lighting the place.
When I saw Deez Nuts bringing up the mid-point on the festival billing, I had to acknowledge what a stroke of genius it was. On the day, the Aussies properly delivered, switching up the mood in the room and bringing the festive to 'festival' (as opposed to 'loads of bands on a bank holiday Monday, with an itchy wristband'). It's obvious throughout they're having loads of fun and their tireless movement is matched by those amassed, whether it's pumping fists, bouncing up and down or hollering along to 'Band of Brothers'. They obviously can't be everyone's cup of tea here, as I can imagine no small part of Impericon's demographic would prefer more guttural vocal lines, yet this is the difference that sets them apart. And no bad thing.
Stick To Your Guns are another band I was looking forward to catching, and I'm obviously not alone as I negotiate my way to a great little spot near the barrier. Their pedigree precedes them, and while the sound is a bit muddy to begin with they scoop together a headbanging mass all the same with a chug-laden opening. Later comes some older, much more posi-/melodic material, and the mix is much bigger (more mid, perhaps, or maybe it's a tonal preference on my part). From this point, the Californians get some of the best crowd response of the day so far – singalongs, fist-pumping, the works. The highlight of their set for me? Belting out the chorus to 'Against Them All' in a massive crowd – a pretty special experience. Cheers for that, Impericon.
They're the band I'd seen most frequently before, and always previously enjoyed, but I'm sorry to say I missed the bulk of Whitechapel's set grabbing food, then chatting to Suicide Silence's Eddie Hermida outside. What I did see, however (beside a humorously juxtaposing Country intro-track which lead to widespread bewildered beard-scratching) cemented the obvious, with 'The Saw Is Law' confirming Phil Bozeman's utter destruction of the harsh vocal grading scale atop a thunderous Deathcore soundtrack.
I'd also seen The Ghost Inside before – both in festival and headline set capacities – however, this didn't quite prepare me for the outstanding performance they'd give, masterfully working a packed Academy crowd. Every part of their show came across as honed and measured, from musicianship to production, with some solid lighting providing a great base for tracks like 'Out of Control' to send circle pits all the way back to the sound desk, and dry ice preceding 'Dark Horse' to crank the atmospherics.
The audience also seemed to reach a new intensity, with a completely different feel to other points in the afternoon and enthusiastic yet 'friendly' pits (i.e. a hand back up). 'Engine 45' is as solid a finish as I've seen in a while, and if anyone's seen Jonathan Vigil since then can you package him up and post him to PO BOX T.G.I., CALIFORNIA, U.S.A. Can you make sure he has a few air holes too, I'd quite like to see these lads again at some point.
After swimming around in a sea of Suicide Silence t-shirts all day, not having seen them play for several years (let alone a festival headline set), the buzz was ready to peak for the Californian titans. And, in truth, it was a bit of a come-down. I'm sorry guys, but the production, sound or intensity just wasn't quite there for me following what I'd just witnessed from The Ghost Inside, and the vocals came across as too effect-laden to boot.
That's not to say it was a poor showing, necessarily – with the aforementioned fans chanting Eddie's name, prompting him to reprimand them "the band's name is Suicide Silence" – but 14 countries in 14 days has maybe, just maybe, taken a bit out of them. It's all fired up a little for me when Whitechapel frontman Phil joins the fray for 'Unanswered' like an arsey mega-volcano some miscreant's been feeding a mixture of Nokia 3310s and asbestos chunks shaped like Chuck Norris's middle finger, but all in all it's okay.
On balance, a solid day out from the Impericon guys! Roll on next year.

Jed the Music Ed. is a Music Promoter/Booking Agent and general fixer with Rawkus Events. Jed's interests include a constant and reckless over-caffeination, irrationally spontaneous travel plans and maintaining an over-expensive (borderline hoarder) PC/retro gaming habit.