[dropcap style="font-size:100px;color:#992211;"]A[/dropcap]n extensive collection of prints by urban art legends including Dalek, Jimmy Cauty, Frank Kozik and Eelus will be sold at a charity auction as part of Chorley's Modern Art and Design sale next month. All proceeds will go to The Food Chain, a charity providing support for people living with HIV, as part of a legacy donation by the estate of prolific collector Stephen Nunn. 
This sale will be unreserved with no estimates. Prints include contemporary classics such as What U Looking At? by Eelus, Molotov Man by Obey (Shepard Fairey) who designed the iconic Barrack Obama Hope poster, Stars and Stripes by Keith Haring and Riot Police stamps by Jimmy Cauty, many of which are limited edition. A number of Jamie Reid prints, who is widely known for his work on the Sex Pistols album Never Mind the Bollocks, will also be up for auction.
Chorley's director and auctioneer Thomas Jenner-Fust says, "We are delighted to be supporting The Food Chain and showcasing this significant collection of prints from some of the biggest names on the urban and street art scene. The prints were donated to The Food Chain by modern British and urban art collector Stephen Nunn who was passionate in his support for charities that work to tackle social inequality and exclusion." 
With advances in medicine, most people now live well with HIV. This, however, is not a universal given and the people The Food Chain helps are in crisis due to isolation, stigma, ill health or poverty. The charity provides lunch services, nutritional and cookery classes and other support from their kitchen where people come together to eat, learn and socialise. As a response to a 300% rise in demand for their services since the beginning of the Covid-19 crisis, The Food Chain rapidly switched their service to emergency food delivery by volunteers and individual support calls to their service users. The Food Chain is heavily reliant on trusts, foundations and private donations for their funding. Funds raised from this auction will help them continue to deliver their much needed support. 
Chorley's Modern Art and Design sale takes place on 27 October 2020. Find further information here.
Image: Eelus, What U Looking At?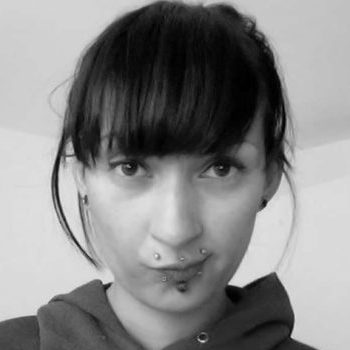 Naila Scargill is the publisher and editor of horror journal Exquisite Terror. Holding a broad editorial background, she has worked with an eclectic variety of content, ranging from film and the counterculture, to political news and finance.