[dropcap style="font-size:100px; color:#992211;"]HRH[/dropcap] Prog 2 is a residential rock festival held in this year the former Butlins holiday camp at Hafan-Y-Mor just outside Pwllheli in north Wales, following on from the successful first festival held in Rotherham a year ago.
It's certainly a long way from anywhere, at the end of miles and miles of single-carriageway roads winding through the Welsh hills, or an equally winding single-track railway line, and it certainly wasn't the organisers' fault that part of the train journey was by replacement bus because the tracks had been washed away in a storm.
There were complaints from some quarters that it was an inconvenient location. But it was an equal opportunity inconvenience; it takes just as long wherever you're coming from.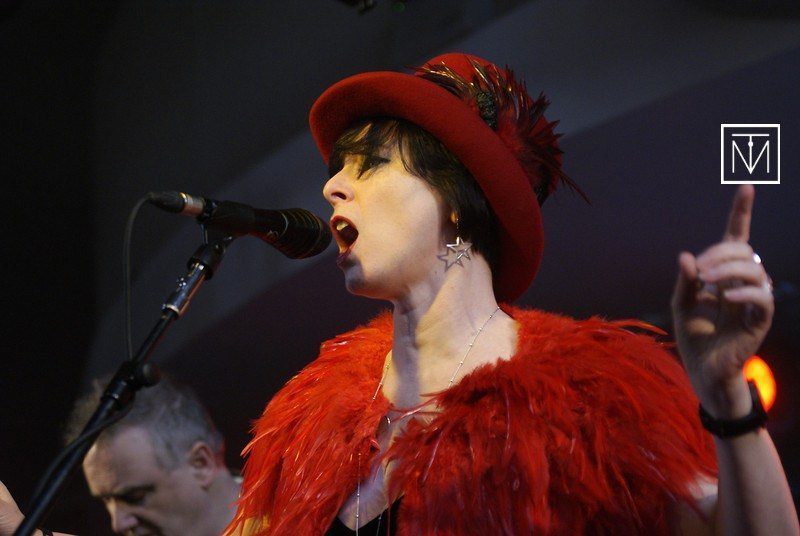 Jane Setter of Crimson Sky
The festival proper began on the Friday, but Thursday night saw a warm-up featuring four bands. Proceedings opened with the melodic rock of Sankara, who played a solid set despite a stand-in rhythm section, and again showed how much better they've become in their expanded twin-guitar form. The only problem was when Gareth played keys he was hidden away in the shadows at the back of the stage.
Jump are always entertaining as a live band. Frontman John Dexter Jones comes over as a cross between Fish and Morrissey, with his storytelling style and music that owes as much to folk and blues as to prog. A particular highlight was "Down Three Times", a song about a relative in the Merchant Navy during World War Two, who ended up as a beachcomber after being the victim of three sinkings.
Next up was Synaesthesia, playing keyboard-heavy symphonic rock with plenty of vintage analogue keyboard sounds including mini-moog solos and squelchy bass tones. For a very young band playing their second ever gig they delivered a remarkable performance. This is a band we'll almost certainly be hearing a lot more from the coming months and years.
It fell to Credo to top the Thursday night bill. Their rather old-fashioned neo-prog doesn't always make that strong an impression on record, but live it's a different story, and their passion and energy made a good conclusion to the night.
The festival proper opened with The Custodian at noon on Friday, a largely instrumental act, with the drummer singing much of the lead vocals. They displayed an undoubted level of technical skill  with a jazz-metal flavour and more than a hint of the late Frank Zappa, though their instrumental virtuosity ultimately exceeded their compositional ability. They could have done with a proper frontperson.
[quote]Jane Setter is probably the only
prog singer who is fluent in Klingon.
How prog is that?[/quote]
The Physics House Band were phenomenal for a band so young they looked as though they were still at school. They're an entirely instrumental power trio, with Sam Organ swapping between guitar and keys. It was the rhythm section that really impressed, with Dave Morgan's drums as a lead instrument. Indeed, when the guitarist took of on a soaring effects-laden solo you often find yourself listening to the inventive bass runs rather than the guitar. All completely bonkers stuff, and the sort of music to give "prog" a serious kick up the arse.
Luna Kiss were less impressive. They have a more modern streamlined sound without much in the way of flashy instrumental showboating, but weak vocals and lack of memorable material held them back, and they failed to make a particularly strong impression. The prog-metal of Shattered Skies was rather better, with the first proper lead singer of the day, although their use of programmed keys rather than a flesh-and-blood keyboard player was irritating at times.
Chimp Spanner were another all-instrumental act, a prog-metal trio made up of a drummer and two guitarists wielding matching eight-sting axes. With no bass player, one guitarist soloed with remarkable fluidity while the other played hammered riffs. But while they were interesting for a couple of numbers, ultimately they were lacking in variety or dynamics.
Chimp Spanner
The Pineapple Thief were one of the most eagerly anticipated acts of the day, and they did not disappoint. Their widescreen atmospheric music combines progressive rock with elements of indie and electronica to give them a very contemporary sound, and it all comes over very strongly live. With a set drawing heavily from their most recent album All The Wars, their intense performance was head and shoulders above everyone who'd been on stage before them, with big soaring melodies and a strong sense of dynamics that previous acts had lacked.
Dutch veterans Focus were the only out and out nostalgia act on the bill. They're been a regular act at classic rock festivals in recent years, and sometimes they've come over as marking time until their big hit. This time they came over rather better, and their set was enjoyable if predictable. At heart they're a jazz act rather than than a rock band, led by Thijs van Leer on his battered Hammond held together with gaffer tape. The set included the lengthy "Eruption" and of course their other hit "Sylvia" before the inevitable yodelling conclusion of "Hocus Pocus".
Sweden's The Flower Kings are an established act with a strong reputation, enhanced in recent years though guitarist Roine Stolt's involvement with the prog supergroup Transatlantic. But from the strength of performances like this it's very difficult to see what all the fuss is about. Their directionless set lacked any kind of focus or sense of pacing, and while they're undoubtedly great musicians much of the material felt like loose, unstructured jams.
Sonically they were great, with the interplay of guitar and keys reminiscent of Barclay James Harvest. But unlike BJH, they lacked anything in the way of memorable tunes, and there was little energy either. For  a festival headliner this was a very disappointing performance.
Deadly Circus Fire
The bill was set up with the nominal headliners as the penultimate band of the day, so it was left to Deadly Circus Fire to close the proceedings. Their brand of in-your-face metal dressed as zombie clowns in greasepaint was an unfortunate case of the wrong band in the wrong place at the wrong time. They're good at what they do, but they weren't what the thinning crowd really wanted at that time of night, and they could only be described as "room-emptying".
Friday had been a bit "Desolate Shore" (With Theydon Bois on guitar, and Clam on bass), but Saturday's lineup promised bands with a more song-centric approach. Proceedings opened with September Code, from Greece, whose melodic hard rock flavour of prog focusing on songwriting and a proper lead singer. Some flamenco-tinged guitar leads gave them a distinctive edge.
Because DeeExpus had pulled out due to illness, Crimson Sky came on earlier and played a longer set than planned. They started out with a few wobbles, but soon rose to the big occasion. Their sound is an interestingly quirky mix of 70s prog and 80s new-wave, and setlist drew from the EP Dawn, some favourites from the earlier album Misunderstood, and two brand new numbers: the Uriah Heep-like "Catching On" and the ambitious "The Signifier and the Signified".
Jane Setter came over very strongly as a frontwoman on a big stage, with a presence that held the attention of the crowd, perhaps showing some transferrable skills from her day job as a university professor. An interesting fact; Jane Setter is probably the only prog singer who is fluent in Klingon. How prog is that?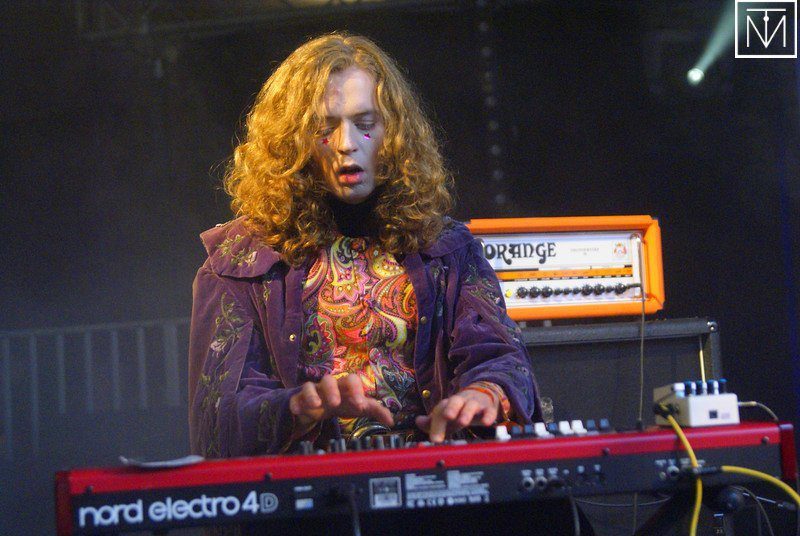 Purson
Purson were one of the most visually striking bands on the bill. Unlike many other bands who go on stage in jeans and t-shirts, Purson put a lot of effort into their stage outfits. Their late-60s hippy look exactly matches the psychedelic rock of their music with its swirling organ and fuzz-toned bass grooves. Their retro sound and dark lyrical themes recall Blood Ceremony, but with hints of Curved Air and early Pink Floyd. Despite some early technical problems with lead singer and lead guitarist Rosalle Cunningham's pedal board, they rose above those early difficulties to deliver an impressive performance.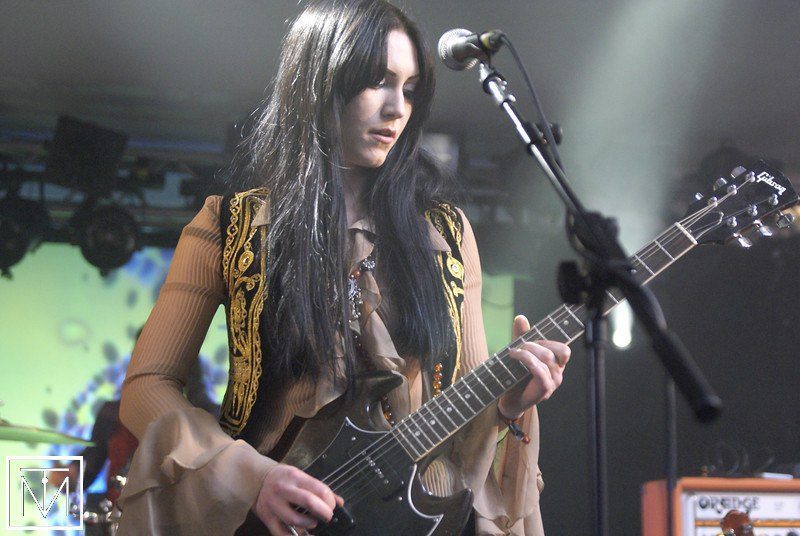 Purson
Panic Room also suffered some sound problems early on, but still made a very strong impression with a powerful and professionally-delivered set. In a bold move the vast bulk of the songs came from their newly-released album Incarnate, with just two older numbers, "Song for Tomorrow" and the anthemic "Satellite" at the very end of the set. The new material came over well live. The layered atmospherics of "Into Temptation" made an interesting choice of opener, and the stripped-back "Start The Sound" featured some inventive rhythms from Gavin Griffiths.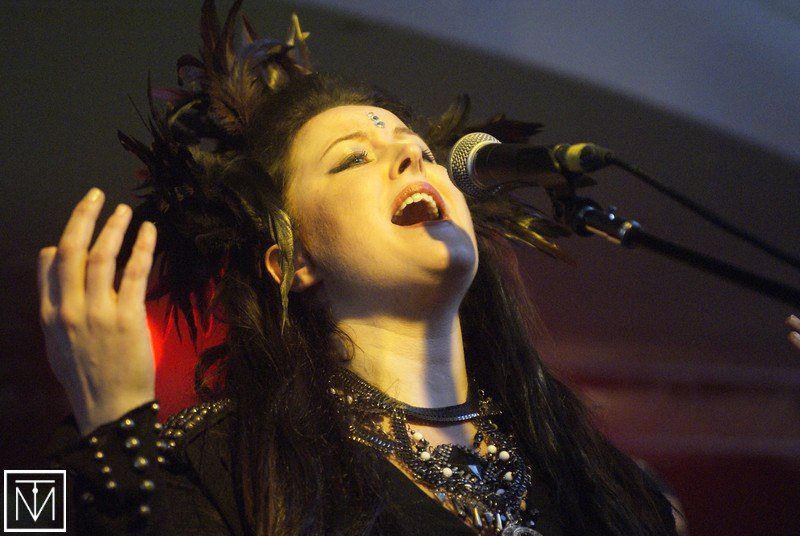 Panic Room
New guitarist Adam O'Sullivan is still finding his feet to some extent, but he's slowly growing into the role, and of course Anne-Marie Helder's vocals were in a class of their own. The choice of setlist showed a band taking aim at the future rather than relying on their past, and they deserved to win over plenty of new fans.
Arcane Roots were something completely different; a prog-metal power trio, relying on a combination of technical virtuosity and sheer raw energy rather than songcraft. There were a bit "Theydon Bois and Clam go metal" at times, and clearly weren't to everyone's tastes. They were good at what they did, but ultimately suffered from a lack of variety.
Hawklords are essentially a Hawkwind tribute act including people Dave Brock has sacked from Hawkwind over the years. With their mix of classic 'blanga' and poetry readings accompanied by electronic effects they sought to evoke the legendary Space Ritual sound. They started and ended well, bookending with the Hawkwind standards "Master of the Universe" and "Damnation Alley", but their rather self-indulgent set flagged badly in the middle.
Adrian Shaw did a passable impression of the late Robert Calvert, and one highlight was a lengthy and surprisingly melodic instrumental piece that eventually morphed into "Uncle Sam's On Mars". Unfortunately their overlong set overran their slot, throwing out the timings for the rest of the day.
There is nobody else quite like The Enid. Robert John Godfrey is closer to a classical composer working within the rock world than a conventional rock musician, and they augment rock keyboards and guitars with an impressive array of orchestral percussion instruments including some massive kettle-drums. They've moved away from the over-ambitious large-scale choral works of a couple of years back that didn't work at festivals in favour of their more melodic and accessible material.
Rather than the fully-instrumental form of earlier years they've added a lead vocalist in the shape of Joe Payne whose falsetto is quite unlike any other singer at the festival. They were yet another victim of technical problems, this time with a wind synth that refused to behave, but like others before them rose above it to deliver another strong set. They ended with what Robert John Godfrey described as the closest thing they've done to rave music, the dynamic groove-orientated "Dark Hydraulic".
This is a band that does tend to divide opinions, but for every person who they leave scratching their head in bafflement there's another who's absolutely mesmerised by what they do.
Fish has experienced a strong renaissance as a live artist in the past couple of years, as anyone who saw his tour in 2013 will know. But this festival crowd contained a fair number of sceptics who last saw him several years back when persistent voice problems resulted in very hit-and-miss performances. Almost as soon as he hit the stage he proved beyond doubt that he was back on form, and had the audience eating out of his hand, especially when he launched into a very intense rendition of Marillion's "Script for a Jester's Tear" early on.
Fish
The setlist was a cut-down version of that played  last year, with no surprises for anyone who saw him that tour, and the whole thing – from the epic brooding opener "Perfume River" to the medley of oldies at the end – flowed beautifully, and built in momentum as the set proceeded. One 'festival moment' was the end of the acoustic "Blind to the Beautiful" when he handed the microphone to Panic Room's Anne-Marie Helder in the photo pit.
As an elder statesman of prog, his career has had its up and downs, and at the moment with a highly-regarded new album and live shows like this he's definitely on an up. This was the performance of the festival.
It was left to 80s prog-folk veterans Solstice to close the show. After Fish it could easily have an anticlimax, but they proceeded to play an entertaining and uplifting set. Andy Glass is a phenomenal guitarist, Emma Brown delivered a great performance on lead vocals, and Jenny Newman's violin added another dimension to the sound. It was a shame that it was cut slightly short due to Hawklords overrunning their slot earlier in the day.
[quote]the Hobgoblin ran out early on Saturday[/quote]
The main part of the festival turned out to be an event of two halves. With a couple of notable exceptions Friday was a day of shredding virtuosity rather than songs, with a very noticeably all-male bill. Saturday was the reverse, with a lineup of bands emphasising composition where technical ability was a means to an end, and half the acts featured female lead vocals. I know which I prefer.
Overall the festival was well-organised, the sound was good, and everyone involved did a professional job. The fifteen-minute turnovers between bands kept the music flowing, but at the expense of the technical problems that plagued almost every band on the Saturday.
A couple of recommendations for next year. First, it's an established fact that given a choice many prog fans prefer to drink real ale. After the Hobgoblin ran out early on Saturday the bar was just generic lagers; a day spent chilling out in Porthmadog after the festival was a reminder that there are some superb local beers in this part of the world, and it would be nice to have one or two of those on sale at the venue.
Second, it wasn't easy to buy merch for many of the bands. Bands didn't have their own merch stands, and the only source of CDs within the hall itself was an independent trader who carried only limited stocks of music by the bands on the bill, which rapidly sold out. There was some merch on sale in another building several minutes' walk away, but again, only a limited selection.
But those are only minor issues. It was a highly enjoyable event held in a beautiful part of the world. It's a long journey to get there, but the whole trip was thoroughly worthwhile.