[dropcap style="font-size:100px; color:#992211;"]UK[/dropcap] producer Hoffman's Serenity comprises eleven tracks of atmospheric electronica.
It follows his two previous releases under the Slime Recordings label – Pieces, an EP released in early 2014 and Move Your Mind, an LP collaboration with Swedish producer, Materia.
Even though Hoffman is widely regarded as a veteran of the UK breaks scene, Serenity is his first opportunity to explore his sound over the course of a full length solo record. The result does indeed mark him out as a gifted producer. The tunes here are mainly built around two-step and garage breaks, with melodious, atmospheric synths and evocative, half-lost vocals combining to create ambient, occasionally lugubrious backdrops to the dance-inducing percussion and throbbing bass.
'First Light' opens the album atmospherically with leaky echoes and vocal washes, before a clicking garage beat and heavy bass drum leads you feet first into a growling bassline that's wide enough to fall into. The track lays down the blueprint for the entire album; a record which is designed to move the body but also aims to trade heavily in ambience and atmospherics. The bassline here is killer and the vocal samples also play their part throughout.
Hoffman is good with vocals, but the track which relies most heavily on its vocal performance is ironically the weakest; second track 'Think About The Time' is one of two on the record to feature UK rapper, Daytripper (the other being penultimate track, 'Solace'). The lyrics have a 'where we are going wrong' focus and feel honest enough, but lack any edge, as does the delivery, and ultimately it all feels pretty inessential. The track itself begins interestingly and the cello is a nice touch, but things don't really go anywhere once Daytripper hops on board.
Kitty Stewart is the other vocalist featured and her simpler lyricism and floaty, ethereal style – more in keeping with the rave aesthetic – seem to work much better here. Hoffman makes use of her vocals on 'Crawling' and, even more cleverly, on 'Choose Your Moment', cutting, compressing and pitching her voice up to compliment the track's club banger vibe. It is the most overtly rave-y thing on the record.
'Twitch' is a highlight and lends a sense of urgency and foreboding to the heart of the record. A punchy bass drum, skittering hi-hats and dampened claps propel the track along above a fidgeting, swelling bassline, as heavy storm cloud synths roll in from above.
Two warmer tracks follow. 'Reflected' is indeed warmer, and more relaxed. A crackling effect is joined by some of the most laid back beats on the record, along with dreamlike melodies and soft, enveloping bass; a night time campfire scene rendered in digital sound.
'Suburban Playground' is fittingly titled. The most playful, light-hearted track on the record; it features sunny piano lines and the familiar garage rhythm of all that's come before, but here Hoffman stutters it slightly, as if deliberately trying to wrongfoot his audience. Like the preceding 'Reflected', the track has a warmth, but this time it's sunshine.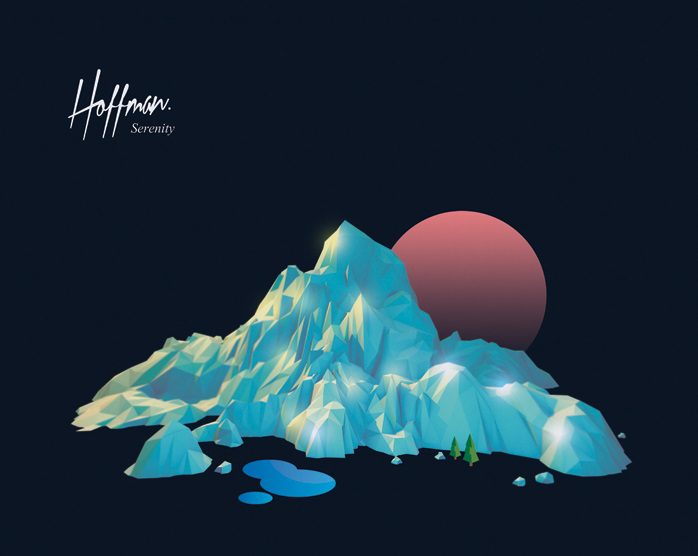 Hoffman is at his best when he restrains himself, goes a little darker and allows the ambience which saturates his work to come to the fore. Title track, 'Serenity' is one such example; a rumbling bassline lurks beneath searing synth lines while twitchy sound effects and enigmatic vocals combine to create a track dominated by tone and texture.
However, the ultimate example of this ambient, atmospheric aesthetic which seems to work so well for Hoffman is album closer, 'Let The Vibe'. It recalls previous Hoffman standout, 'Dust', the eight-minute epic which closed out his Pieces EP. The track features backing tones which sound performed by a ghost choir at the end of a cathedral corridor. An effortlessly groovy percussion track is lead by a pulsing bass drum as a gorgeously simple xylophonic melody graces the beat. Pipes creak and echo and clipped ragga vocals – Hoffman's best use of vocal sampling on the whole record – soon join the mix. The song acts as the perfect album closer, feeling simultaneously resigned but euphoric, solid as stone yet warm.
In its best moments, Serenity really works, and the sequencing of the tracks allows things to flow along nicely on the whole. However, it could have benefitted from being stripped down by one or two tracks. Hoffman occasionally and unnecessarily retreads the same ground over the course of the eleven tracks, which slows the album down a little. Even in these moments however, the producer's deft percussive touch and clever creation of atmosphere make for an enjoyable listen.
Serenity is available from 3rd March 2015 at www.slimeshop.co.uk