[dropcap style="font-size:100px; color:#992211;"]A[/dropcap]long with the likes of Knifeworld, Purson and fellow Finns Jess and the Ancient Ones, Finland's Hexvessel bring the weird and wonderful world of late 60s psychedelia into the 21st century.
Song titles like "Transparent Eyeball" and "Cosmic Dreams" make it clear where they're coming from on When We Are Death, even if calling a song "Mushroom Spirit Doors" does sound as though they're taking the piss.
The illicit substance-inspired song titles would mean little if the music wasn't up to snuff, but Hexvessel more than deliver on that front. "When We Are Death" goes from space-rock to psychedelic folk, with swirling organ, fuzzy stoner-rock grooves, gothic atmospherics, and the occasional Motorik beats and garage-rock riff.
Some bands mining this musical seam have ended up with albums sounding rather one-paced, but Hexvessel avoid this trap by keeping it varied. After the hypnotic grooves of "Transparent Eyeball" and "Earth Over Us" with its evocative Doors-style electric piano, the pace changes completely with the melancholy ballad "Cosmic Dreams", a strong highlight of the album. The sinister psychic drama of "Mirror Boy" is another gem, and isn't the only song that recalls the gothic atmospheres of the short-lived 1990s goth-proggers Ordinary Psycho, if anyone remembers them.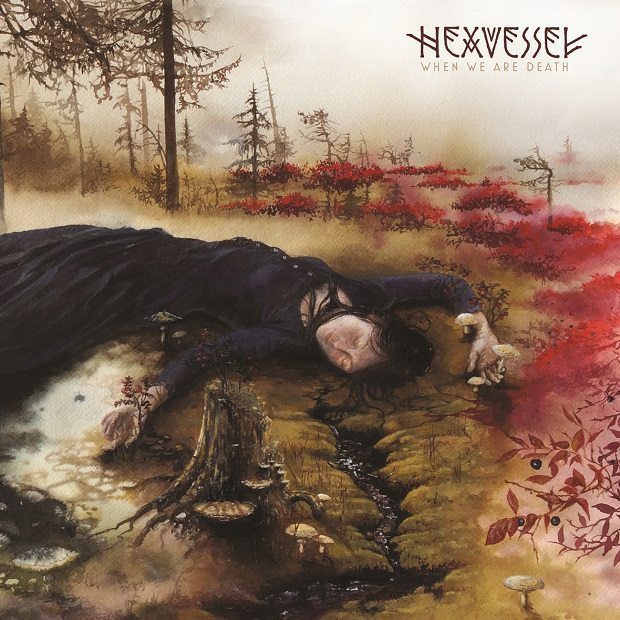 Other standouts include the "Drugged Up On The Universe" with a combination of fuzz-toned guitar and Hammond organ that comes over as a cross between Black Sabbath and Uriah Heep, and the doom-laden slow blues of "Teeth of the Mountain". Perhaps the only song that doesn't quite work is the aforementioned "Mushroom Spirit Doors" where awkward time changes mean it fails to achieve lift-off. But that's the one weak song on an otherwise strong record.
British-born singer Mat McNerney impresses a lot; there's a touch of Jim Morrison, Nick Cave and Ordinary Psycho's Tony Gulvin in his style. On the instrumental side it's Kimmo Helén's keyboard textures that stand out, adding an extra dimension to every song.
With When We Are Death, Hexvessel have done a great job at invoking sixties psychedelia with a touch of nineties goth, with influences from all over the place fused into a coherent whole.
Hexvessel's When We Are Death available now from Century Media Records