[dropcap style="font-size:100px; color:#992211;"]A[/dropcap]n explosive combination of power, brash chords and ecstatic melodies, Groove-punk Austrians White Miles have started their ascent.
Calling to mind the aggressive aspects of Gang of Four with the angular noise of garage rock, what the band have yet to capture on record they've already honed live.
Touring as the support band for the Eagles of Death Metal Trebuchet caught up Medina and Lofi after their blistering set with applause still ringing in our ears.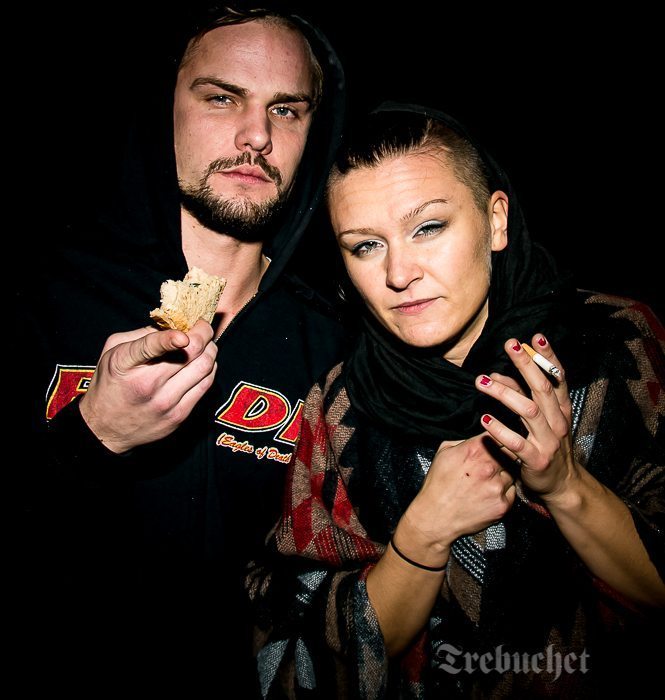 Lofi, the surfer-esque drummer of White Miles, has changed from standard black clothes to a hoodie and boardshorts. Stretching out on the faded dressing room sofa he devours another Tesco sandwich. From the remnants spread out on the floor, he's hungry.
Draped in an Aztec poncho, singer-guitarist Medina is bouncing around the room beaming a huge crazed smile. They know it was a pivotal moment for the band: first impressions in front of London's cynical music industry, a chance to shine. Whatever came before has led them to this memorable gig, and when the opportunity arose they kicked ass.
Having heard their album before seeing them live, it's remarkable how tame the record is compared to their live show. Why are they so much better live?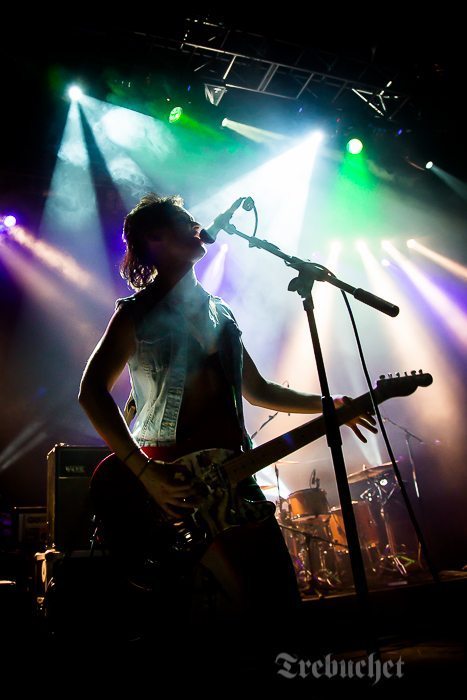 Lofi laughs: "We've heard this feedback before. 'The album is not what you have live'. So when we worked on the (unreleased) second album we did it a different way. No click, no metronome. Just one room, no separation between us. Just like the live shows. Going for it with all that emotion and all that feeling, with the changes in tempo and vibe, step changes and stuff like that. So hopefully it'll be a lot more like the live set on the second record."
Seeing them onstage: Lofi locking into a hard groove smashing cymbals, lank mohawks flying as Medina jumps, kicks and crawls around the stage, the rapport is undeniable.
"We've been friends for around ten years now, we met at a band contest" Medina explains "we were friends and played shows together, then quit our bands. We had always clicked, you know? It's like we're cut from the same cloth.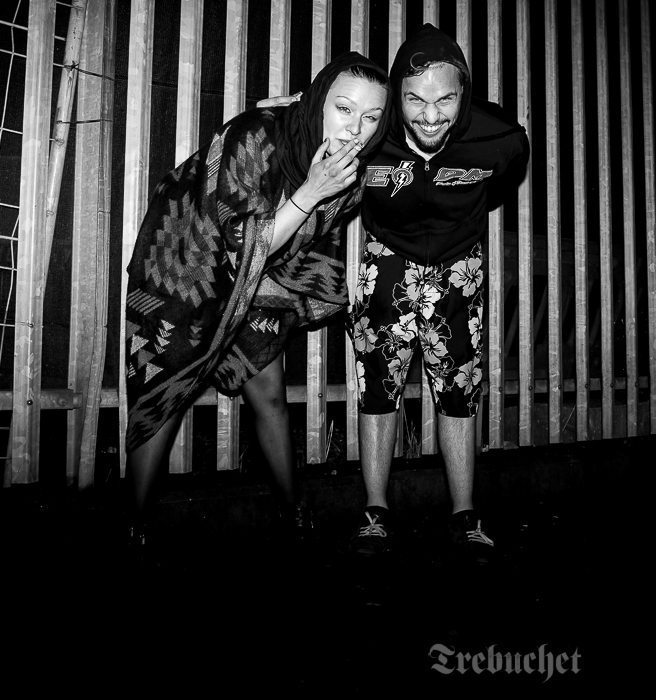 Lofi called me in the middle of the night "Medina, why are we not playing together?" and so we started from there. Just jamming and playing together. This was in 2011, from there we recorded three songs live in a basement, then from there… well, here we are."
A guitar and drum can make a lot of noise, one wonders whether there was ever any interest in having others in White Miles?
"No. I wanted to play music with Lofi and Lofi wanted to play music with me. That was it." Medina concedes "I think we thought about doing that a little at the beginning, but once we started playing together as White Miles we knew that this was what we wanted to do. It was just great."
It's a journalistic cliché to ask about a band's name, but that early point in a band's career(thinking about the title that'll define the project) is often when they are most inspired by the idea of what they want to create – before the contracts, the infighting, the touring tedium. It's what they're called, if they ever are.
"I can show you my notebook." Medina makes a show of scrabbling around one her bags. It's endearing to think that the notebook where they worked over band names is still being used. "We had about 60 or 70 different ideas. Six-Six-Sex, Red Camaro, Happy Jesus and the Nun with a Gun….
Which is a pretty good name actually. We use it for different stuff… porn movies (laughs)."
Between bites Lofi suggests thoughtfully "Maybe some people like to take off their clothes when I play the drums."
Cackling, Medina continues "In a way the name White Miles was decided by our friend Mina (she's a really, really hot model from the Tyrol). We mentioned the different names that we had in mind and she said that White Miles was the one.
White Miles for us is the idea that when you are on the road, and you're in the van, you have a very focussed way of thinking (and being). White Miles on the floor, just touring, it's where you're going even when you don't know where you're going. White is the colour for freedom and, er, anything else… erm… you can think of.
Surely something must have come up touring with legendary partyers Eagles of Death Metal.
"We just asked for the support spot and we got it! It's awesome that we're doing the whole European tour." Medina becomes serious. "Tonight in London we had so much love coming from the audience while we played, and then afterwards when people were talking to us. It's been amazing. We're playing to people who've never seen or heard of us before and then, when you get that loud 'yes' from the crowd, that feedback is amazing."
[button link="http://www.white-miles.com/" newwindow="yes"] White Miles[/button]
More photos of White Miles at the Forum
The aim of art is to represent not the outward appearance of things, but their inward significance. – Aristotle