[dropcap style="font-size:100px; color:#992211;"]C[/dropcap]urator of the Irish Pavilion at the Venice Biennale 2015, Woodrow Kernohan has been instrumental in bringing an interdisciplinary aspect to the proceedings this year.
Centering on the artwork of Sean Lynch, commissioned specifically for the Biennale, the lens-based
and sculptural installations use a contemporary form of the Bardic tradition to create conjunctions between diverse elements, celebratng overlooked aspects of Irish social and cultural heritage. The works will be located in the Artiglierie of the Arsenale, Venice.
Curator Woodrow Kernohan answered Trebuchet's questions about the show, and his approach to it.
What first drew you to art?
Since I can first remember, art has always been part of my life. Growing up drawing and painting, I went straight from school to study fine art, which was an incredible experience. After art school, it was the absence of opportunities for artists that first drew me towards exhibition making.
When was the idea for the Ireland at Venice 2015 project conceived?
Artist Sean Lynch, Commissioner Mike Fitzpatrick and I have been discussing working together for some time. When I moved to Limerick in 2011, one of the first projects I saw was Sean's "Dear J.J., I read with interest…" (2006–11) that retells the story of a bicycle that appeared on Carauntoohill, Ireland's highest mountain in 1983, as an unofficial monument to Flann O'Brien's wonderful book The Third Policeman.
Since this encounter I have closely followed Sean's projects with the hope of working together. Ireland at Venice 2015 is the outcome of these conversations.
Sean Lynch "Dear J.J., I read with interest…" (2006–11)
How did your involvement begin?
Sean Lynch, Mike Fitzpatrick and myself are longstanding friends and colleagues and working together for the Irish Pavilion comes from an ongoing conversation. Ireland at Venice, which is an initiative of Culture Ireland in partnership with the Arts Council, is quite unique within the landscape of national pavilions at the Venice Biennale. The Artist, Curator and Commissioner are selected through a process that encourages teams to develop and propose projects for the Pavilion, enabling experimental and emergent practices to come to the fore.
Sean, Mike and I were formally appointed as the team for Ireland at Venice 2015 in May 2014.
What is the vision for this project?
For Ireland at Venice 2015, Sean Lynch has created a new work entitled "Adventure: Capital". This project evolves from his acclaimed work "A Blow-by-Blow Account of Stonecarving in Oxford" that was developed for Modern Art Oxford and is currently being shown in CAPC, Bordeaux (until May 2015). Through this project Sean uncovered the story of the O'Shea brothers: stone-carvers from Ireland, who were commissioned by John Ruskin to decorate the exterior of his new Museum of Natural History in 19th century Oxford.
In celebration of Charles Darwin's emerging theory of evolution, and mocking their academic and colonial masters, the O'Sheas carved monkeys, owls and parrots on the building, being removed from the project as a result. For "Adventure: Capital" the figure of the artist-builder embarks on an odyssey from Bronze age myth to contemporary forms of Minimalism around Ireland and Britain, mirroring the flows of capital, migration and international modernism.
How did Sean Lynch's work typify your vision for the project?
Lynch is an artist-storyteller who excavates social and oral histories, finding incredible and often unacknowledged moments of subversion, subterfuge and vernacular critique. Through his storytelling practice, Sean highlights and combines these social and cultural fragments in a rigorous, quizzical and humorous way, forging new narratives and subjectivities that challenge the dominant narratives of conquest, progress and empire.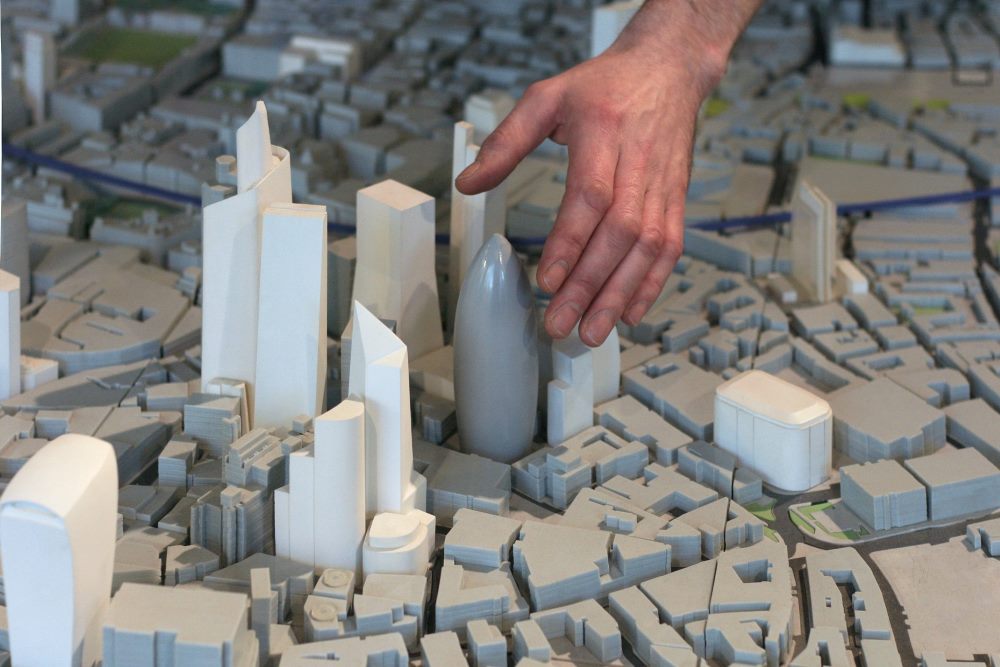 Sean Lynch, Adventure Capital, ratio-3-2, Courtesy of the Artist, Kevin Kavanagh Gallery, Dublin  and Ireland at Venice
What do you dislike most about art?
Rather than dislike, I would sometimes find myself dismayed by art and this mostly involves the strange mix of celebrity and the art market. If I could, the things I would change about the art world would be the continued undervaluing and underpayment of artists, and the spiraling debts being amassed by many art students.
How would you define artistic controversy?
Controversy would be an overused word in relation to contemporary artistic practice; often it would be used in a context that embodies a conservative response to art, or marketing-as-art. Artistic controversy would be part of the radical shifts that embody the narrative of modernism, avant-gardes and progress.
Do you think that controversy is a positive force in art or a conceptual red herring?
In many settings deliberate artistic controversy could be more appropriately called provocation and has more to do with marketing and shock rather than real social and cultural change or breaching taboos. Trying to challenge dogma and change the status quo is positive; provocation for provocation's sake is just that.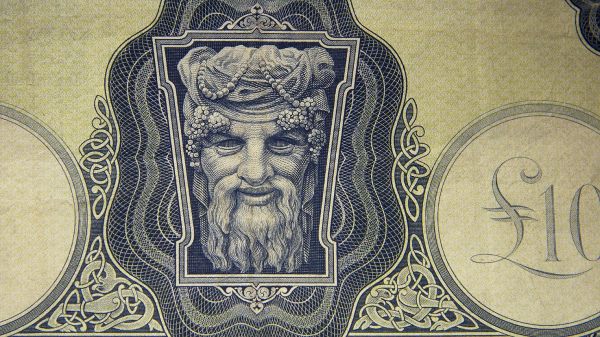 Sean Lynch, Adventure Capital, Courtesy of the Artist, Kevin Kavanagh Gallery, Dublin  and Ireland at Venice
What's been your biggest challenge?
Part of my role as Director/CEO of EVA International – Ireland's biennial of contemporary art in Limerick City, has been to negotiate the use of commercial and industrial spaces for exhibitions. In 2014 EVA took over a vast former milk processing plant on the banks of the River Shannon in Limerick, transforming nine huge warehouses into bespoke exhibition spaces. For a small organization this was an extraordinary undertaking, and the team and curator Bassam El Baroni achieved the impossible.
What's been your biggest success?
EVA International was founded in 1977 and has brought some of the world's leading artists and curators to Limerick, Ireland. Being part of this history and working to ensure EVA's future is a great privilege. Limerick is on the western edge of Europe but is now a recognised biennial and we are currently working towards the 38th edition in 2016, the centenary of the 1916 Easter Rising in Ireland.
Who are you five favourite artists and which pieces of theirs do you admire?
My answer to this question would change on a regular basis for me. Working closely and collaboratively with artists to create new projects, I develop a relationship with these projects that would have an enduring presence for me. In addition to these projects recent highlights include: Sean Lynch's "A Blow-by-Blow Account of Stonecarving in Oxford" (mentioned above); Isabel Nolan's "The Weakened Eye of Day"; Ben Rivers' "Things"; Adam Curtis' "Bitter Lake", and I am particularly looking forward to seeing the outcome of Sarah Browne's and Jesse Jones' collaborative project "In the Shadow of the State" coming up in 2016.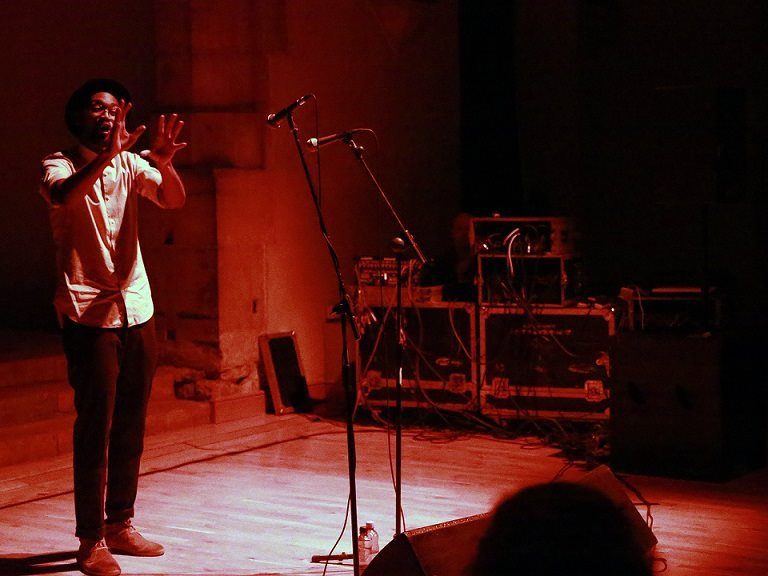 Nastio Mosquito _Bee – The Opposite of Cockroach_ as part of EVA International 2014. Photograph Deirdre A. Power
Who do you think is the artist to watch at the moment and why?
One of the artists I am eagerly watching at the moment is Nástio Mosquito, who participated in EVA International in 2014. He is a very engaging and exciting artist whose improvisatory performance practice combines social commentary, personal biography, freeform Jazz and humour. He was awarded the Future Generation Art Prize in 2014, so I am looking forward to seeing what happens and where he goes next.
What does the future hold?
As mentioned above, 2016 will bring a new focus in Ireland with the centenary of the 1916 Easter Rising. After showing at the Biennale Arte 2015 in Venice, Sean Lynch's "Adventure: Capital" will tour venues in Ireland throughout 2016: The Model, Sligo; Limerick City Gallery of Art; Royal Hibernian Academy, Dublin; Golden Thread Gallery, Belfast; evolving each time it is represented.
2016 also brings the 38th edition of EVA International – Ireland's Biennial of which I am currently Director/CEO. We are in the process of appointing the guest curator for EVA International 2016 (to be announced in April 2015) and this is going to be a unique opportunity for reflection on this revolutionary history.
Inset photo: Woodrow Kernohan by Deidre A. Power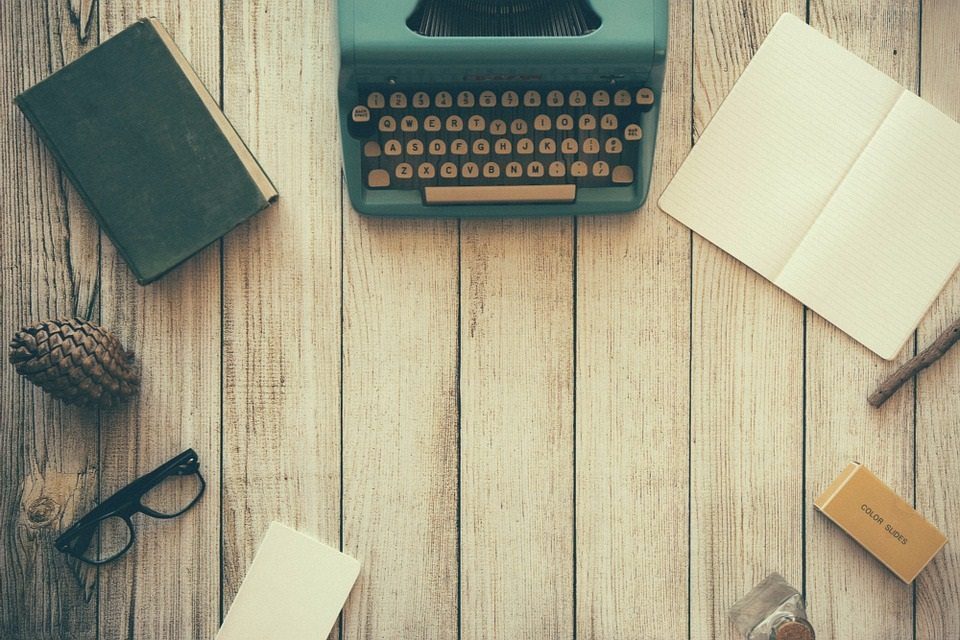 The aim of art is to represent not the outward appearance of things, but their inward significance. – Aristotle