[dropcap style="font-size:100px;color:#992211;"]G[/dropcap]
enesis Breyer P-Orridge, the lead singer of Throbbing Gristle and Psychic TV, has died at the age of 70 after a two-year battle with leukaemia. Celebrated in recent years with shows at the

Warhol Museum

 and the 

Rubin Museum

, the pioneering cult hero, who adopted a third gender, is known for reinventing he/r own body as a work of art.
Four days ago, P-Orridge had posted a selfie on Instagram, stating, "This is me today waiting to go home…" Two days later, the artist's daughters confirmed the death.
"It is with very heavy hearts that we announce the passing of our beloved father, Genesis Breyer P-Orridge," Caresse and Genesse P-Orridge said in a statement shared online. "S/he will be laid to rest with h/er other half, Jaqueline "Lady Jaye" Breyer who left us in 2017, where they will be re-united."
P-Orridge was born as Neil Andrew Megson in 1950, in Manchester, England. Around age 15, P-Orridge encountered a book called The Hundred Headless Woman that contained surreal collages by artists including Max Ernst. It was a pivotal discovery for the artist, who then adopted the new name 'P-Orridge' and became interested in art, the occult, and avant-garde thinking. S/he would go on to to reimagine their body as a work of art.
In the 1970s, P-Orridge formed a performance art group called COUM Transmissions. In 1976, it had an exhibition at London's Institute for Contemporary Art that focused on prostitution; it was met with outcry from both authorities and public. COUM Transmissions nevertheless managed to get grants from the Yorkshire Arts Association, the Arts Council of Great Britain, and the British Council, garnering a dedicated following.
That group evolved into P-Orridge's major project, the band Throbbing Gristle, which s/he fronted as lead singer. After Throbbing Gristle was dissolved in 1981, P-Orridge formed Psychic TV with Scottish musician Alex Fergusson.
In the 1990s, P-Orridge met he/r life partner, the nurse and dominatrix Jacqueline Breyer P-Orridge, known as Lady Jaye. Together they began the Pandrogyne Project, an initiative through which the two attempted to physically resemble one another and break with gender and identity through surgical body modifications. Lady Jaye died in 2007.
Source: artnet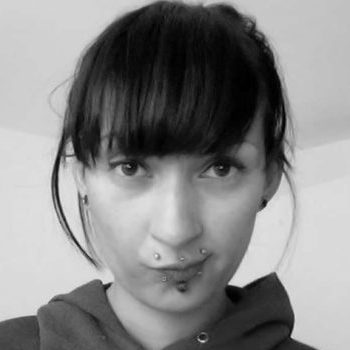 Naila Scargill is the publisher and editor of horror journal Exquisite Terror. Holding a broad editorial background, she has worked with an eclectic variety of content, ranging from film and the counterculture, to political news and finance.