[dropcap style="font-size:100px; color:#992211;"]I[/dropcap]n a dark corner in the City of London, strange creatures roam the streets.
They kidnap princesses and lock them away in bell jars. They invite their friends over for tea and fried chicken, only to consume the guests as dessert. They choose beauty and youth over wisdom and safety, hedonistically burning themselves on candle flames and scalding words. This is the exhibit of Freya Pocklington, a Mad Hatter's tea party combined with Animal Farm and Watership Down.  In the case of Wolves Find Dogs Delicious, a little madness goes a long way.
Not the largest of exhibitions, with only seven pieces in the entire show, of which one was unceremoniously displayed in the bar/office area. Nevertheless, Pocklington's work packed enough punch to equal a whole 50-piece graduate show.  The artworks hung grandly in the modest space of the Breese Little Gallery,  being taller than myself standing in heels and infinitely more satirical and complex.
Teeming with animals, insects and hidden monsters, the Conte pencil-drawn landscapes and portraiture had a childlike artistry about them. A manifestation of a child's nightmare and a Beatrix Potter fantasy, these images highlighted and questioned the social mores of anthropomorphism. Giving personality to all the creatures contained within, Pocklington demonstrates through chaotic scales and wildly inaccurate biology that all species have a cultural identity.
Freya Pocklington – Installation panorama
Our projections of reverence, fear, distaste and even hatred are all malleable constructs, and Freya Pocklington has turned them into her playthings.
Reminiscent of Dali and Richard Dadd, these pictures repeatedly capture your attention and often demand a third or fourth once-over, in order to see what else it has to offer. A seemingly endless level of detail, but not in the same terms as Dadd's 'The Fairy Feller's Master-Stroke' whereby with every examination you find a new specimen of fake life. The detail burned into Pocklington's work was more that of colour, movement, hidden trickery and overt actions.
Take the first image that I saw during my visit, 'An Average Sized Rabbit And Some Exceptionally Small Animals'. At first the bright and sombre faced rabbit takes up most of the view, recovering enough to examine a fox masked woman dining with either a wolf or a big black dog. Their cheeks stuffed with chicken, they sit within a playground. At the forefront are limbs in a box and in the background is a child on a swing.
What at first appears a nonsensical mixture of animals and objects soon unfolds as a menacing tea party for the damned. One begins to fear for the fox masked lady; seeing the hunger in the black wolf's grin, the sadness in the face of the rabbit and the encroaching darkness as more animals join the soiree. The more I peered into the drawing, the more I become another guest, with displaced limbs and plush Conte fur.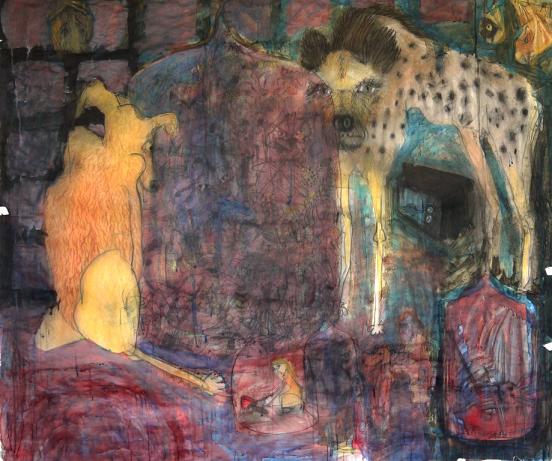 The Capulet's Ball Played By Peritas and Hyena
Another similarly interminable image is that of 'The Capulet's Ball Played By Peritas and Hyena'. Apparently inspired by a scene in Baz Luhrmann's Romeo and Juliet, this depicts the forbidden love of a dog and a hyena, staring at each other with longing through a bell jar containing an infinite number of insects. The hyena's longing appears somewhat more carnal (or visceral) than that of the poor pooch, nevertheless interspecific love has never been shown so boldly or so beautifully.
The true fascination for me however, lay in the foreground of this immensely cryptic scene. Several bell jars containing vastly different fairytale endings were strewn about: a damsel in distress picking up excrement; a princess grooming a large dog; a bunny rabbit pierced through the heart. These were stories that would have been told if the Brothers Grimm had been two daschunds.
Adding both a social environment to the piece as well as an extra layer of the bizarre, this particular narrative drawing also stressed another message. Pocklington was attempting to express through her work, a nostalgic and derisive statement stimulated by traditional museum displays. Using the colour of musty wooden cabinets, references to smeared glass prisons and the almost perceptible torrid feel of taxidermied fur, she recreated the shadowy and agoraphobic aspects of old fashioned exhibits.
My favourite piece had to be 'View From KFC, Milano'. An amazingly light and sensuous landscape, filled with more irregular sized creatures, erratic limbs creeping in from all sides, still lifes and architecture in violently different perspectives to that of the far off mountains or up-close characters. Another masked woman sits on a chair, whilst a bespectacled and baffled rabbit waits for her to look away, so he can scavenge the various creatures for scraps.
It reminded me strongly of my own experience at Pizza Hut in Cairo, which lay directly opposite the Sphinx. Such a wondrous view, filled with historical meaning, social injustice and cultural embellishments. Here in Pocklington's landscape we have the same similes, depicted through caricature animals and the vast separation of the inhabitants from the glorious beauty in the far distance.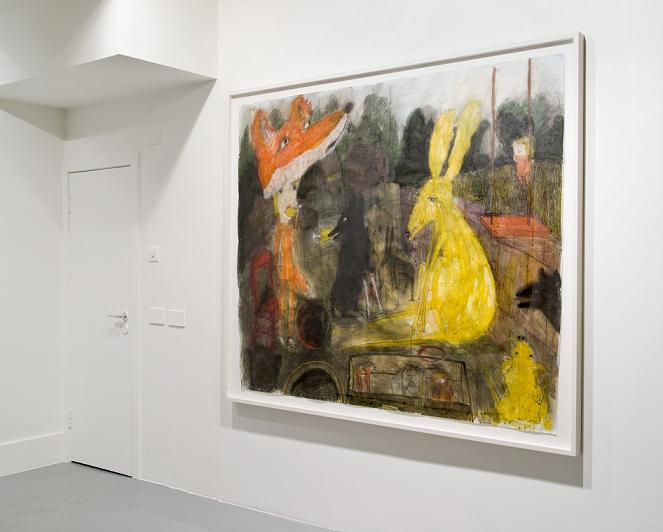 Installation view, Freya Pocklington
One final point I would like to leave you with and a final comment on the last piece of the Wolves Find Dogs Delicious exhibit. The animation 'Man Before Time' is a brief looping cartoon depicting the creation and destruction of the universe, as well as the evolution from dinosaur to fox to man. Though not as multifaceted or as obscure as the other works in the exhibit, there is a nihilistic immaturity to it. Reducing evolution to three categories, reducing earth to a rock speeding through space and reducing the big bang and end of the universe to dark felt tip scribbles.
Overall this piece laughs in the face of the sciences and shouts out about the futility of explaining the meaning of life. A simple piece and by no means perfectly executed or even that original, however framed as it was by the maudlin and menacing scenes of lost animals, this animation summed up a wealth of meaning for me- "Shit happens and then you die… so let's all dress up as foxes and go hunt rabbits".
Installation photos: Breese Little
Freya Pocklington: Wolves Find Dogs Delicious
Breese Little Gallery
16th January – 23rd February
Open: Tues – Sat, 12 noon – 6 pm or by appointment
30d Great Sutton Street, London, EC1V 0DU