[dropcap style="font-size:100px;color:#992211;"]T[/dropcap]
he British artist Frank Carter will stage 900 Days of Chaos, a one-night happening at a secret East London location on
30 January, at which his latest paintings and sculptures will be previewed.
Comprised of more than 10 paintings, the exhibition also features a single sculptural work — the artist's first. Entitled Pegasus, this work will be shown alongside a performance called Heaven and Hell. During the course of the evening, each will undergo a transformation that will leave them permanently changed.
Operating across a range of mediums, Carter's work explores chaos as a universal vector that unites humanity. The viewer is invited into what the artist describes as a "kaleidoscopic pandemonic landscape", in which he says, "everything you have ever known, each emotion felt, every memory hidden, each buried secret floats aimlessly in a fluid state of purpose and hopelessness".
Alluding to his training as a tattoo artist, Carter's paintings present a cacophony of visual motifs produced in fluorescent and neon colours. All the paintings are rendered in a mixed media on paper imbibed with Tramadol, Valium, Xanax, Oxycodone, Marijuana and Cocaine. Described by the artist as "a burgeoning stockpile of incendiary moments" everything depicted in the paintings combust, says Carter, "into something new that at the same time makes perfect sense and none whatsoever".
The paradoxical nature of the works is mirrored by chaos itself, which despite symbolising disorder is believed to entail re-occurring systems and patterns. This is evident in pieces such as Soul Swallower and The Birth of Pegasus, where mixed iconography — including religious deities, 'muscle cars' and cartoon bestiality — drift through the pandemonium of the paintings in figural outline against black backgrounds.
900 Days of Chaos will take place in partnership with Klub Verboten with drinks provided by Sailor Jerry Rum.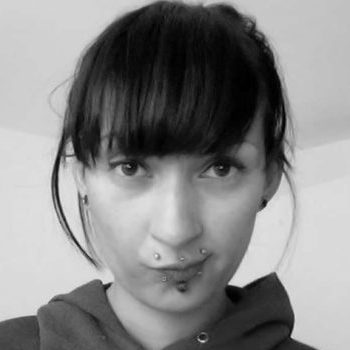 Naila Scargill is the publisher and editor of horror journal Exquisite Terror. Holding a broad editorial background, she has worked with an eclectic variety of content, ranging from film and the counterculture, to political news and finance.