[dropcap style="font-size:100px; color:#992211;"]T[/dropcap]
o mark last year's thirtieth anniversary of Marillion's Misplaced Childhood, Fish played an extensive sold-out tour across Europe billed as "Farewell to Childhood", playing the iconic 1985 album in its entirety.
But a handful of shows in France and Germany towards the end had to be postponed when Fish suffered a throat infection, and to turn those rescheduled gigs into a proper tour he booked a handful of additional dates including some further British ones, one of which was at the rather grand Assembly Hall in Islington. Like the British leg of the original tour, it was sold out weeks in advance.
The show kicked off with an impressive "Pipeline", a number from the 1994 album Suits that hasn't featured in live sets for a long time. The next few songs went from the title track of his most recent album Feast of Consequences to "Family Business" from his solo début. The hard hitting "Perception of Johnny Punter" came over a little thin with just one guitar, even with Tony Turrell playing the solo on keys while Robin Boult ground out the Zeppelinesque riff.
We had the usual monologues interspersing the songs, including one about his adventures earlier on the tour in The Netherlands that almost ended with the headline "Fish drowns in canal". But for a large part of the crowd these opening numbers were just a warm up for the main event, and sadly some idiots insisted on interrupting his lengthy and heartfelt dedication for "Misplaced". Why do they do it?
Fish's solo career has taken him away from the neo-prog sounds of his days in Marillion. The approach has been looser, rawer and altogether more rock'n'roll. While he's always thrown a few Marillion oldies into his live sets, his live bands have tended to reinterpret them in their own style rather than try for note-perfect reproductions of the originals. That approach has served him well, especially when it's a handful of well-chosen songs. But when it comes to a dense, complex concept album like Misplaced Childhood it's a different matter.
It's not as though it didn't have its moments (especially the anthemic "Lavender" and "Heart of Lothian"), yet the whole thing didn't quite catch fire with the sort of intensity we saw on, for example, the High Wood suite on the Feast of Consequences tour. Even with the material played in a lower key but there were still one or two moments where Fish struggled vocally. And while the band aren't attempting to be a note-perfect Marillion tribute act, there were times when you missed having Steve Rothery on guitar.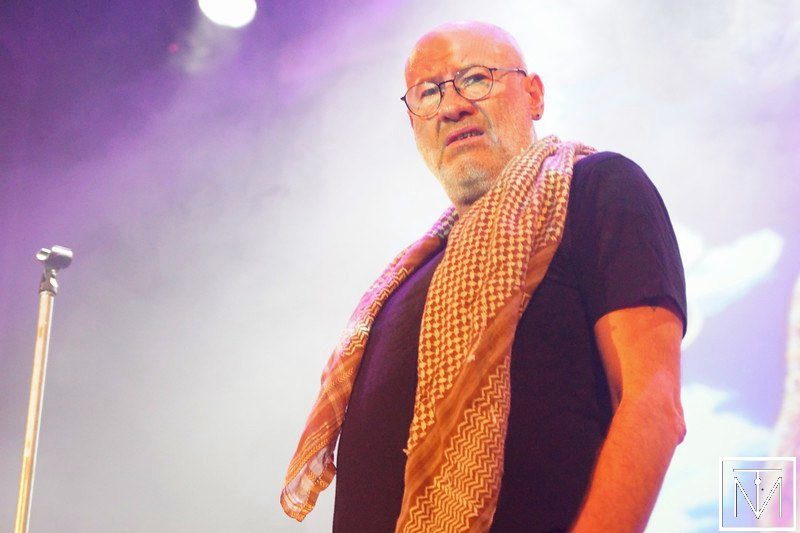 They ended with rousing encores of "Market Square Heroes" and "The Company" which finished things on a high note, but the gig as a whole seemed a curiously flat experience. The muddy sound early on didn't help, though it sounded better from the balcony.
Fish has played some memorable gigs in recent years with sets focussing on newer material. But while reviving a 30 year old album makes economic sense, and the sold-out gig bears witness to this, it did leave you wondering how much this was done for other-than-creative reasons. It might have been an off-night, and maybe the hecklers put the band off their stride and made it harder to get into "the zone", but this was a long way from being the best Fish gig of recent years.