Korean artist Oh Myung Hee  revisits what it means to be a woman in Korea throughout the last century by looking at how 'woman' was shown in idealised Korean culture. She unpicks whether presentation is construction, and as the duality of image being created, propagated and consumed is as mechanical or deterministic as we might assume.
In "The Days were Snowy but Warm'  Oh Myung Hee looks at the factors that surrounded her upbringing and that continue to construct the present. This recurrent theme in Hee's work is further developed in a central theme to her recent exhibition 'The Days were Snowy but Warm', unveiled at this year's Personal Structures exhibition in Palazzo Mora Venice. This will run concurrently with the Venice Biennale 2022 and themed around reflections; the work is inspired by a family photograph she discovered in her father-in-law's album that captured in visual echoes what the post-war transition meant for Korean women.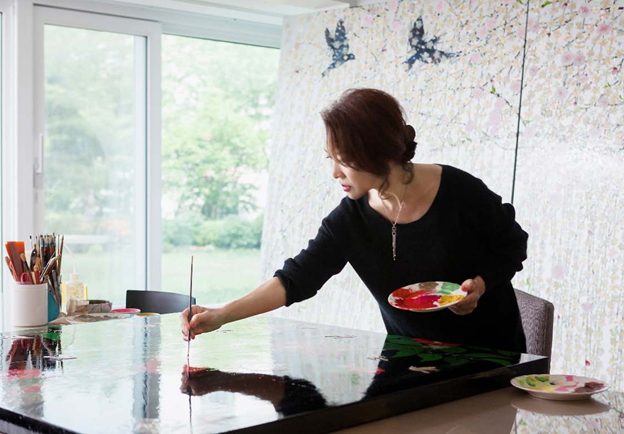 "My works speak of a collective memory," says Oh Myung Hee. "My generation did not directly experience war; nevertheless, we share the pain of our mothers and grandmothers who bore the scars of war. In Korea, the lump in one's heart that is filled with pain is expressed as 'Han.' At first glance, my works might appear flashy, but a closer look reveals the frailty which resembles the emotions of 'Han' or the DNA of emotions.
"Today I read another article about an unknown soldier who died in the Korean War finally finding rest in the arms of his family. Though 70 years have already passed, the pain of losing a family member never diminishes, and I believe that as Koreans we can all share the pain. Even right now, there is another country which is facing such suffering. It is my hope that the pain that Ukraine is suffering will come to an end soon."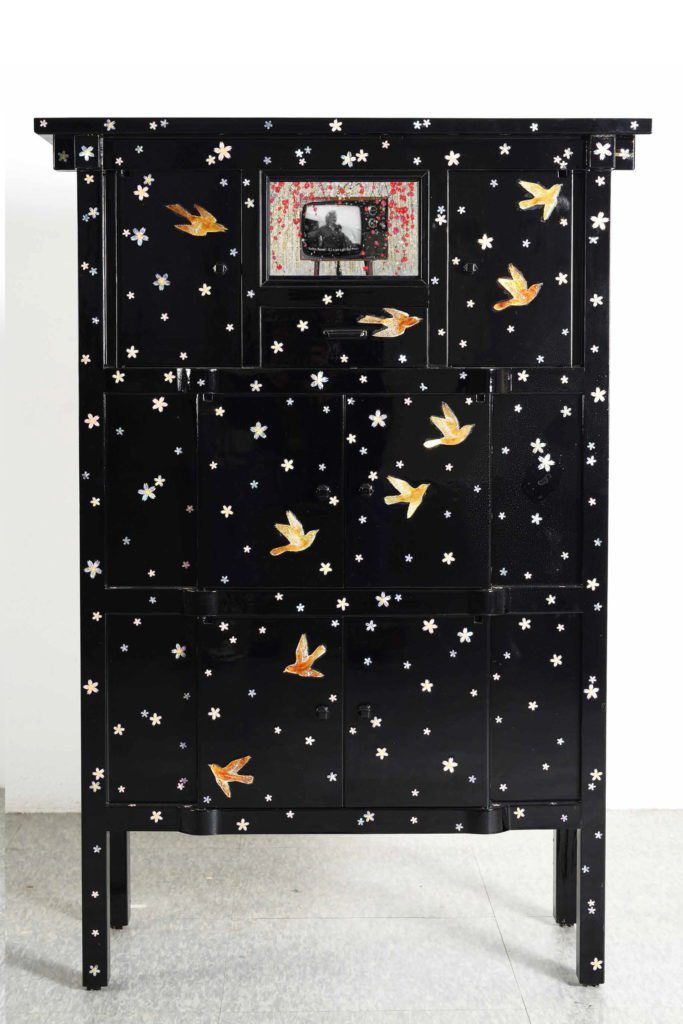 The old photographs in Oh Myung Hee's work are overlaid with flowers as though hidden under the branches of a tree. The delicacy of the flowers, birds are a part of the assemblage through which Oh Myung Hee frames the stories of liberation and struggle that define her female history.
"I recollect one moonlit night from my childhood. That night, I found myself staring at my own mother beating her chest with her fists in agony at a nearby well. On that day, after failing to produce a son, my mother had paid a mute maiden and put her in my father's bedroom. My mother could not sleep from the shame and came out to the well to ease her frustration in the moonlit night. This was not some ancient story."
"Just as in life, my works aim to communicate the message that though we face pain, conflict and innumerable difficulties, spring comes around again, and just like flowers bloom, so does hope and warmth.
The flowers indicate an artist putting something into these appropriated photographs that needs to be emphasised. Voices that she feels need to be heard, silences that should be observed. She describes ongoing processes of construction that produce an identity as a social function as much as an individual choice. But more than simply a personal statement, in Oh Myung Hee's work there is a place for society, for community, and in the way she 'heals' the photographs she is suggesting we can right the past to open the future.
"Spring comes and goes as generations pass by and lives are lived. I want to keep my grip on the memories of the warm and splendid moments with cascading cherry blossoms and apricot flowers in all their glory. Birds fly carefree into the sky, while flower petals are manifested like pink snow."
Oh Myung Hee is set to unveil her powerful new body of work 'The Days were Snowy but Warm' at this year's Personal Structures exhibition in Palazzo Mora, Venice at the invitation of the European Cultural Centre
About Oh Myung Hee
Award-winning artist Oh Myung Hee is a graduate of Sejong University and an Honorary Professor of College of Art & Design, at Suwon University, South Korea. She has exhibited extensively, including a solo exhibition at London's Saatchi Gallery, the Kaze Gallery, Osaka, the Galerie Bhak, (Bhak Young-Duk), in Seoul, and at the Espace Miromesnil, in Paris.
Eva McGaw and Tatiana Palinkasev established Metamorphosis Art Projects to produce and curate art exhibitions with a special edge. They strive to motivate artists to go one step further, supporting, exhibiting and representing them throughout their artistic journey across the world.
Sponsored by Korea Foundation and NvirWorld. Partner with Samsung The Frame
The European Cultural Centre (ECC) is hosting the sixth biennial contemporary art exhibition, Personal Structures in Venice from 23rd April to 27 November 2022.  Preview Days: 21 – 22 April 2022
Throughout its seven months, the exhibition will be complemented with a series of conversations, performances, workshops, that aim to create a dialogue between current developments, ideas, and thoughts in the contemporary art field in today's context of Time, Space and Existence. www.personalstructures.com