'[T]he work was born out of a photography project I started at university.
'At the time I was moving every year to a new accommodation, from halls to shared houses. This is the way when you're at university. There was a yearning I think to look into belonging and personal spaces. It was interesting to see how people lived in their homes.
'I always shot as soon as I met the people living inside, so they never really had time to tidy up etc. I took most of the imagery in South London, which is where I studied.
'What I've noticed about the imagery is a real sense of absence, and isolation. Which was a surprise once I got the photos developed. There are no people in the photographs just traces of them. Which was really important.'
So says Emma Sywyj of her Interiors series, a wry re-work of the aspirational imagery of '90s lifestyle magazines and stock photography swatches. In Interiors, Sywyj replaces boho chic with the crusty, lonely iconography of transit and impermanent accomodation. It's clever, funny at times, heartbreaking at others.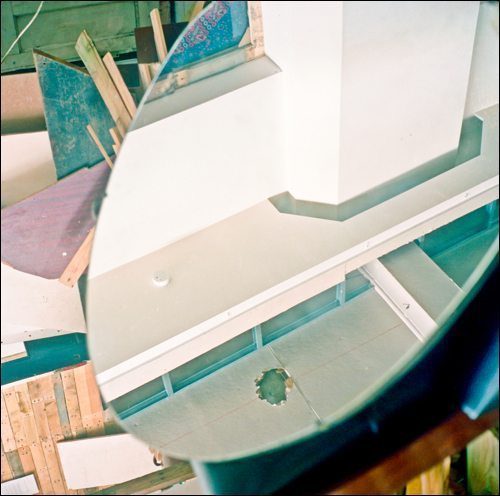 ---
All photos Emma Sywyj http://www.emma-sywyj.com/

Emma is an artist and photographer. For nearly ten years she have been making art and taking photographs and is currently represented by the A.Gallery in Glasgow, Scotland.