[dropcap style="font-size:100px;color:#992211;"]H[/dropcap]

IX ART present I know you are but what am I, a presentation of new work by Elizabeth Eade, winner of the 2018 HIX Award for

her piece

 

Die Liste, a 10-metre long handwritten list documenting the deaths of 33,305 refugees who died trying to claim asylum in Europe.

In this exhibition, her first major solo show, Eade explores her attitude towards a range of social and political issues, some serious, some frivolous. This oscillatory approach is embodied in two of the featured installations.

People who've pissed me off is a kinetic installation, which sporadically produces the names of people who have pissed Eade off. Included amongst the thousands of people featured in this work are the Kardashians, Piers Morgan, almost all of her friends, and Pol Pot. Each name is given equal weight and eventually disappears from view. Playful and acerbic, it invites the viewer to share or rebut Eade's subjective prejudices, whilst also creating a portrait of herself — or, as she puts it, a visual display of 'a mind at boiling point'.

A more serious note is struck by Net Realisable Value, (NRV). The artist was compelled to produce this piece in response to the deaths of 26 teenage girls who, it is believed, were being trafficked from Nigeria into the sex industry. All were found drowned off the coast of Italy in 2017. It is comprised of an identical number of clay and copper figures, which were immersed in seawater, an interaction that resulted in the formation of green crystals on the surfaces. Two of the girls were pregnant, which is revealed in the sculptures. On another, Eade has engraved 'I'm super happy', a slogan that featured on one of the girl's T-shirts. 'NRV' is a term used by insurance companies for lost and damaged goods, and chillingly, the artist shows the method of calculating this loss — the net realisable value — to accompany the installation. The final sentence reads 'This is what the inventory was worth to you'.

Says Sophie Harriott, director, HIX ART: 'Part of winning the HIX Award is the opportunity to have a solo exhibition at HIX ART, and we are privileged to be showing this compelling and deeply powerful body of work by this extraordinarily gifted artist.'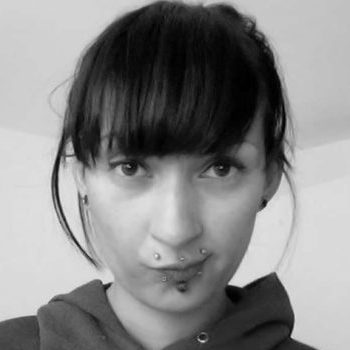 Naila Scargill is the publisher and editor of horror journal Exquisite Terror. Holding a broad editorial background, she has worked with an eclectic variety of content, ranging from film and the counterculture, to political news and finance.