[dropcap style="font-size:100px; color:#992211;"]E[/dropcap]bony Tower have existed in some shape or form for well over a decade.
The band made a strong impression at the 2011 Cambridge Rock Festival with an interestingly varied sound including electric violin, and frontwoman Zanda King's strong stage presence. With earlier recordings featuring a previous singer, The Magic Box Pt 1 is the band's first release with Zanda King on vocals.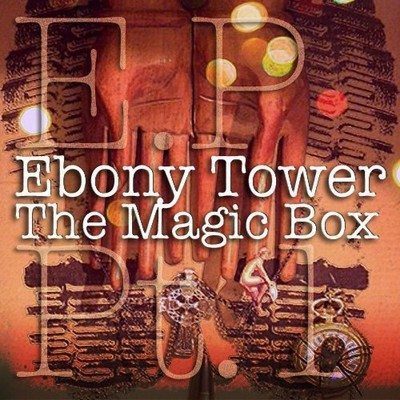 Despite the bands occasional use of the term "prog" in promotion, they don't go in for grandiose epics. The EP is made up of short punchy songs with little in the way of extended soloing; all four numbers clock in around the four-and-a-half minute mark, but they still manage to pack plenty of music in a short space. There are a lot of musical influences on display; some classic rock with a strong psychedelic flavour mixed in with a bit of garage-style rock'n'roll. Recorded in Real World studios, the record has a raw, live-sounding in-your-face feel, especially on the rockier numbers.
The four songs are individually quite different, starting with the opening rocker "The Passing" based around a serpentine guitar riff, and continuing with the shimmering but sinister "The Labyrinth". "LSD" has a raw, almost punky feel, and the closing "The Vision" has a summery West Coast vibe with some delightfully atmospheric organ. Despite the variety, when added together the whole thing still makes for a coherent sounding record.
[quote]feisty rock and roll attitude[/quote]
This article is about Ebony Tower. More specifically, it is about an album by Ebony Tower.

Throughout the record, Zanda King demonstrates both a strong voice and a very feisty rock and roll attitude. Instrumentally Wilson McQueen's guitar is the dominant sound; his playing emphasises inventive riffs rather than flashy soloing. The record might have benefited from greater use of Skye Sheridan's electric violin. It's particularly effective weaving around the guitar line in "The Passing" but elsewhere it's used more for colour and isn't always that prominent in the mix.
Ebony Tower: '…Zanda King's strong stage presence'
Ebony Tower plan to release a full-length album later in the year, and on the basis of this EP, it should be well worth waiting for. The EP has a physical release on May 6th, but you can hear it now at the link below.
Photo by Tim Hall
[button link="http://www.reverbnation.com/ebonytower." newwindow="yes"] Ebony Tower at Reverbnation[/button]
Ebony Tower Ebony Tower Ebony Tower Ebony Tower