[dropcap style="font-size:100px; color:#992211;"]I[/dropcap]t's been nearly twenty years since I last visited The Horn in historic St Albans.
When a call came through to enquire as to whether one might like to cover a gig there, I was intrigued by the thought of creeping down memory lane.
The tepid beer; the packed bar full of misfits; overly aggressive security monkeys; the dark sticky hall they called the music room, and the countless punch ups, both inside and out (in which I freely admit to partaking).
I could only hope that the dirty little watering hole that was The Horn of yesteryear had undergone a full on Lawrence Llewellyn Bowen makeover with purple frills and gold knobs. It had, after all, been popping up on the radar for a while now with the likes of The Picturebooks, Wheatus and tonight (October 8th 2015) the guitar legend that is Reeves Gabrels (with support from Lisa Ronson).
The hour arrived and, based on outward appearance, The Horn had indeed undergone a smart facelift. The interior had been slapped with those Farrow&Ball paint shades that I am sure you are familiar with – creamy/greeny kind of thing. There were numerous guitars nailed to the walls for decoration and 'pop art' (I use that term loosely) frescoes around the bar that quite frankly made the whole place look quite nasty Nineties.
At least they'd tried.
The warm air and odour of ripe fish at the bar was not pleasant and despite wanting to vomit, I ordered a Crème de Menthe for moi and a sticky Guinness for our photographer. The paint had changed but upon looking around, it was apparent that The Horn still attracted a clientele of slightly off centre individuals; indeed our photographer remarked that it was full of 'wrong 'uns'.
I think that was a little harsh; it wasn't full.
Upon entering the music room, I was amazed. It was still a dark tiny little hole with a sticky floor, which in my mind was in dire need of a drop of Napalm. Still, as we were there we thought that we might as well make the most of it. The support band for Lisa Ronson and Reeves Gabrels were just trotting on stage.
Blow me down, the 'back in time' vibe couldn't have been topped. The love child of Boy George and Robert Smith, complete with heavy kohl, began a lament with his band, The Vaulted Skies.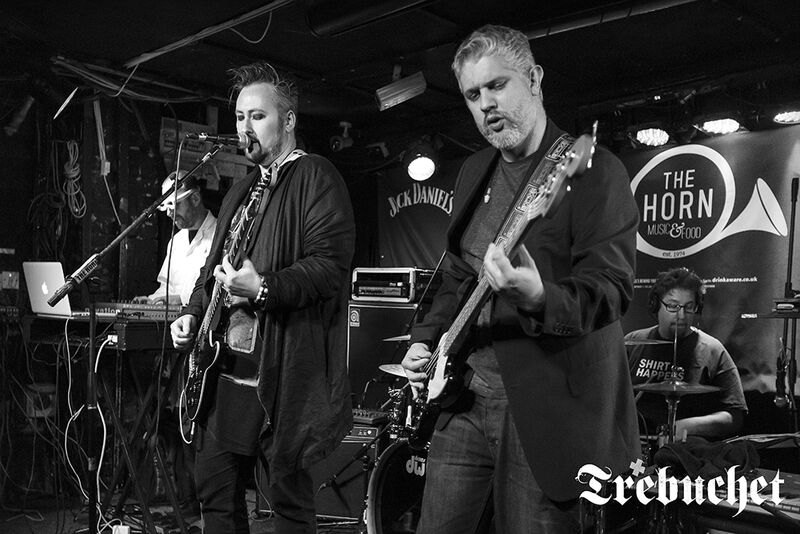 From my viewpoint (which fat people holding up iPhones obscured) it did appear that Chris Moyles was on bass and that geeky bloke from The Gadget Show was fiddling about with a keyboard and a MacBook. The other guitarist though, had no discernable likeness to any TV celebrities and the drummer lurked in the shadows like a chemistry student at a freshers' disco.
Rather appropriately for a band supporting Reeves Gabrels, musically The Cure's influence was heavier than the frontman's eye make-up. Thankfully, it was all taken from The Cure's 80s peak, the Existentialist angst rather then the 90s jumping around.
What appeared onstage next came as a bit of an eye opener. A complete surprise. Somewhat of a revelation in fact. The picture of folky Shoreditchness I had imagined of Lisa Ronson in my head had been completely smashed by her art rock/indie performance. If The Vaulted Skies were the university scientists then Lisa Ronson was the rebellious middle class sixth-former out to shock her teachers at the end of term revue.
From mock-shock lyrics about "shopping and fucking" to an ear-splitting screech, the troubled daughter of old dad Mick is possibly getting her therapy right here onstage. It was sure as hell doing it for some. When I turned to gauge the reaction of the crowd, there stood a man with his cock out, giving it a little jiggle and trying to cover it with his bag.
He had his cock out, for fuck's sake.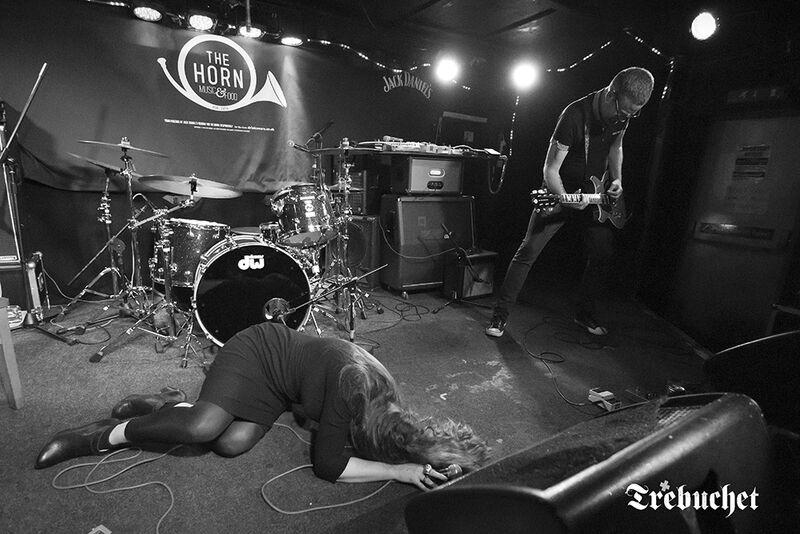 Still, indecent exposure aside, when all was said and done, the relief of swerving East London vocal inflections and glottal stops in favour of The Vaulted Skies' fretful unease was considerable, despite a shrivelled up penis behind me.
After the students, fans, daughters and cocks, it was time for the old professor himself. Reeves Gabrels, formerly guitarist with Bowie's Tin Machine (blah, blah, Bowie this, Bowie that) and now a fully fledged member of The Cure, is used to far bigger stages but seemed happily at home in the gloomy intimacy of The Horn. Exuding cheerfulness and calm, Gabrels chit chats with dry humour and a wry little grin.
For those who have had the extreme pleasure of watching this man work before, the ever-present tumbler of amber liqueur sits waiting on the amplifier for the maestro to take a measured gentlemanly sip between songs. Ms Ronson may be partial to a blokey pint but Mr Gabrels doth partake in a somewhat stronger and more refined throat coat.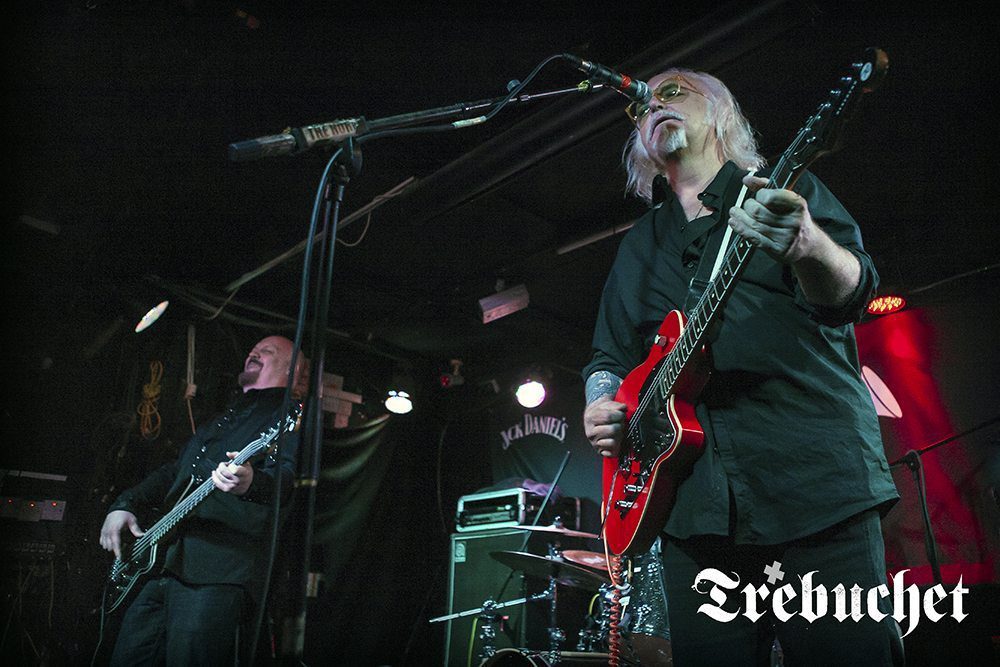 Reeves Gabrels and his Imaginary Fr13ends ran through a set with such ease and dexterity it often seemed the instruments were playing themselves, indeed Mr Gabrels' fingers moved in a cosmic blur around the fretboard whilst he seemed to be computing some impossible mathematical sum in his mind. When his full attention returned, his hands would move with an impossible extra flourish akin to the mastery of a wise Ninja who has secreted himself away in a sacred temple for years and years to learn the deepest secrets of the universe. One might think Reeves' guitar might levitate away from him and continue to play with just the power of his thoughts.
It was at this point I imagined Lisa Ronson running on stage, not to take vocals but to run wildly around Gabrels, naked and holding aloft blazing torches of fire, running, skipping, jumping and throwing herself down to the ground at his feet, weeping and masturbating. I guess that would be a whole other show but one I should like to see.
One could only gaze in absolute wonder at the talent of the man. Why I was bothering with my Burt Weedon book was anyone's guess at this point, and quite frankly I began to feel ashamed of my third rate attempts of '20th Century Boy' at our last dinner party.
With a nod to the merchandise stall and a happy birthday to someone in the audience (hopefully not playing with his cock) Mr Gabrels took the old songs, the new songs, the Bowieish songs and was gone, leaving just the hum of the speakers, the need for another Creme de Menthe and a prayer no one fucking touches me en route to the bar.
Put your cock away at gigs for Christ's sake.
Photos by Carl Byron Batson. Not to be reproduced without express prior permission.