[dropcap style="font-size:100px; color:#992211;"]T[/dropcap]he English Defence League (EDL), a far-right, violent and racist organisation with origins amongst football hooligan firms, and the British National Party (BNP), a neo-Nazi party whose members include Holocaust deniers, have cynically attempted to exploit the brutal murder of soldier Lee Rigby and use it to further their own aims of stirring up racism and Islamophobia.
Since Lee Rigby's murder, there have been attacks on eleven mosques, including several arson attacks, and a dramatic increase in hate crimes against Muslims.  Faith Matters, an inter-faith organisation which runs a helpline, reported a huge increase in calls.  Since the murder, they have had over 200 calls.  Prior to that, they averaged four to six calls a day. Incidents have included verbal abuse, graffiti, threats of violence, online harassment and trying to forcibly remove women's headscarves.
STOP PRESS!!! The BNP had called a demonstration in Woolwich on Saturday but it has been banned by the police and so they now plan to march to Downing Street.  In response, Unite Against Fascism (UAF) have organised a peaceful demonstration of unity against the racists this Saturday, 1 June, Downing Street, London, SW1A 2AA at 12 noon (approach from the Trafalgar Square end of Whitehall; nearest tube Charing Cross).
UAF are also calling for peaceful demonstrations against the EDL in the following areas, also on this Saturday, where the EDL are planning to meet (check http://uaf.org.uk/ or UAF facebook page for updates):
Manchester – St Peters Square, City Centre at 9.30am
Hitchin – Market Square at 2pm
Leeds – Briggate (by Body Shop) at 12 noon
Sheffield – Meadowhall Shopping Centre at 1pm
Leicester – Clock Tower (contact UAF for details)
Reading – Town Centre at 12 noon
Coventry – contact UAF for details
Cambridge – email cambridge.uaf@gmail.com for details
York – Station Rise at 2pm
Southampton – City Centre at 1pm
Halifax – Town Centre at 12 noon
It is essential that as many people as possible attend these demonstrations in order to show that the racists cannot divide us and that the British people are united against the attacks on Muslim communities.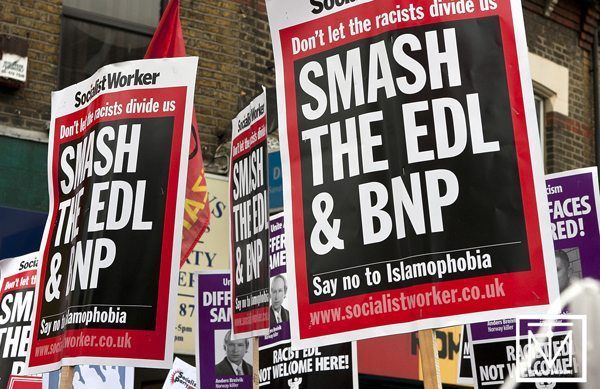 "The world is a dangerous place to live; not because of the people who are evil, but because of the people who don't do anything about it." – Albert Einstein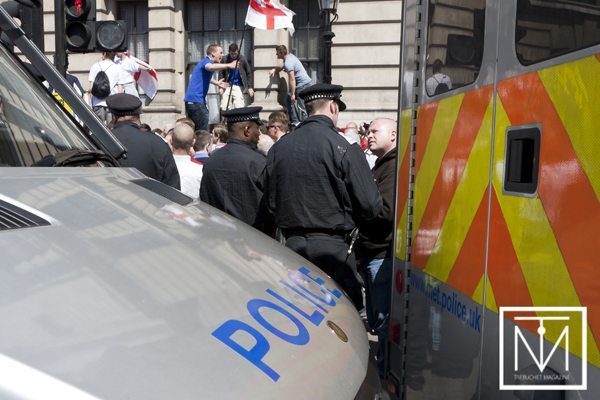 "When the Nazis came for the communists,
I remained silent;
I was not a communist.
When they locked up the social democrats,
I remained silent;
I was not a social democrat.
When they came for the trade unionists,
I did not speak out;
I was not a trade unionist.
When they came for the Jews,
I remained silent;
I wasn't a Jew.
When they came for me,
there was no one left to speak out." – Martin Niemoller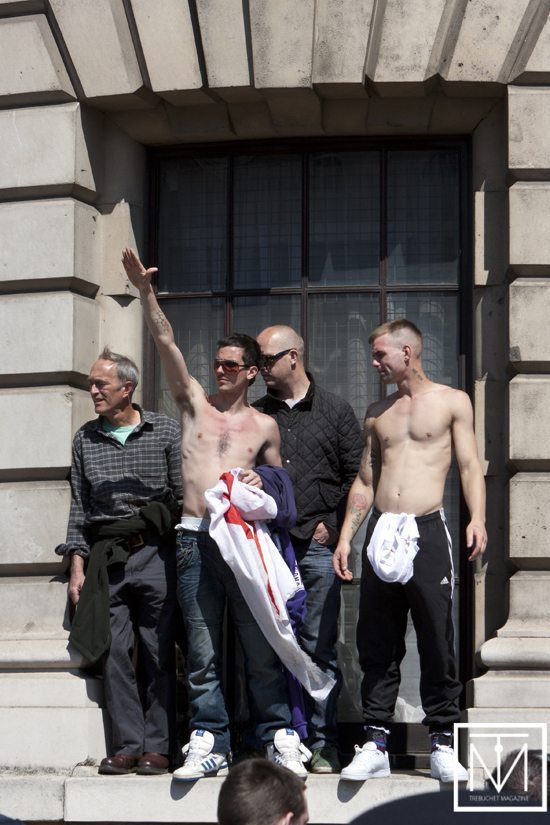 Read Clement Holterman's account of the EDL march on Bank Holiday Monday on 29 May 2013
All photos: Carl Byron Batson