A cinematic portrait of legendary musical innovator Delia Derbyshire takes a conceptual and atmospheric journey into the legacy and character of the music composer / sound pioneer, who in 1963 conceived one of the most familiar compositions in science fiction, the Doctor Who theme, while working at the BBC's Radiophonic Workshop.
Delia Derbyshire: The Myths and Legendary Tapes expands upon the idea that Derbyshire was an extraordinary artist who lived outside of time and space as other people experience it, her soundscapes seeming connected to another realm. A playful, psychedelic mix utilises archive material and interviews with Derbyshire's colleagues and collaborators alongside dramatisations.
Derbyshire's own musical creations are featured alongside a soundtrack by musician / performance artist Cosey Fanni Tutti (Throbbing Gristle, Chris & Cosey, Carter Tutti Void), constructed from samples chosen by Cosey and director Caroline Catz from Derbyshire's posthumously discovered Attic Tapes. The effect explores the fantasy of an otherworldly creative collaboration and exchange of ideas between two unique maverick female artists, that traverses temporal and spiritual planes.
"The journey of working on this film and developing it over the years has really focused my thinking about how I wanted to tell Delia's story," explains Catz, who also performs the lead role in what is her directorial debut feature-length. "Rather than make a simply linear biopic, I wanted to probe themes that seemed to be present in Delia's life, and Delia's poetic collages of atmospheric soundscapes appear to be intriguing expressions of her inner life. The resulting film is a portrait of Delia filtered through a mix of observation and imagination, with the premise that no single perspective would be sufficient to gain a true understanding of her, replacing the rigidity of a biopic style with something more mysterious and lyrical."
Catz continues, "I felt I needed to collaborate on this project with a musician whose own work is also singular and atmospheric, Cosey seemed to me to be the perfect choice. I was thrilled that when I proposed the idea of a collaboration to Cosey that she was enthusiastic and open to it, and such a brilliant person to work with. We went on an amazing sonic adventure together up and down the M6 in a Skoda, searching for echoes of Delia."
Delia Derbyshire: The Myths and Legendary Tapes premieres at the BFI London Film Festival and will be available to view from 18:30 on 15 October – 18:30 on 18 October. Buy tickets here.
Image: Delia Derbyshire: The Myths and Legendary Tapes still.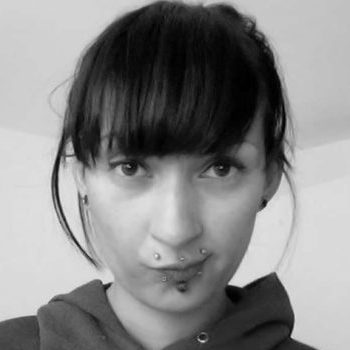 Naila Scargill is the publisher and editor of horror journal Exquisite Terror. Holding a broad editorial background, she has worked with an eclectic variety of content, ranging from film and the counterculture, to political news and finance.