[dropcap style="font-size:100px; color:#992211;"]T[/dropcap]he 30th January at The Garage, Islington did bring forth a truly packed house.
The masses quickly and quite unusually jostled for position and rooted like ticks on a hound dog, becoming immovable even for my sharpened elbows.
Voodoo Idol
The horde had obviously come with a huge appetite. The appreciation for the support act, Tom Hickox, was heartfelt and genuine, but the strange love that you could smell intertwined with the dry ice was oozing out. Oozing like green fuzz in a zero budget B-movie graveyard scene toward their voodoo idol – who was yet to take to the stage.
By the interval you could sense the natives were getting restless, salivating for a little piece of Lindi Ortega.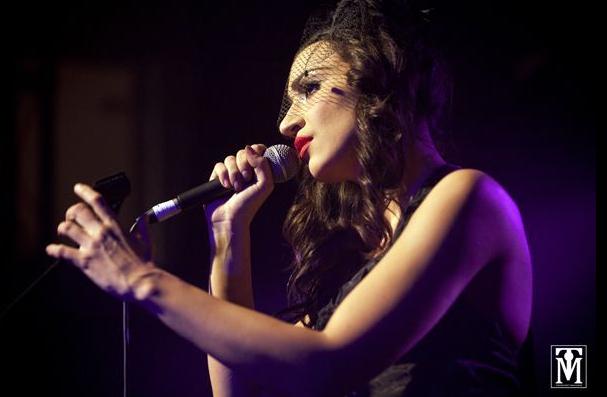 Ok, the chains were missing, but the dame in the little red boots on stage with Champagne James Robertson was certainly one hot pool of woman need.
The throb of the audience proved they really did have good taste and you could sense their huge release of trapped love from Lindi's first dark smile and twang of her guitar.
Don't bother with the Amy Winehouse gone country comparison, that's just lame and lazy. Lindi Ortega is far more innovative than that, she's got balls.
There's one thing I love about music and that's when it's taken to a new and refreshing level. Sure, I love country and rockabilly, but I love it more when it's pushed out of it's comfort zone, and Lindi Ortega is certainly giving things a new kind of kick.
This Canadian gone American (with Mexican-Irish roots) looks more like she lives in Sado County than Nashville. Like the kind of gal that'll get you home, tie you up with old guitar strings, carve her name into your chest with a busted Jack Daniels bottle and write a poem with your blood. You know the type.
The title track of the album 'Tin Star' is simple, sad and exquisitely sung. The accompanying video is a pure photographic joy, kudos to the eye of Brett Van Dyke.
Dark Humour
Lindi Ortega's dark humour, tales of struggle, death, joy and sadness consume you and cover you in a comforting veil of black netting, whilst her rendition of 'Always On My Mind' or The Eagles' 'Desperado' might well leave you weeping into your Bourbon.
She will intoxicate you and soften your soul like heroin, and in the morning all that will be left of that one night stand will be the sweet scent of her perfume. Perfume that you will spend the rest of your life searching for.
Photos: Carl Byron Batson. Not to be reproduced without prior permission.

Photographer, published poet, former party animal, body builder, grave robber
to the stars and renowned chainsaw juggler, Carl can often be spotted on his
Harley Davidson pretending to be in Terminator 2. He is also frequently seen in
the press pits of old London town, camera in hand, avoiding being hit by bottles
of wee and crippling his opposition with secret Kung Fu moves.