[dropcap style="font-size:100px; color:#992211;"]A[/dropcap]t first glance, I thought this particular piece by Patrick Bremer was a painting.
Upon closer inspection, however, I realized that it wasn't. What I initially thought were brushstrokes are actually cutouts from magazines, ingeniously assembled to appear as an impressionistic portraiture.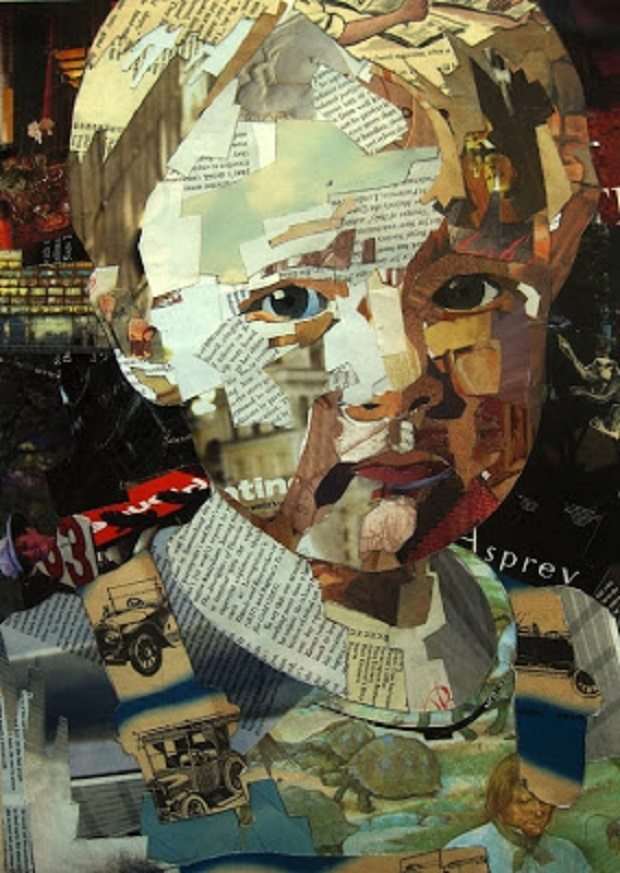 Truly impressed by Bremer's creativity and overall skill, I wasn't surprised to learn that he is an accomplished artist whose "work predominantly focuses on the figure and portraiture [and that] he won the DeLazlo Foundation Award for his portraits at The Royal Society of Portrait Painters Annual Exhibition at The Mall Galleries in London," as indicated on his website.
Sometimes we are forced to explore unknown territory when a particular situation arises. Bremer was trained in oils but "ended up doing collage out of circumstance," as revealed in an interview he did with Artsy Shark in 2011. His studio, located in Brighton, is quite cold in the winter. In an attempt "to find a way of working at home in the evenings, but without destroying the house with paint," he started thumbing through "a pile of old magazines [and] began cutting them up."
The end result was this portrait of Bremer's nephew George and ultimately the first of many he would go on to create in this particular medium.
Had Bremer never left his studio, he may never have considered collage a medium with which to experiment. But he did, and the result proved exceptional. Last Christmas, I received a new set of oil paints, but since I'm currently undergoing chemotherapy, I've been advised to steer away from toxic fumes. While this frustrates me, I have started to consider working with new media, such as collage.
Thanks to artists such Bremer, I am now inspired to get out my scissors, peruse that ever-growing pile of magazines sitting on the coffee table, and start gluing.