[dropcap style="font-size:100px; color:#992211;"]H[/dropcap]ome to Mostly Autumn, Halo Blind and Heather Findlay's various projects, York has been a centre of progressive and contemporary classic rock for quite a few years now.
Cloud Atlas are the latest in a string of excellent bands to emerge from the city.
Cloud Atlas is the band formed by former Stolen Earth, Breathing Space and Mostly Autumn vocalist Heidi Widdop. The band features Martin Ledger on guitar (one-time musical partner with Widdop in the duo The Secrets), a rhythm section of Neil Scott and Mostly Autumn alumnus Stu Carver, and Dave Randall on keys. As is becoming increasingly common, the band crowdfunded the album with a pre-order campaign.
Beyond the Vale begins with two and half minutes of Eastern-sounding atmospherics, with electronic drones, wordless wailing vocals and controlled guitar feedback. Then Martin Ledger's guitar riff hits you right between the eyes and "Searchlight" explodes into a powerful rocker with a great bluesy soulful vocal. It ends as Ledger cuts loose with a glorious extended solo. The effect is Janis Joplin fronting The Cult circa Sonic Temple, with Steve Rothery on lead guitar.
And that's just the opening song.
The acoustic guitar and breathy vocals at the beginning of "Siren Song" recall the fragile beauty of Goldfrapp's last album, before building into another atmospheric rocker flavoured with Martin Ledger's e-bowed guitar. The ambitious "Let The Blood Flow" is the one song on the record that doesn't quite work; the hard-rocking opening is great but the song loses its way with an awkward middle section, and the whole thing ends up sounding disjointed.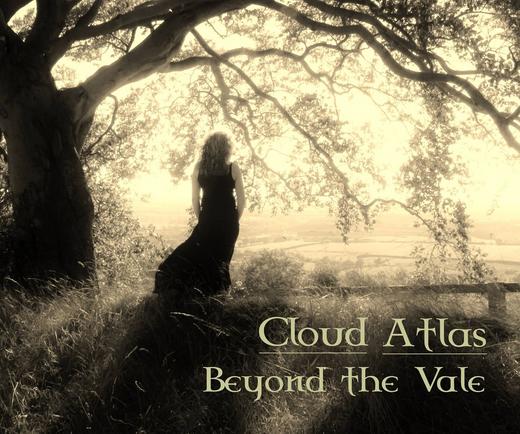 But we're back on track with with two following numbers: the lengthy, brooding "Falling" and the piano-led "The Grieving". Instrumental passages in both recall recent Marillion, especially the minor-key piano chords leading into Martin Ledger's overdriven solo at the beginning of the latter.
The final part of the album includes two real highlights, the big epic "Stars" with its memorable hook, and the atmospheric ballad "Journey's End" (with some beautiful cello playing from Sarah Pickwell). After those, the acoustic "I'll Take Care of You" forms an apt coda for the album.
It's Heidi Widdop's distinctive vocals that set Cloud Atlas apart from many of their obvious peers, but this album's sound is as much about Martin Ledger's soaring melodic lead guitar. There are still a few echoes of Widdop's previous outfit Stolen Earth, and anyone still missing that band should find a lot to like about Cloud Atlas.
It's big widescreen rock with an epic scope, with just one song under seven minutes and some stretching to nine or ten. It may be that some songs might have benefited from slightly tighter arrangements, but the music still feels as though it's likely to come across very powerfully live.
An impressive début from the latest addition to their home city's already strong roster of bands.
Cloud Atlas will be launching Beyond the Vale at Fibbers in York on June 28th, and the album can be ordered from http://www.cloudatlas.org.uk/webstore.htm