[dropcap style="font-size:100px; color:#992211;"]C[/dropcap]lassical Brit album of the year winners, twice nominees for a Brit Award, with two gold disc albums and over 150 television appearances – Blake have sold over a million records and performed globally.
Luc Floreani talks to singer Stephen Bowman about his collaboration with the band to record a charity single in aid of the St Mungo's homeless charity.
---
How has your year been so far?
This year has been very exciting – we're just back from our first tour in America. We did a number of large concerts in New York, Washington and Los Angeles. It was very exciting to sing for the American public.
What's next on the agenda?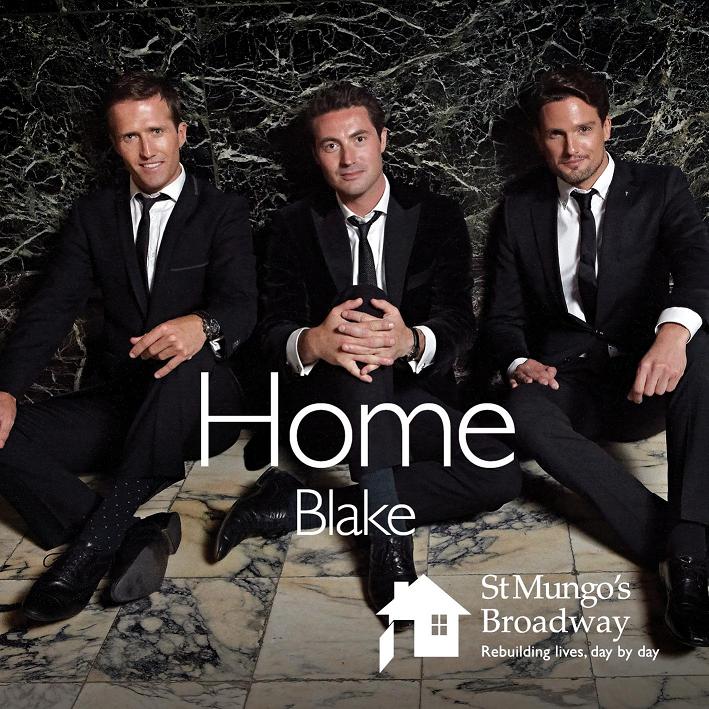 Well, we have a new single out on Monday entitled "Home". It's in aid of St Mungo's Broadway, the homeless charity. Then we're off to South Africa for a multi-date tour with opera star Cortes and the Stellenbosch Orchestra. We are very excited because it's our first tour in South Africa. Then heading home to record our 5th album.
So while the sun is shining and everyone is enjoying the summer, we will be like vampires working in a dark studio recording our new album for release in October. We are so lucky though, our fans have paid in advance for the album, so we feel a real responsibility to make it amazing. This album will be a new sound for Blake: very acoustic, although still very much about the harmonies. Blake is all about harmony!
Tell us, how did you first hear about the charity?
I believe that St Mungo's is a name that most people know. Certainly when you walk around Covent Garden in London you see their hostels. Often it can go unannounced unless you read about it.  I don't know if people are aware of the amazing work St Mungo's do in helping people deal with issues that have led to them being homeless. [quote]Homelessness is not a class
or economic problem. It's a
social and support problem[/quote]
Every story I have heard has been so different, but all with the same common denominator- St Mungo's was there to support.
Why did you feel compelled to record the single?
Well, when we first heard the demo, we connected to the heartfelt and honest lyrics. Those gave us the opportunity to use voice and harmony to record a song, even though it was written for a solo voice. The lyrics really emphasize what St Mungo's is all about – St Mungo's is all about support.
What's the feel of the record?
We all went to the Guildhall School of Music and The Royal Academy of Music, and we all studied classical music. That said, we all love contemporary pop music too. We were really influenced by harmony groups from the 50s and 60s like The Lettermans, The Four Tops and the King's Singers. We hope that this new single shows our classical background, but is  also a modern take on harmony and pop. Also, being harmony led, it's really emotive.
The three members of the band are from all over the UK – Bath, Norwich and Somerset. How does homelessness affect you?
Growing up in a reasonably comfortable family environment I think it is very easy to allow stereotypes to cloud your perception of certain issues. It is amazing to hear the stories of what circumstances lead to people becoming homeless. Homelessness can affect anybody and everybody. Homelessness is not a class or economic problem. It's a social and support problem. This is why St Mungo's is so amazing, they don't discriminate – if you need help, they are there.
Does the song reflect the issues of the charity?
When we first heard the demo as a group we initially talked about how it linked to the charity.
The song really celebrates stability, familiarity and a secure sense of home. It fits perfectly with St Mungo's. I know when I go home, it's about being safe to re-energize and get ready to take on the world again.
You recently visited one of the St Mungo's projects – what was that like?
Wow, it certainly was eye opening! I guess I believed that a hostel was a large place where homeless people were housed to keep off the streets. Hundreds of people in a large room, you know?.
I was pleasantly amazed that everyone had his or her own space, and ownership over their rooms. We also met people who had moved from there to their own rental accommodation. The hostel catered for each and every person in the way they needed help.
[button link="http://www.mungosbroadway.org.uk/blake" newwindow="yes"] St Mungo's/Blake Website[/button]

Luc Floreani international singer songwriter was born in Alice Springs, Central Australia.
Luc has performed all over the world in venues from Royal Festival Hall to Glastonbury Festival and on the famous West End.
He has worked with such luminaries as Amy Winehouse, Corrine Bailey Rae, numerous X Factor contestants, Jack Bruce, Marcella Detroit, Tony Hatch, Barry Mason, Kasabian, Darren Hayes, and Starsailor to name a few
He wrote and sung the theme tune for
-Channel 7 television current affairs program "Today Tonight" in Australia,
-The Prince's Trust campaign song,
-Euro Gay Pride theme song 2011
-Chrysalis Foundation 
-The title track to the film "Darkness" and Hedda Gabler. In 2007 Luc reached no. 17 in the charts with his single "Taboo" featuring Angie Brown.
Luc has written most genres of music from Metal through to Jazz, Pop, Country and Classical
He has also published a book "Written on Paper"
He has just finished recording his second album.
Luc is the current host for OK Magazine Music Sessions online. "Live with Luc Floreani"