Clicks and Cuts 5.0 – Paradigm Shift is the latest installment in the Clicks and Cuts series from the iconic electronica label Mille Plateaux. The paradigm shift is apparent in the new label head Marcus Gabler's approach setting aside experiments for experiments sake for a more diverse approach featuring artists with more mainstream appeal alongside more difficult listening.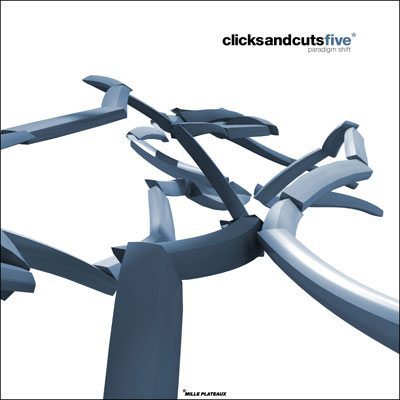 Taken as a whole the compilation gives us a good spread of electronic music and taste of things to come from the label, however it feels like a safe bet rather than a genre pushing (let alone defining) release that MP is famous for. Some reviewers have pointed out that many of the tracks on this record have been edited down in order to get more flavours onto the CD and in doing so compromise the integrity of the music represented.
Conversely, it can also be argued that a compilation has always been like a platter of entrées, tasters of a number of artists work. If you like a particular bit, take a bigger bite with an album. However, we live in the digital age were this sort of promotion may not be necessary to reach audiences. In fact many compilations work by either sourcing unique content from artists (for instance material that might not fit within the context of an album) or tying material together by a context (London Industrial mix 2010, Slaphappy Party Caravan: Gypsy Music v2) or both (such as the successful Teaism compilation on Static Caravan).
Clicks & Cuts 5.0 – Paradigm Shift is well worth a listen but I'd go about it by checking out the artists featured on myspace and buying the albums that appeal instead.
Clicks & Cuts 5.0 – Paradigm Shift – Various Artists
Compilation, Mille Plateaux (2010)