[dropcap style="font-size:100px; color:#992211;"]F[/dropcap]or art to reach you, someone must find it and think it worth the effort to bring it into a space where you can experience it.
For Australian Aboriginal art, this someone is Rebecca Hossack, who has been bringing this underappreciated highly artistic culture to the wider world for the last twenty-nine years. She was the first to exhibit Aboriginal work in Europe at the Rebecca Hossack Gallery on Conway street soon after its opening, and has continued to hold exhibitions of Aboriginal art for the last three decades.
These exhibitions, known as the Songline Seasons, have presented a comprehensive view of Aboriginal artists and have brought the London viewer to a part of the world they are usually only dimly aware of. In celebration of twenty-nine years spent compiling, preserving and supporting Aboriginal artists, the Rebbecca Hossack Gallery is currently exhibiting two shows simultaneously: Songlines XXIX: A Celebration of Bark Paintings and Christian Thompson: Berceuse.
Christian Thompson brings a contemporary perspective to this discussion in the form of a three-channel video and sound installation that hauntingly echoes the stories and beliefs underpinning Aboriginal mythological culture. The piece, named Berceuse, deriving from the French word for 'lullaby' creates a performance using the indigenous Bidjara language. This aboriginal dialect is considered virtually extinct but this piece aims to preserve it lest it be lost forever. The concept is that if the words are being spoken- or sung in this case- Bidjara is still in some sense a living language, reverberating through a beautiful contemporary gallery setting available for all ears.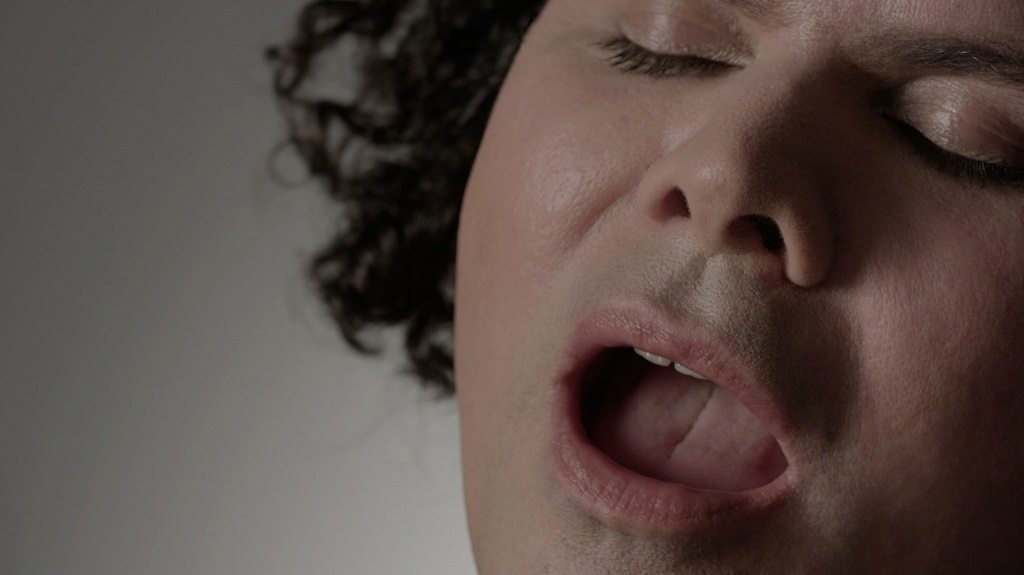 To give you an idea of who we are discussing: not only was Christian Thompson the first ever Australian Aboriginal to be accepted into the University of Oxford but he also holds a plethora of degrees and qualifications along with a deep understanding of his heritage which he aims to share with the world. To Thompson, the visual and vocal representation of his native language is the focal point of reviving a culture which has been through indescribable tumult and upheaval over the past two and half centuries.
The viewer is first struck by the mesmerising quality of his voice, which brings to mind a hypnotic fireside rendition of an ancient story, made all the more poignant by the contemporary nature of the medium. The piece thus elegantly complements Songlines XXIX: A Celebration of Bark Paintings. The exhibition runs into the permanent collection of Aboriginal Art held by the gallery which include pieces described as "museum quality" by Professor Marcia Langton of the University of Melbourne's Australian Indigenous Studies department.
The bark paintings are detailed cross-hatched, dotted, streaked, earth toned, ochre paintings, illustrating a cultural art form that is deeply embedded in and inseparable from the narrative of Aboriginal history and mythology. This is an artform that harks back to cultural traditions which predate European contact with Australia. The Northern Territory bark paintings are from the period between 1960-90 and are connected through their Dreaming- 'a personal totem relating to their clan land.'
One such totem is that of the spirit 'Nakidjkidj' who lives and has powers over the site of 'Kaburrmiyo,' near Devil Hill. This Dreamtime mythological spirit of the Kardbam clan, is a hunter who lives in the bush and can take the form of a Kangaroo. The clan believes that if one is on a hunting trip and stumbles across an animal lying still but not dead that one must not touch or come near it lest 'Nakidkidj' is lurking nearby with his spear which is said to bring illness and blindness to whoever he is pointing at.
The artist, Lulu Laradbji, a member of the Kardblam clan,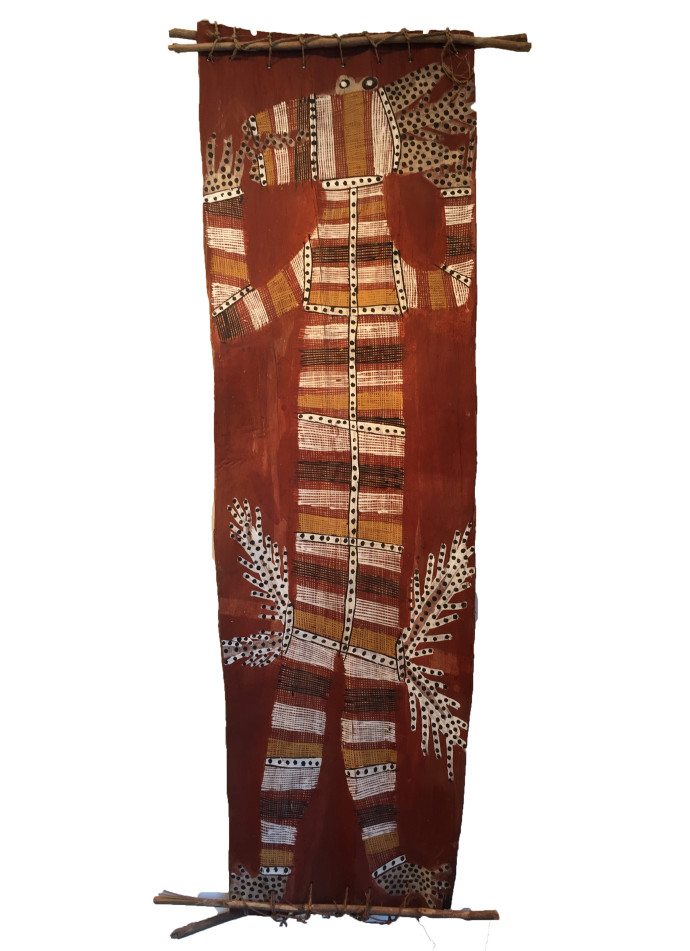 depicts 'Nakidjkidj' as a striped creature which is both endearing and threatening (pictured right). The cross-hatching technique is utilized in forming the body of 'Nakidjkidj,' embodied with the traditional colours of white, yellow and red ochre, and black charcoal on a piece of eucalyptus bark.
Amid the modern Aboriginal bark pieces and Berceuse, I had a moment where both mediums connected and I realized that this was as much a commemoration as it was an exhibition.
The gallery allows the viewer a window into a fascinating culture's past whilst supporting its present day members. This is what makes it special. The three-floor airy space is a stunning setting in which we can examine the conversation between Europe and indigenous Australian artwork which began nearly three decades ago in the very same place. Christian Thompson brings a poetic intelligence to this revival of his peoples' culture which enhances and highlights the surrounding Dreaming bark paintings.
Christian Thompson: Berceuse
1 June – 1 July 2017
Rebecca Hossack Gallery
2a Conway Street, Fitzroy Square, London