[dropcap style="font-size:100px; color:#992211;"]T[/dropcap]he Cambridge Rock Festival is a great little festival specialising in blues, classic rock and progressive rock.
It's always had a reputation as a friendly intimate event, and with all three stages under cover the music takes place in the dry even if the great British summer does its worst. Although it missed a year in 2015, it was back in 2016 for its twelfth event, held again at its usual site at Haggis Farm Polo Club just outside Cambridge. And it promised a strong bill, with a good balance of regular favourites and intriguing new names.
This year the festival had an extra day. Wednesday night saw a charity event in aid of Addenbrokes Hospital. This included a Cream tribute act, who disappointingly didn't play "Pressed Rat and Warthog", and saw Deep Purple's Don Airey headline the main stage. Airey is one of the few hard rock keyboard players who truly deserves the term "Rock Star", and his band included Lawrence Cottle, the Swansea jazzman who also played on one Black Sabbath album, and renowned blues shredder Simon McBride. They took us through a crowd-pleasing set of rock standards drawn from the bands Airey has played with over the years, taking in songs from Rainbow, Deep Purple, Gary Moore, Ozzy Osborne and more, getting the long weekend off to a great start.
With the extra day, Thursday's proceedings expanded to a full day, the music starting at eleven in the morning. As is customary for this festival, it was still tribute band day, with some of the early performances demonstrating the gulf between weekend musicians and the seasoned pros of Don Airey's band the previous night. There was a Hendrix tribute, which while more than musically competent, had a Hendrix-alike with a bad wig that made him look like Phil Lynott crossed with Harry Enfield's Three Scousers.
No, just No.
A couple of acts did stand out. Miss Led were a female-fronted Led Zeppelin act, who rather than playing note-perfect reproductions managed to take the songs and make them theirs while keeping to the spirit of the originals. Zeppelin songs always work well with female vocals, and their take on "Stairway of Heaven" bought a lump to the throat. Straight after them, the seven-piece Oye Santana were very tight and professional, with the between-songs banter including the immortal line: "He's not from Madrid, he's from High Wycombe".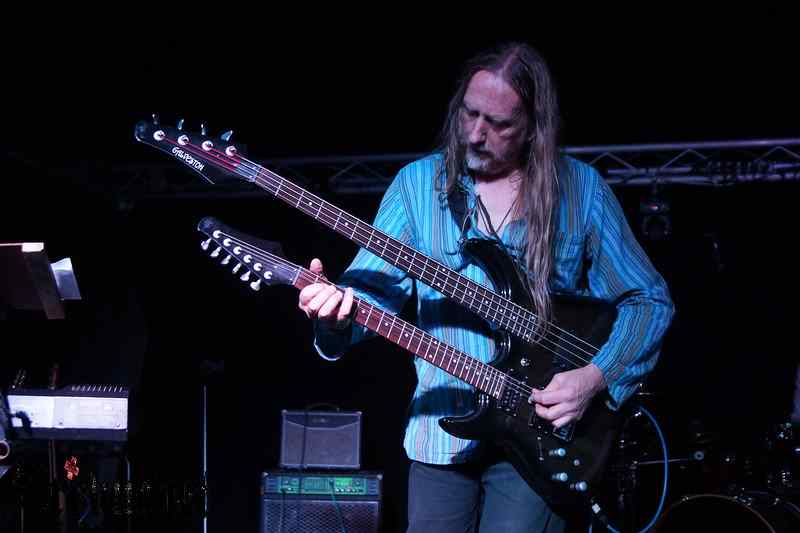 Haze
Atomic Rooster were technically not a tribute band, since they included Pete French and Steve Bolton who had been in some of the ever-changing lineups of the early 70s, and performed with the blessing of Vincent Crane's widow. Their set of doom-laden organ-heavy psychedelic rock including "Death Walks Behind You" and the hit "Devils Answer" went down well, even though Pete French admitted this was only the second gig of this lineup. After them, headliners Pure Floyd were something of an anticlimax, the music peerless, but the performance bloodless, with weak vocals and a disappointingly thin guitar sound.
Thursday's tribute band day was always the warm-up to the festival proper, and Friday saw strong bills across all three stages with few a inevitable bad clashes. Opening proceedings on the main stage was Doris Brendel and her steampunk-attired band, playing a very early slot because they were playing again at the New Day festival in Kent later that day. It was an impressive performance; a raw, bluesy vocal with a strong stage presence and music with elements of hard rock, prog, blues and folk, ending with a celtic-flavoured song that was all percussion and low whistle. There was something of Heidi Widdop in Doris' vocals, and the band as a whole hinted at the sort of band Stolen Earth or Cloud Atlas might have become had they made a string of albums. So perhaps it shouldn't have been a surprise to learn that her early band Violet Hour had been an early influence on Mostly Autumn.
Throughout Thursday and early Friday people were saying "You have to see The Mentulls". They weren't wrong. A very young band, with an average age of 20, they were a kind of rock version of a jazz Hammond organ trio, the keyboard player playing basslines with one hand and chords with the other, and a stunning virtuoso guitarist. With one foot in blues-rock and one in prog, some of the lengthy instrumental passages evoked the likes of Camel, and they ended with a splendid cover of Mountain's classic "Theme for an Imaginary Western".
Then it was over to the Blues stage to catch the end The Laura Holland Band's set.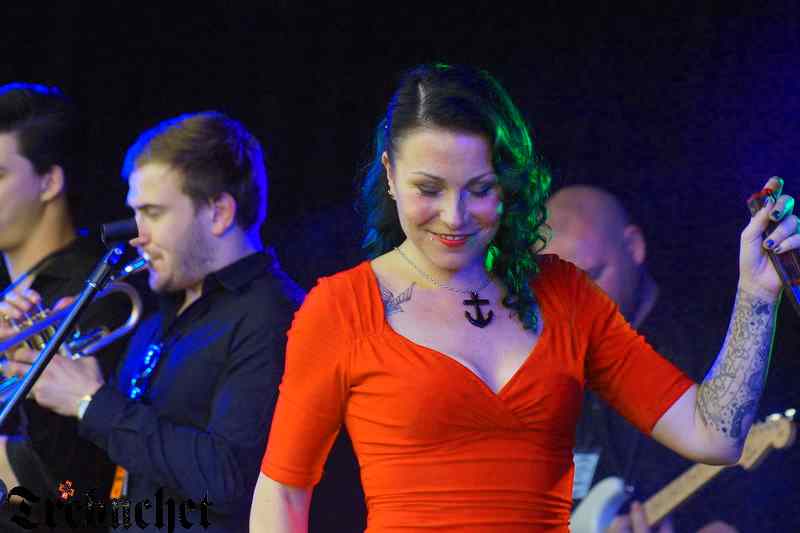 A complete change of pace from the guitar-dominated bill of much of the weekend, they were 50s-style big band with a touch of soul and gospel, the horn section given prominence, and played with a lot of energy and gusto.
It would be remarked later in the weekend that this festival has become a kind of unofficial Mostly Autumn convention, with many of their side projects and spinoffs on the bill alongside the band themselves. Halo Blind, led by Chris Johnson were the first of these, playing the Classic Rock Society stage. But aside from the presence of Chris Johnson and drummer Alex Cromarty, they have little in common musically with Mostly Autumn. They're a band with feet in both the indie/alternative and prog camps, with songwriting informed by indie and hip-hop married to progressive rock atmospherics. The set combined highlights from their excellent second album Occupying Forces with several brand new songs, and "The Dogs" from their first album with Andy Knights taking the female vocal part. For their last song Johnson took a vote from the audience; a song they already knew or a new one the band hadn't fully rehearsed. It was a close vote, but the crowd went for the latter.
Then it was back to the Blues stage for an electrifying set by Rebecca Downes, playing blues-rock in the style of the classic rock era of the sixties and seventies, a powerful and emotive voice backed by an incredibly tight band. It was a barnstorming performance; highlights included the guitar-shredding ballad "Sailing on a Pool of Tears" and the hard-rock workout "Believe". This is an act that deserves to be back in future years, and on the main stage.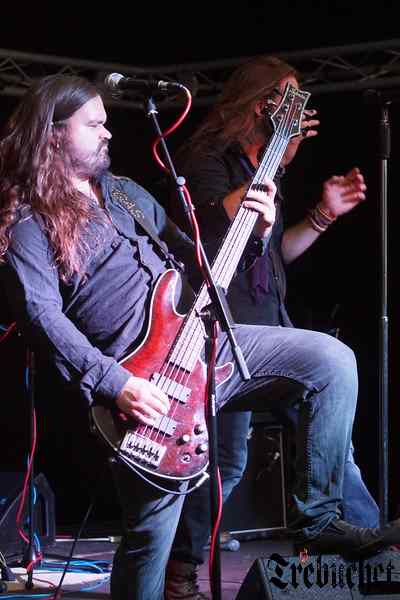 There was more rock'n'roll on the CRS stage with the old-school hard rock of Voodoo Vegas. There may perhaps have been a little too much harmonica for some tastes, but with the twin guitars of Meryl Hamilton and Jon Dawson they delivered what might have been the hardest rocking set of the entire weekend. This is another act who deserve to be tearing up the main stage.
Headlining the CRS stage were 1980s neo-prog legends Haze, and band who proceeded to tick every box for Prog with a capital P. There were twin-necked guitars. There was flute. There were widdly keyboard solos. There were songs that evoked Dungeons and Dragons imagery. And it was all performed with an infectious enthusiasm, the ideal thing to bring Friday's music to a close.
Saturday began with four-piece Derecho on the main stage. Singer and pianist Jo Ash's punky attitude had shades of Holly from Crimson Sky, which meant the day's bill opened with something lively enough to wake everyone up. She's quite a remarkable singer with a voice that goes from Siouxie Sioux to Kate Bush. The music was a mix of singer-songwriter style piano numbers and rockier numbers with the occasional burst of space-rock guitar.
4th Labyrinth are one of those bands who are next to impossible to pigeonhole, highlighted by the way they've named their album Quattro Staggioni. They played an eclectic mix of styles from funk to organ-driven psychedelic rock, with a top-hatted keyboard-playing singer who bore more than a passing resemblance to Bigelf's Damon Fox, and a bassist who dances and plays at the same time.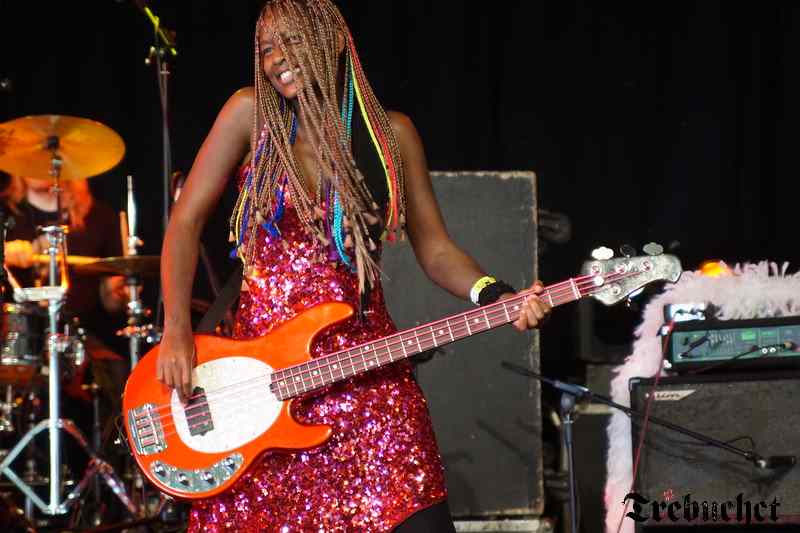 4th Labyrinth
Alongside their own material they threw in covers of Jethro Tull's 'Locomotive Breath' with a Hammond organ solo replacing the flute, and a bonkers version of Wings' 'Live and Let Die'.
Pearl Handled Revolver have become festival regulars with their distinctive blend of blues and psychedelia evoking Uriah Heep and The Doors. Without a bassist they rely on keys for the basslines, and they combine flourishes of bluesy guitar with classic 70s keyboard sounds of Hammond organ, electric piano and at one point, Mellotron. While they had the same instrumental lineup as The Mentulls the day before, in this case it was the keyboard player who was the real star, ending the set with an epic Jon Lord style wig-out.
After the does-what-it-says-on-the-tin hard rock of Walkway came one of the highlights of the day, the epic prog-metal of Hekz. Like other bands before them Hekz rose to the big occasion and delivered one of the performances of their lives. More metal that anything else on this year's bill yet also powerfully melodic, they delivered a razor-sharp and intense set, ending with the twelve-minute epic "The Black Hand".
Hazel O'Connor seemed out of place, her 80s pop a long way from the classic rock and blues of the rest of the bill. But she's played this festival several times before and has always gone down well. With a band including Claire Hirst on Sax and Sarah Fisher on piano they were one act on the main stage without a guitarist, and made a great change of pace, including a celtic-flavoured song with all three of them on bodhran. Unfortunately I only got to see the first half of the set and missed the big hits because there was no way a big fan could miss the overlapping act on Stage Three.
Anne-Marie Helder doesn't do many solo acoustic gigs nowadays. There was a time between the dissolution of the first incarnation of Karnataka and the rise of Panic Room when Anne-Marie gigged very heavily as a solo act, playing 200 shows in a year at one point. Nowadays Panic Room and Luna Rossa are the focus of her songwriting, and solo shows are restricted to the occasional support spot, usually at very short notice at gigs which are sold out before her fans get to hear of them. She's one of the few solo acts who can fill a room with sound using just one voice and an acoustic guitar. Her set included some decade-old favourites like "Hadditfeel" and "Dominoes" as well as Luna Rossa's "Secrets and Lies". There was one completely new song about messages to future generations, with partially-crowdsourced lyrics; though the like of "Don't eat the yellow snow" may well not survive in the final version. She ended with the first few lines of Panic Room's "Promises" before switching to another oldie, "Wheels Within Wheels". Despite the sound spillover from the other two stages, it was a beautiful set.
And then it was back to the main stage for the grand finale of Carl Palmer's ELP Experience. On paper, instrumental shred-metal versions on ELP songs ought not to work as a festival headliner. In practice, the levels of virtuosity and showmanship said otherwise. The set covered ELP standards including Knife Edge, Fanfare for the Common Man and a lengthy Pictures of an Exhibition, and a bonkers take on Carl Orff's Carmina Burana. It wasn't all over the top bombast either; the guitarist's tapped solo spot was a thing of delicate beauty. And the bassist playing Queen's Bohemian Rhapsody in full on solo bass was something else entirely, and may have been the best-received bass solo ever. Naturally the set climaxed with an epic drum solo; there are only a handful of drummers who should be allowed to play long drum solos, and Carl Palmer is one of them. At the very end Carl dedicated the set to the late Keith Emerson, and asked the audience to film the final number on their phones and upload it in his memory, before launching into Nutrocker.
Sunday was something of a Ladies' Day, with six out of the eight main stage acts featuring female lead singers. First of these were the seven-piece T Clemente Band, who'd flown all the way from San Francisco at their own expense to play the festival. Their tight and polished West Coast AOR sound made a very strong impression for an opening act, and left the impression we'll be hearing more of this band in the future.
With a catsuited singer who goes under the name of "The Duchess", Space Elevator had a very dramatic visual appeal, and had the music to back it up too, with a great hard rock AOR sound. Alongside original numbers about obsessive-compulsive disorder, being dumped, and love letters to Doctor Who, they threw in excellent covers of Thin Lizzy's "Don't Believe a Word" and Aerosmith's "Love in an Elevator". Perhaps their only flaw was their use of too much programmed keys rather than having a flesh-and-blood keyboard player in the band.
Making a welcome return after their superb performance on the same stage in 2014, Norway's The Windmill were the most Prog band of the day; with a flute and a steampunk-dressed keyboard player their music is soaring, melodic and epic with the focus on symphonic composition rather than instrumental virtuosity. Alongside a lengthy new number their set drew heavily from "Continuum", although sadly there wasn't time for the 24-minute "The Gamer". All heady stuff and ticks all the right boxes for the hardcore prog fans.
The Heather Findlay Band were eagerly anticipated. They've gone through some changes from the band that toured in April, with former Cloud Atlas man Martin Ledger taking over on lead guitar, Touchstone's Henry Rogers taking over on drums, and the band slimmed down to a six-piece without a rhythm guitarist. From the performance they delivered you'd never have guessed this was the first live appearance of this full lineup. They combined highlights from Mantra Vega's The Illusion's Reckoning with older Mostly Autumn standards and a couple of rocked-up Odin Dragonfly numbers. Losing the rhythm guitar didn't seem to leave holes in the sound; Angela Gordon's keys took a bigger role, and Findlay played acoustic guitar on some songs. On "Caught in a Fold" Sarah Dean took over on keys while Angela played the flute parts.
One thing that's notable about the various incarnations of Findlay's band is the way they totally reinvent the songs to fit the instrumentation of the current band. Martin Ledger proved an inspired choice as guitarist, nailing the guitar parts on both the Mantra Vega songs and the older Mostly Autumn material. One surprise was a very powerful "Unoriginal Sin", which didn't feature in the April tour, with Heather playing keys. An epic Carpe Diem and the spiralling title track of The Illusion's Reckoning bought the very strong set to a close.
Purson seem on the cusp of far bigger things. Their take on late sixties psychedelic rock has long been embraced by the underground prog scene, but they've been making waves of late in more mainstream waters. They've a band with a look that exactly matches their sound, as if they've all stepped out of a time machine from 1969, complete with the right vintage guitars. Rosalie Cunningham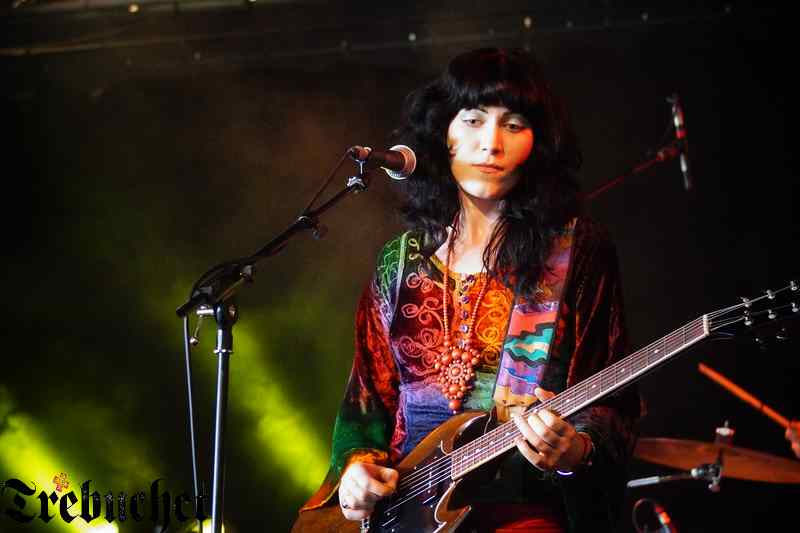 on lead vocals and lead guitar is the focus, playing raw and dirty riffs and reeling off solos with heavy use of the wah-wah pedal. Despite the brief interruption of a collapsing keyboard stand, they delivered a very powerful set. It does leave you wondering how much longer we'll still be able to see this band on stages like this.
It's been a long, long time since Odin Dragonfly have played anything other than the occasional very short support set, so their appearance on Stage Three was a rare chance to see Heather and Angela together as an acoustic duo, the two of them playing their second set of the day. Compared to the rock dynamics on the main stage this was beautiful chill-out stuff with minimal instrumentation, and the emphasis on the vocal harmonies. There were moments when they came over a little under-rehearsed, especially the stripped-down take on Mostly Autumn's "Evergreen", but it was still an enjoyable set, with songs from the 2007 album Offerings alongside stripped-down versions of Mostly Autumn's "Eyes of the Forest" and "Bitterness Burnt", and a new song which might even end up on a long-awaited follow-up to Offerings.
The clash with Odin Dragonfly meant I only caught the end of Curved Air's set, but from what I saw it seemed like the tail end of a barnstorming performance, with two of the biggest hits right at the end, "Back Street Luv" as the closer. With so many progressive-leaning bands with female lead singers on the bill over the course of the weekend it's fitting Curved Air were one of them. Sonya Kristina is an absolute legend and still in fine voice. And they're yet another reminder that progressive rock needs more violins.
Mostly Autumn are a fixture in this festival, having played every year since at least 2008, and the weekend somehow wouldn't be the sane without them. Despite having seen the band more than a hundred times, they still retain the capacity to astound. They began as on their spring tour, with the instrumental "Out of the Inn" which starts as a celtic-folk jig centred on Angela Gordon's flute, and develops into a hard rock workout, before Olivia Sparnenn made her customary dramatic entrance for "In for the Bite", a song from the recently-released Josh & Co album. Much of the early part of the set was hard-rocking numbers from the recent albums since Olivia took over as lead singer, with "Skin on Skin" showcasing Alex Cromaty's remarkable drumming. In contrast, the beautiful stripped-back balled "Silhouette of Stolen Ghosts" was a change of pace. Then came a truly epic version of "Mother Nature" performed with an exceptional intensity even by their standards. The obligatory closer "Heroes Never Die" ought to have been worn smooth by over-exposure by now, but even that packed a powerful emotional punch.
It wasn't easy for headliners Focus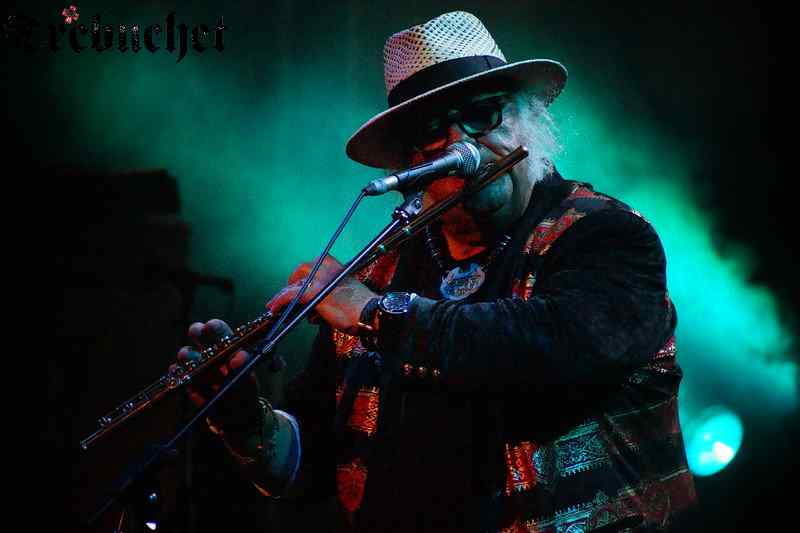 to follow that. Like Curved Air they're a legendary band who are regulars on the festival circuit, but with their two biggest hits quite unlike the rest of their material they can come over as marking time until the hits at the end. But Focus do what they do, and the chilled-out jazz-rock workouts like the lengthy "Eruption" deserved to be appreciated on their own merits. But after the slow start, "Sylvia" and "Hocus Pocus" came as expected at the end, and the festival finished in a frenzy of air-guitar and yodelling, and so it should.
This weekend turned out to a good candidate for the best CRF yet. The bill was a great mix of old favourites and new discoveries. The old favourites showed everyone why they keep getting invited back, and newer bands rose to the big occasion. The main stage bill across Saturday and Sunday was remarkable in its consistent quality this year; there are plenty of acts who'd played earlier years who would have seemed out of place this year.
While some higher profile festivals this year had bills heavy with heritage acts (HRH Prog and Ramblin' Man, I'm looking at you), it was good to see representatives of the current generation of bands making up the bulk of the CRF bill. It was also good to see so many women in the lineup; can you imagine Glastonbury or Reading featuring six female frontwomen out of eight acts?