[dropcap style="font-size:100px; color:#992211;"]F[/dropcap]or those whose tastes run towards progressive rock and metal, Sunday at CRF was always going to be the day most looked forward to.
The weather turned nasty at the beginning of the day courtesy of Hurricane Bertha. Amidst some doubts over whether this would go ahead the main stage marquee didn't open up until the first band were already standing on stage waiting for the audience to file in. They were Norway's The Windmill, and they proceeded to play some epic symphonic prog. There were echoes of Renaissance and fellow Norwegians Änglagård, and their music went from pastoral atmospherics to heavier guitar-led passages. It featured heavy use of flute, and some great three-part vocal harmonies, their set climaxing with the swirling twenty-minute epic "The Gamer".
Credo (pictured right) followed that with another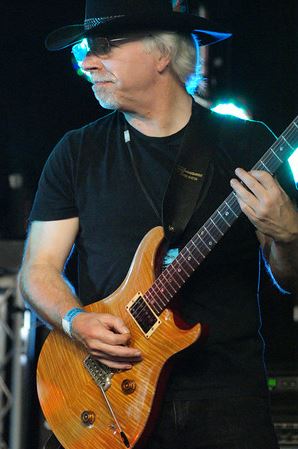 entertaining set featuring ornate synth runs, fluid overdriven guitar solos and a singer with a touch of Fish's vocal mannerisms. They tick all the neo-prog boxes. But even through they're not doing anything stunningly original, the strength of their songcraft and the passion of the performance meant they went down well with the crowd.
Apocalyptic weather swirled outside during Winter in Eden's set, such that the wind speeds were getting the stewards worried. But inside the tent the most metal act on the main stage so far kicked up such a storm themselves that many people didn't even notice. They rose above some rough sound early on with a powerful set, their British take on Euro symphonic metal eschewing choirs and kitchen sinks in favour of neo-classical keyboard flourishes and good old-fashioned lead guitar. Vicky Johnson proved the first of several great female vocalists to grace the main stage on the day.
Heidi Widdop seems to make a habit of Cambridge Rock Festival debuts. Back in 2010 the main stage saw her first gig as the new lead singer of Breathing Space. The following year marked the very first gig for the short-lived Stolen Earth. 2014 saw her new project, Cloud Atlas, playing only their second gig. Despite having a stand-in rhythm section, they turned in another strong performance, with Martin Ledger's evocative guitar tones dominating the band's rich and atmospheric sound, and Heidi herself on great form.
Mr So and So just get better and better as a live band. Another regular act for the festival, they followed up their 2011 and 2012 appearances with one of their best shows yet. They've gone up a gear since the release of their fifth album Truth and Half Lies, far darker and heavier than what had gone before, and that album featured heavily in their set. The hugely melodic dual male/female lead vocals of Shaun McGowan and Charlotte Evans, and shredding lead guitar of Dave Foster give them a distinctive identity. This gig marked the farewell appearance of drummer Stuart Browne with hints that the band may take a radically different direction without him. He certainly went out on a high.
Mostly Autumn have been on top live form this year,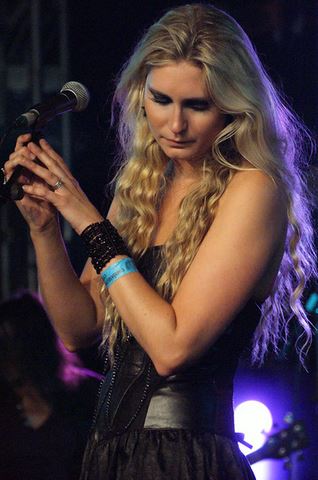 and their festival performance was no exception. Aside from the two standards "Evergreen" and "Heroes Never Die" from the band's early years, the rest of the nine-song set all came from Olivia Sparnenn's (pictured right) tenure as lead singer, drawing heavily from their latest, Dressed in Voices. They've evolved a long way from their celtic-folk origins towards a harder-edged rock sound, but there's still a lot of emotional depth, as evidenced by Olivia's signature number "Questioning Eyes". Another highlight was "Skin on Skin" with Alex Cromarty's spectacular drum pyrotechnics. Much like Chantel McGregor on Friday, this was a headline level performance.
Mostly Autumn's set was going to be a hard act to follow, and the task fell to Norwegian metal act Jorn, fronted by Jorn Lande. Yes, the whole thing was as melodramatic as hell, and yes the songwriting did sound a bit too close to that of the late, great Ronnie Dio for comfort, but Jorn still put on a great show. At a time when a lot of metal bands are fronted by either cookie monsters or opera-trained sopranos, it was good to hear a top-class old-school hard rock vocalist. Though we could have done without the Tufnelesque solo spot from his guitarist; somebody needs to tell him it's 2014, not 1982!
Headliners Wishbone Ash are one of those classic rock veteran bands down to one original member: guitarist Andy Powell. Weilding his signature Flying V he led the band through a mix of standards from their early heyday and newer blues-rock workouts. While it might have been nice to have heard more of their highly melodic 70s material, they kept, perhaps wisely, to the songs that Andy Powell could do justice to vocally. The emphasis was instead more on the twin lead guitars, with highlights including "Engine Overheat" and the epic "Phoenix". Even though they were nowhere near the best band of the day, that was more a reflection on the strength of the rest of the bill, and it was still an enjoyable performance.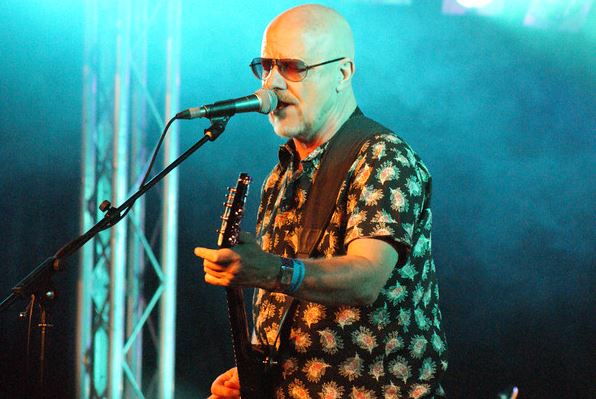 Andy Powell of Wishbone Ash
And so ended the eleventh Cambridge Rock Festival. As is often the case, the veteran acts topping the bill pulled in the punters while the newer acts lower down the bill ended up giving the best performances. One can't help wondering if the festival might have worked better for those attending the whole weekend if the acts had been mixed up a little more rather than having separate blues, rock and prog days.
On the other hand, that format may have sold more individual day tickets. Indeed, I was told that the Thursday night sold out, with many people coming to hear the tribute acts. That, in turn, subsidises the rest of the festival.
And finally : beer! CRF began life as a beer festival, and was called the RockandBeerFest until a few years back. But real ale is still a major part of what the whole thing is about, and an awful lot of brew was drunk over the course of the weekend.
(Burrrrp! Ed.)
Read Part 1