[dropcap style="font-size:100px; color:#992211;"]T[/dropcap]he Cambridge Rock Festival is a four-day event on the first weekend of August, with a focus on blues, classic rock and progressive rock.
2014 is the festival's eleventh year, and the sixth to be held at the current location just outside the city.
Thursday night is traditionally the warm-up for the festival proper, with tribute acts on the main stage, and local bands on stage two. On stage two, bonkers prog-metal trio Kyrbgrinder headlined and kicked up a storm, Johanne James performing the near-impossible feat of playing full-on metal drums and singing lead at the same time. To add to the fun he had a sizeable proportion of the audience dancing behind the band.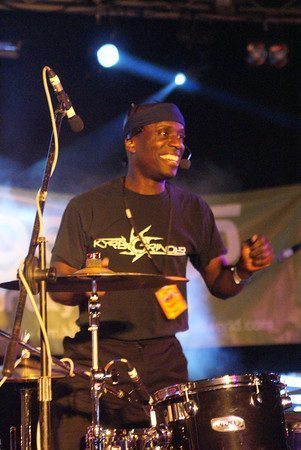 Friday had a blues theme on the main stage, and stage two hosted by the Classic Rock Society. The CRS stage opened with Airbridge, a trio with an interesting instrumental sound. They had an intricate Canterbury-scene feel, but were let down by very weak vocals. They gave the impression that if only they got themselves a proper lead singer there was a lot of potential there. Over on the main stage, The Detours were playing some excellent old school twin-guitar hard rock, throwing in a killer cover of Kansas' "Carry On Wayward Son", which was great, but didn't completely overshadow their own songs.
Then it was back to the CRS stage, for three-piece The Tirith making neo-prog sounds with some impressively fluid lead guitar. After them, Dead at Eleven's hard rock/electronica crossover featured some strong songwriting and an energetic performance, and made quite an impact. 25 Yard Screamer were less impressive. Their prog-metal ticked all the right boxes but there was something missing, let down by ordinary vocals and a weak rhythm section.
An intro tape featuring a hammed-up reading of "Jekell and Hyde" set the tone for the theatrical goth-metal of Symphony of Pain, who turned out to be the best band on the CRS stage up to that point. On record they're a duo of vocalist Tracie Law and multi-instrumentalist Pam Chowdam, live they're a five piece including Kyrbgrinder's Johanne James on drums and a guitarist dressed as a monk. They indulged in some theatrics with a guest appearance from Nurse Whiplash, but it was Pam Chowdam's virtuoso electric violin playing that really set them apart and grabbed the attention.
After a few songs from The Room's highly melodic neo-prog it was over to the main stage for one of the festival regulars, blues-rock guitarist and singer-songwriter Chantel McGregor making her fourth appearance on the main stage. As expected, her set was a mix of short punchy original numbers from her début album Like No Other and reworked standards used as vehicles for extended guitar workouts, with some spectacular playing on Hendrix staple "Voodoo Chile" and Robin Trower's "Daydream".
We were also treated to an interesting cover of Prince's "Purple Rain" and a brand new original that gave a tantalising glimpse of the long-awaited new album she's currently working on. There was an electrifying intensity to the set that made this a headline-standard performance and then some.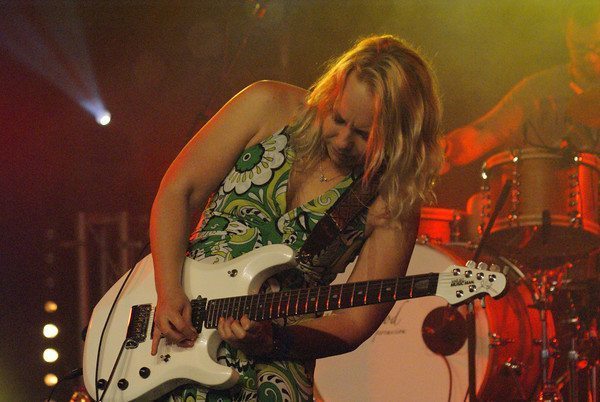 The Jeff Green Project were special guests on the CRS stage. Despite being up against blues-rock guitar-shredder Larry Miller on the main stage they still drew a sizeable crowd and didn't disappoint. Formed by a one time member of an Eagles tribute band and featuring Big Big Train's Sean Filkins on lead vocals for several songs, the seven-piece band had a multi-layered west coast rock meets prog sound, and despite the late start and shortened set they made a strong impression.
After that, main stage headliners Snakecharmer were a little disappointing. The supergroup with former UK Whitesnake members Micky Moody and Neil Murray have outgrown being a glorified Whitesnake tribute act by recording an album of brand new material which featured heavily in the set, alongside late 70s Whitesnake standards. Although the new songs are good, the set didn't quite have the buzz they'd had headlining on previous years.
The main stage took a rock theme for Saturday, with the second stage becoming the blues stage. First up on the main stage were Roolz, a band so young none of them had shaved, and very good for their age. They played 80s-style hard rock with an occasional touch of U2 and 70s Elton John. It will be interesting to watch how they develop (hopefully they will avoid getting chewed up and dumbed-down by the corporate music biz). Following them came Northsyde, who made a very strong impression with their blend of hard rock, blues and funk. The gutsy vocals of Lorna Fothergill sounding more than a little like a youthful Robert Plant.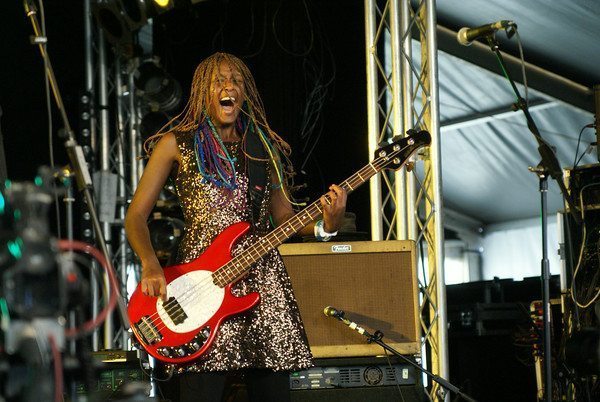 The rather generic blues of Split Whiskers (above) wasn't quite as strong, though they were still entertaining enough (aside from having far too much harmonica).  By comparison, Walkway's hard rock by numbers didn't really impress. Their set contained rather too many covers, which showed up their own writing, and Fleetwood Mac's "Go Your Own Way" just doesn't work with male vocals. Fireroad were a little better with their heads down no nonsense four chord boogie, shades of Status Quo with added psychedelic solos and the occasional touch of ZZ Top.
[quote]a complete non-musician cynically
trying to cash in the family name[/quote]
Things improved a lot with Pearl Handled Revolver. Their organ-driven psychedelic blues was the first real break from the guitar-dominated sounds of the earlier acts of the day. Without a bassist, keyboardist Simon Rinaldo filled in basslines on pedals, which wasn't the only comparison with The Doors. At times the swirling Hammond recalled Uriah Heep. This is a band who have received quite a bit of hype, and they were certainly interestingly different.
Nobody was quite sure what to expect from Leon Hendrix, brother of the legendary Jimi. Sadly his set turned out to be the nadir of the day. Leon is no guitar player, just about capable of strumming a couple of chords. He's not much of a singer either, and he was carried by a competent if unexceptional band featuring a guitarist from a Hendrix tribute act and two backing vocalists to carry the tune when he couldn't. The set was a mix of Hendrix standards and formless jams, and the only good moments were when Chantel McGregor and Ben Poole joined him briefly on stage and ran rings around his own guitarist. The whole thing left the impression that this was a complete non-musician cynically trying to cash in the family name.
1980s AOR veterans FM headlined the main stage and were everything the preceding act were not, with a tight, professional and energetic set. With Steve Overland on fine form vocally and "new" guitarist Jim Kirkpatrick shredding with the best of them, the result was a vastly better sound than Snakecharmer the previous night. Bernie Marsden guested with the band for the encore: a cover of Whitesnake's "Here I Go Again". They were easily the best band of the day, despite my not knowing any of their songs bar that final encore.