[dropcap style="font-size:100px; color:#992211;"]W[/dropcap]hile it seemed everyone in the world had their attention on Stratford and the Olympics, I was lucky enough to get a ticket to the Cambridge Folk Festival 2012, so casting opening ceremony concert tickets aside I headed East for the weekend and experienced my most eclectic and enjoyable festival yet.
Over the course of the two days I was there, I caught a number of different acts and bite size chunks of various performances. There were too many acts on to be able to watch and enjoy everything on offer but those I did see have left a lasting impression.
Saturday morning kicked off with the Festival Session on stage 2. Hosted by the legendary Brian Mcneill (of Battlefield Band fame) the acts showcased proved just how many variations there are when it comes to 'folk music' and how this definition is always shifting.

Four men and a dog, formed during the 1990 Belfast Folk Festival and one of Ireland's most popular acts took to the stage and their brand of irrepressibly foot stomping traditional Irish music blended with just a touch of bluegrass had the crowd howling for more.
A hard act to follow, however relative newcomers Habadekuk, a nine-piece Danish dance band playing an exuberant mix of jazz, rock and classical music, gave it a spectacular go. Awarded album of the year at the 2011 Danish Music Awards, they set the tone for the rest of the afternoon and were followed by several other acts that had the audiences clapping and stomping along. Sweaty and happy I took to the side to watch 'The Unwanted' close the Festival sessions.

The unwanted features the stunning vocals of Dervish's Cathy Jordan, the unsurpassable skills of the all-Ireland harmonica champion and former folk rock band 'Pumkinheads' member Rick Epping on harmonica, jaw harp and the concertina, as well as multi-instrumentalist Seamie O'Dowd on vocals, guitar and fiddle. And with just a few songs, in particular their cover of Bob Dylan's 'Boots of Spanish Leather', they have been added to my favourites list.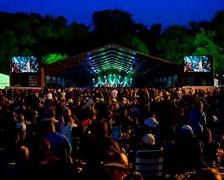 From Stage two I made my way to the main tent to catch The Unthanks with Brighouse and Rastrick Brass Band. And bloody hell, am I glad I did!
Rachel and Becky Unthanks, a haunting duo known for their eclectic approach in combining traditional English folk with other musical genres have collaborated with the Brighouse and Rastrick Brass Band (the current national champions, regarded by many as the best and most consistent 'public subscription band' in the world), to offer up a suite of traditional folk songs about fatherhood and mining that delivered such an emotional wallop I was reduced to tears.
[quote] the best
and most consistent
'public subscription
band' in
the world[/quote]
The delicacy of the sisters' voices was never overwhelmed by the brass band, but rather it served to amplify their story telling in a daring and unexpected way.
Emotionally spent it was time to make my way back to stage two for Lazy Lester and friends. Having been raised on a musical diet of swampy Louisiana blues, when Lazy Lester took to the stage and opened with Blood Stains on the Wall I very nearly died of a pleasure overload. Lester who at 79 (as he reminds the audience frequently) has recently been inducted into the Blues Hall of Fame, tore up the stage with a combination of country, blues, and old school rock and roll classics like 'Sugar coated love' and 'I made up my mind'.
Showcasing his amazing harmonica skills, friendly banter and good sense of humour he proved that some things really do get better with age.
Saturday night ended on a high note at Jim Morray's silent disco with several hundred people skipping and do-si-do'ing to two different music channels, one a traditional ceilidh and the other current pop music. Surprisingly, the combination worked brilliantly and I retired happy and covered in mud.
Sunday kicked off with Morris Dancers and a few acts I had already seen so I made my way to The Den, a decorated marquee (kudos to the person who sourced the vintage rugs and rooster pillows) showcasing emerging talent. And as the heavens opened and showered us with hailstones, the amazing Lucy Kitt blew us all away. Reminiscent of a less Southern Jewel, she blended blues and folk in a captivating and raw performance. Someone needs to sign this girl and soon!
I wrapped up my experience of the Cambridge Folk Festival with a performance from one of Africa's most explosive talents, Angelique Kidjo. Luring the crowd in with a story of how she had asked her ancestors to stop the rain so she could perform, the last few drops miraculously fell and the sky cleared, treating thousands of rain soaked, die hard folk fest goers to a unique and vibrant performance.

Bounding across the stage, participating with the band and calling everyone backstage to come up and join her in a dance, she had the crowd worked up into a frenzy, a particularly rare occurrence for middle aged Britain.
As I helped what could only be someone's Gran onto a chair so she could get a better view and was hugged by a crazed hippy forcing me to eat some one of her love heart sweets, I could only think that this was one of the most uplifting moments I had experienced and that I was already looking forward to CFF 2013.