[dropcap style="font-size:100px; color:#992211;"]J[/dropcap]ust to say, before we enter into the C2C Launch Party, two of the many things I love in life are good Country music and Las Vegas.
Hey, I got married in Vegas and, like many others, have been totally messed up there. I've had some of the best times of my life in that crazy town and having just spent a chunk of this summer cruising up from Tucson back into the bright lights, being entertained in a bunch of little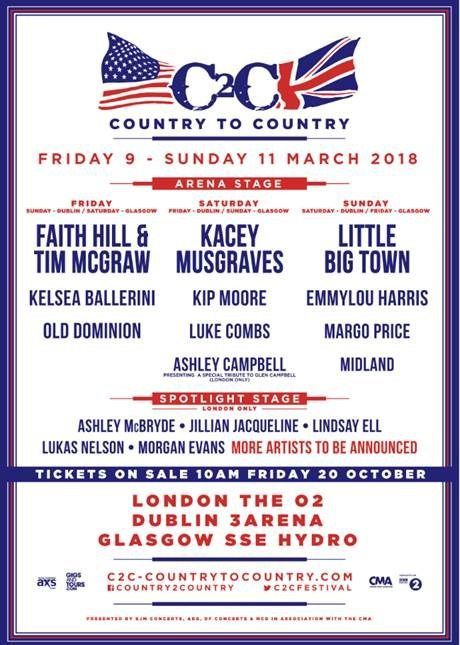 bars by gigging country acts, and throwing countless dollar bills into their weatherbeaten Stetsons, the news of the recent shooting hit me with total and utter sadness.
Watching the news flashes pop up I could smell that Vegas night air, feel the buzz and the bustle of the strip, but could only guess at the horror amidst the gunfire. If I'd still been there, I'd have been at that Country music show. The same mixture of feelings was clearly felt by all at the C2C London launch, and each and every act at Bush Hall made a heartfelt statement about the Las Vegas shooting
We breathe deeply and we move forward. Bush Hall was the place to be on the evening of Friday 6th October if you, like me, were excited to get news first hand of the C2C 2018 line up, which is back for its sixth year from Friday 9th to Sunday 11th March.
Bob Harris took the stage together with the wonderful Lindsay Ell to tease the assembled country lovers with a list of names held closely to his chest. Before the announcement was officially made we were asked to give our attention to the large screens placed at the sides of the venue, which proceeded to give us snippets of the artists' music videos. Each act was met with cheers, whoops and applause.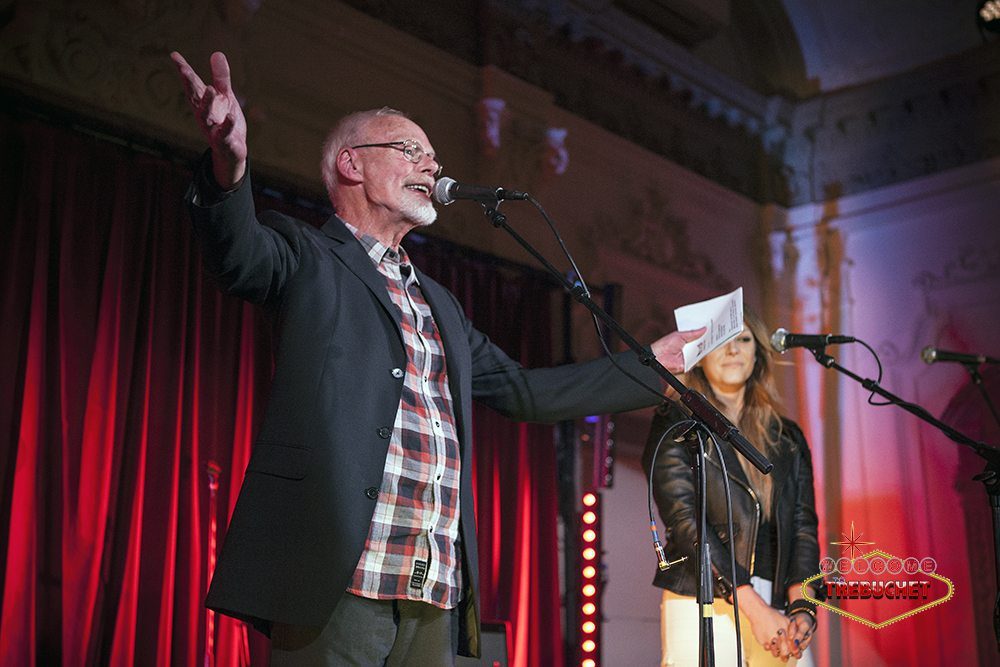 The cheering continued as Texas' own Kacey Musgraves was announced to headline the festival for the first time. The legend that is Emmylou Harris will also be gracing the London stage, to be joined by other big American names such as Faith Hill, Tim McGraw and Little Big Town. Kip Moore, Luke Combs, Kelsea Ballerini, Margo Price and Midland were also announced together with Ashley McBryde, Jillian Jacqueline, Lindsay Ell and Lukas Nelson (Willie Nelson's son). Check out the feature on Lukas in this month's Country Magazine.
If there is something to help get through the winter blues then it's the chance to see some true legends of their genre, a host of fabulous new artists over three days of fantastic country music and a sea of wonderful friendly people.
If something was ever going to 'hit the spot' at that moment then it was a couple of deliciously cold Frontier beers, a new craft lager from Fullers which I must say is refreshing, crisp and characterful. Fully energized and back at the stage, Walker McGuire hit the boards for their first appearance in the UK to showcase their superb harmonies and guitar picking. Johnny McGuire and Jordan Walker have both done their time as solo artists but have stepped things up to a whole new level as a duo. These boys fit together like biscuits and gravy, and bounce off one another's differing styles superbly.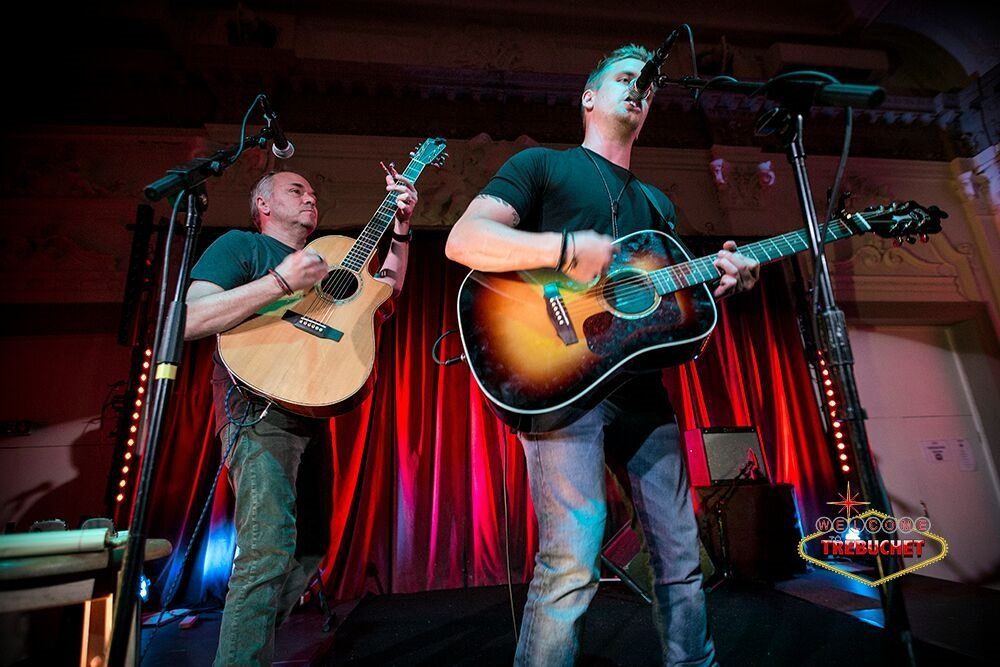 Levi Hummon, (above) hailed as the Ed Sheeran of Country (not a good thing in my book) rocked up with his father (Grammy-winning singer and songwriter Marcus Hummon) to form another epic duo. Levi was performing for the first time in the UK and deserved the reputation which preceded him. Thankfully, I didn't hear any Ed Sheeran influence.
Temecula Road (below) followed Levi Hummon. Sisters Maddie (vocals) and Emma Salute (vocals, mandolin) and Dawson Anderson (vocals, guitar) are all in their teens and all ridiculously good looking. So despite making me feel really old and crinkly, they had harmonies to die for and an on stage chemistry that simply puts a smile on your face. This was a mesmerising performance and this trio's already massive fan base is surely set to explode.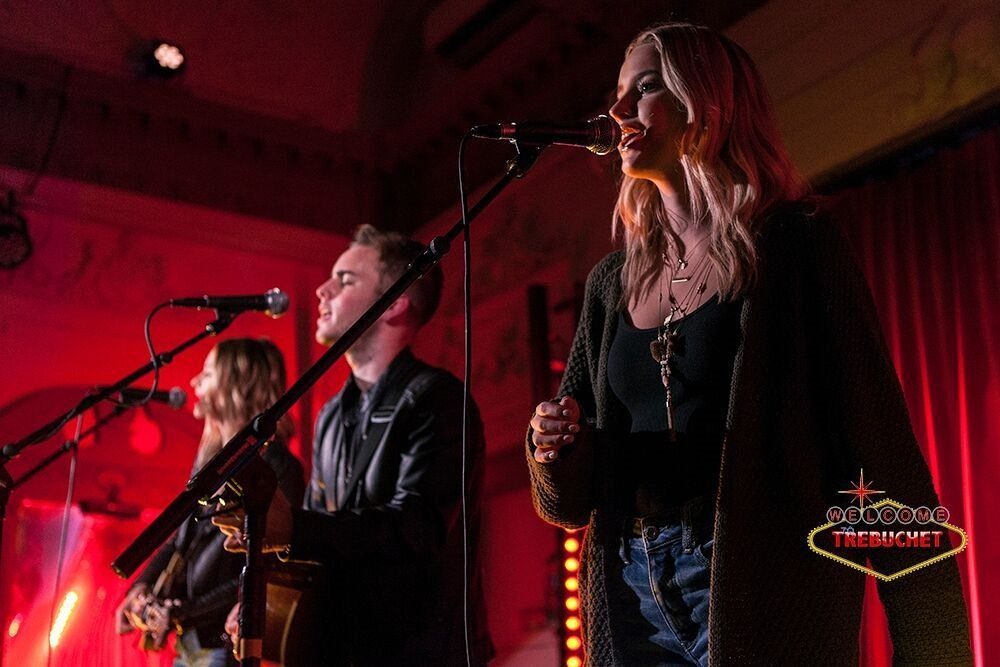 Returning to the UK, super slinky Logan Brill underlined the running order. Her gritty rootsy style gave you the impression she knows a thing or two about life and that if you said the wrong thing to her at the bar she'd bust you right in the jaw. You got to love that in a woman, don't ya? We just adored her performance and loved those vocals. Logan Brill, put her on your go-see list.
The show wouldn't have been complete without an encore, and boy, what an encore. Logan asked all the acts back on stage for homage to the late Tom Petty, another colossal talent gone too soon. Everyone took a piece of 'Freefalling' and we, the audience, all joined in. It was impossible not to.
It was a teary moment as we felt the loss of Tom Petty, the loss of those innocent lives in Vegas, and our own frailty.
Photos: Carl Byron Batson. Not to be reproduced without express prior permission.

Photographer, published poet, former party animal, body builder, grave robber
to the stars and renowned chainsaw juggler, Carl can often be spotted on his
Harley Davidson pretending to be in Terminator 2. He is also frequently seen in
the press pits of old London town, camera in hand, avoiding being hit by bottles
of wee and crippling his opposition with secret Kung Fu moves.