[dropcap style="font-size:100px;color:#992211;"]T[/dropcap]he British Library has announced that the visual archive of writer, artist and illustrator Mervyn Peake (1911–1968) has been acquired from the Peake Estate. This news follows the library's acquisition of Peake's literary archive in 2010.
Mervyn Peake's visual archive comprises over 300 original illustrations, including drawings from his critically acclaimed Gormenghast series, together with original illustrations for his own books for children Captain Slaughterboard Drops Anchor and Letters From a Lost Uncle and other classic works of English literature, such as Treasure Island, The Hunting of the Snark, Household Tales by the Brothers Grimm, and Dr Jekyll and Mr Hyde. Also included are unpublished early works, preliminary sketches, and drawings of famous literary, theatrical and artistic figures such as Laurence Olivier and W. H.  Auden. This acquisition brings Peake's archive together in one place, making it fully accessible to the public for the first time.
The archive is notable for Peake's Treasure Island illustrations from 1949, which remain some of his finest work, described by critics as 'tense, eerie and dramatic' and 'one of the few editions which have come near to meeting the demands of the author's text'. Treasure Island was Peake's favourite book and his love for the story is evident from the watercolour illustrations he painted aged 15, to the large number of preliminary sketches and annotated proofs which show his commitment to perfecting the 1949 edition.
Peake also wrote and illustrated original works for children including Captain Slaughterboard Drops Anchor (1939), Letters from a Lost Uncle (1948) and a book of nonsense verse, Rhymes Without Reason (1944). The illustrations for all three books are present in the archive, offering a window into Peake's playful and eccentric sense of humour as well as his aptitude for creating anthropomorphic creatures. Captain Slaughterboard has been credited as being 'way ahead of its time' as a book about a pacifist pirate who strikes up a relationship with an ambiguously-gendered Yellow Creature.
Drawings for an unpublished early work called The Moccus Book (1929) reveal Peake's talent for creating fantasy worlds, and also show the importance of his early influences in his development as a writer and artist. His childhood in China, his love of reading, and his obsession with islands and isolation are all significant presences in the Moccus books as well as many of his later successes.
Highlights of the archive include:
27 illustrations, plus preliminary drawings and annotated proofs for Treasure Island, some of Peake's finest illustrations
10 illustrations of Gormenghast characters
Illustrated early draft manuscript of Captain Slaughterboard Drops Anchor together with a complete set of final illustrations, in which Peake included hidden portraits of himself and his family in one of the pirate's tattoos
Juvenilia including watercolour illustrations of his favourite book Treasure Island, and his earliest surviving drawing depicting people he encountered on a Sunday afternoon walk while living in China, aged seven
Drawings for early unpublished work The Moccus Book revealing his talent for creating fantasy worlds
Illustrations and preliminary drawings for Lewis Carroll's Hunting of the Snark
Watercolour illustrations for television adaptation of his children's book Letters From a Lost Uncle
Illustrations for his 1953 magical realist novel Mr Pye
Drawings of 15 well known writers, artists and theatrical figures including Laurence Olivier, W. H. Auden and Peggy Ashcroft
The Mervyn Peake Visual Archive joins the library's extensive collection of contemporary literary archives, with acquisitions in recent years including the papers of Andrea Levy, Hanif Kureishi, Shiva Naipaul, James Berry, Margaret Forster, Will Self, and Ruth Prawer Jhabvala. It complements the library's existing holdings by bringing together Peake's work on a number of books, enabling further study of his synaesthetic creative process whereby he drew pictures to stimulate his writing. Peake's illustrations for Lewis Carroll's Hunting of the Snark (1941) will join his drawings for Alice's Adventures in Wonderland and Through the Looking Glass which are already held by the library, together with Lewis Carroll's original manuscript 'Alice Underground' and the manuscripts of another master of nonsense verse, Edward Lear.
The visual archive will be available for research on completion of cataloguing in 2022. There will be an opportunity to see highlights from the archive in future British Library exhibitions.
Image: dust jacket design for Household Tales by the Brothers Grimm © Estate of Mervyn Peake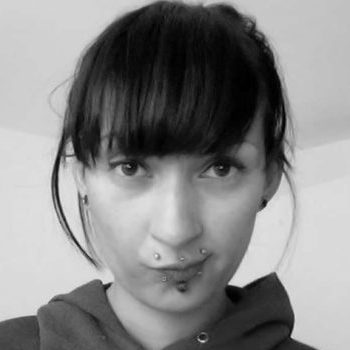 Naila Scargill is the publisher and editor of horror journal Exquisite Terror. Holding a broad editorial background, she has worked with an eclectic variety of content, ranging from film and the counterculture, to political news and finance.