[dropcap style="font-size:100px;color:#992211;"]A[/dropcap]
collaborative artwork,
Britain, Take a Bow,
examines the British social and material landscape since the EU referendum. Conceived by artist Graeme Crowley, the piece is a collaboration between UK-based artists, filmmakers, typographers, musicians and software developers.
A collection of filmed vignettes, Britain, Take a Bow is a record of the UK since the referendum, reflecting on the ideas of Britishness and nationalism as we struggle with the monumental decision to leave the EU. The artwork's title is a play on the Daily Mail's headline—Take A Bow, Britain—on 25 June 2016 following the result.
Since then, Crowley has been visiting pro-leave and remain areas to record short films exploring the people and environments of these places. The result is a library of hundreds of clips capturing coastal towns and seascapes, the majesty of natural landscapes and urban spaces, and daily life in the UK from the sad and mundane to the exciting and uplifting.
Each composite film is accompanied by a four-minute unique mix of "God Save the Queen" built from hundreds of recorded audio loops created by a host of different musicians, an orchestra, a choir and schoolchildren and produced by Paul Crowley. The films are cut with the speeches of key political figures during Brexit debates. Leading UK designers created typographic treatments that are superimposed on top of every composite film. Developers created a platform to allow other filmmakers to upload their own clips to the library. The platform is invite-only and 12 filmmakers from across the UK are currently participating.
Groundbreaking software combines the film, typographic treatment and audio stems in a way that creates a unique experience with each viewing. The system enables over 1.8 billion possible permutations of the national anthem alone, from calm and elegiac to discordant and jarring. No two viewings will ever look or sound identical, in itself a reflection of the complexity of Brexit and the fractured state of public and parliamentary opinion about its meaning. New content is added every day creating a continually evolving artwork.
Crowley conceived and created the piece, now bolstered by additional contributions from filmmakers including Simon Ellis, John Smith RCA and Nick Jordan. Britain, Take a Bow also features typographic interpretations of the National Anthem provided by Swifty, Malcolm Garrett, Lou Cordwell/Magnetic North and world-renowned designers The Designers Republic, amongst others. Richard Baker and Horace Keating from Tui Media created the software.
The film can be watched here.
Britain, Take a Bow will be shown at Hamburg International Short Film Festival as an installation from 4–10 June. Crowley will participate on a panel discussion about digital/AI/algorithmic filmmaking practices at the festival on 7 June.
Image: Graeme Crowley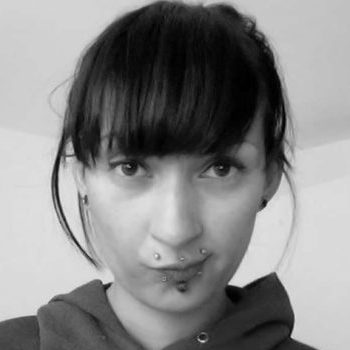 Naila Scargill is the publisher and editor of horror journal Exquisite Terror. Holding a broad editorial background, she has worked with an eclectic variety of content, ranging from film and the counterculture, to political news and finance.