[dropcap style="font-size:100px; color:#992211;"]T[/dropcap]he latest album on Adam X's increasingly influential Sonic Groove label, Infinite Density is a robust and powerful release.
Applying innovative modular techniques to industrial, techno and EBM templates, the Blush Response's work transmits a dynamic intensity that leaves a strong impact. Codex Europa talks to the dynamic Cuban-American producer about his work and influences.
---
The album has an unusual, even romantic choice of artwork for the scene you're part of, can you say a bit more about this?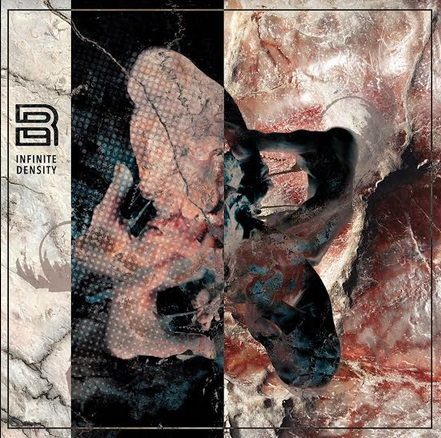 The artwork idea came to me in a dream, I saw reds and greys colliding with dense crystalline rock-like textures.  I recently took a vacation through the coasts of Greece and Italy, and took a lot of photos of marble and stone I came across there. I sent those photos to Janina Schutz and she put together the layout we have now.
What's your listening history? Did you come to EBM/industrial first or Autechre-style electronica?
Well I'm a huge fan of all of it.  My first real electronic love was The Prodigy – based on a rave compilation my aunt gave me when I was very young.  From there I branched out into all sorts.  I was listening to stuff like Aphex and Autechre at the same time as I was Skinny Puppy and Front 242.  It was all cool to me.  I'm not too picky.  Some all time faves – Aphex Twin, Skinny Puppy and all related side projects, FLA, 242, Autechre, Mika Vainio, COIL, Depeche Mode,
Is Autechre's Tri Repeatae important for you or are there other releases by them that have shaped your work?
Tri Repetae might be my favorite album, but that changes from time to time.  As an album I think it's the most consistent from start to finish.   With that said though, I listen to everything they put out.  I can find something amazing in every release.  They always manage to surprise me, and I am not surprised often.  I like surprises.  Some favorite tracks: Tac Lacora, SPL9, The Egg, Netlon Sentinel, Clipper, VLetrmx21.
To what extent is this a Berlin album? Would you have been able to make the same album on the other side of the Atlantic? Is the German scene a better home for your work?
Germany is definitely a way better place for my work.  This only could have happened here, but only because I have a strong belief that things have to happen exactly the way they did.  I'm sure I could have made something cool back in the US, but that's not what got made.  I don't know what a Berlin album is but it's definitely a me album.  I always try to push myself to find the next evolution for my sound, and my surroundings always come into play when on that journey.
Has exposure to the Berlin techno scene affected your work? In what ways?
How could it not?  I have definitely spent a lot of time on the dance floor, eyes closed, lost in the music.  That helped me understand the nature of this more than listening at home ever would.  Life directly influences my work – every aspect of it.  It would be impossible to avoid being influenced by the scene here.  What I really like is that there is a ton of cool work coming out of here, and all from friends of mine.  It's inspiring to be part of a scene that is filled with fresh ideas.
It's still quite unusual for techno/industrial producers to base their work so much on modular equipment. How do you manage to maintain force and dynamism where others get lost in self-indulgent modular experimentation?
I can't speak for anyone else, but for me modular is the best method for expressing my ideas.  If someone else is content noodling then more power to them.  I'm all for self-indulgence and isolation.  We should indulge ourselves, that is where the best art comes from. Risks are supposed to be taken.  I don't like music that makes compromises for accessibility.  I listen to a ton of those self-indulgent modular experiments at home and enjoy them a lot.
The titles certainly express an industrial worldview – why do you think the style associated with FLA or Skinny Puppy has become so relevant and even fashionable lately?
I really have no clue, but for me personally it was about reclaiming the original spirit of industrial and evolving it further.  But it's been like that for me for a long time, way before this trend started.  I think other people probably felt the same as I did.  I'm happy that it's back, and evolving more.  Things stagnated for a while.  There were a lot of cool artists coming out but not with the level of exposure that we have now.
Which other current artists and labels do you find inspiring?
Artists: Operant, Orphx, Adam X, Geistform, Ontal, Huren, Sarin, Phase Fatale, Qebrus, Download, Sleep Clinic, Yves De Mey, Headless Horseman
Labels: Sonic Groove, Ant-Zen, Aufnahme + Wiedergabe, HANDS, Raster Noton, 47, Warp