[dropcap style="font-size:100px; color:#992211;"]A[/dropcap]aaaaaaah, Bloodstock! (or should that be RRRRRAAAAAAAAA!? \m/)
There's anticipation in the air (and some choice Thrash cuts on the airwaves) upon my return to Catton Park for a third consecutive riffening. It's the first time I've made the decision to drive, with the result that an (inevitable?) M6 traffic jam means I'm delayed by several hours and absolutely gasping to get stuck into the hip-flask of rum lovingly stashed in the side-pocket of my jacket.
Still, it's a friendly Metal welcome from the car park team, and any congestion is soon forgotten upon realising that I'm in time to catch Hatebreed if I'm quick.
And then, the Gods of Rain said 'up yours, dude', and proceeded to absolutely drench all of my stuff… Again. This happens every year, it's a bit of a tradition really. I decide that it's (mostly) a Future Jed problem though, as a pop-up tent has me all set in seconds. Pffffft, damp. Am I right? Time for the annual jog to the arena, accomplished in heavy showers and hysterical laughter as Hatebreed's intro track booms across the fields. It's the (stunningly appropriate) Rocky theme tune.
I splash my way past Winterfylleth on the Sophie Lancaster stage, who seem to be doing a top job of driving a good wedge of Black Metal fans into a headbang frenzy, whilst making some new friends of those ducking out of the rain (which has thankfully subsided a little by now).
[quote]Bloodstock sees its first jig-pits
(like a jig, but FASTER and HEAVIER). [/quote]
Hatebreed, however, are something else. Pacy, furious and properly up for it, the Connecticut 'core merchants angry up the blood spectacularly, and have the moist masses chanting their name in no time. There are definitely a few special moments in this set, and Jamey Jasta enjoys a swim around in the crowd after a fiery rendition of 'Indivisible'.
There's genuine appreciation when Jasta thanks the fans, instantly reciprocated by the latter in fine voice and plenty of energetic fist-pounding (you've got a dirty mind), and a touching scene when a very young metaller (and dad) are pulled up on stage and proclaimed Hatebreed's guests for the weekend. They're naturally delighted, and give Jamey a big hug before watching the rest of the set from side-stage. It's Bloodstock magic for that family, and beautiful to see.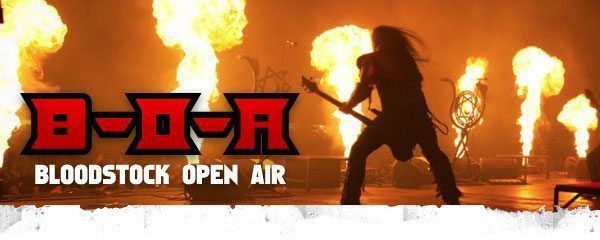 Over on the Jäger stage (which, incidentally, is around the size of a Jäger bottle this year), Aceldama cram themselves together to dish out some more melodic fare. They're definitely entertaining, and although front-woman Leanne's vocals are initially a little wobbly, once the nerves fall away they're belted out with impressive range and consistency. Everyone's up for 'Metal and Beer', and although the space limitations make it a little difficult to portray, the band's natural charisma finds its way through to the growing crowd. There's a little use of a vocal harmoniser, which I'm not so keen on, but a solid performance overall.
Again, for something completely different – this time in the form of Folk-Metal pioneers Skyclad, who bring instrumental variation in the form of violin, acoustic guitar and some synths, changing their setup at several points over the course of their set to accommodate an impressively diverse sound. The Sophie tent is packed, and Bloodstock sees its first jig-pits (like a jig, but FASTER and HEAVIER). We also see some nudity, with one couple taking the literal meaning of 'skyclad' and misplacing all of their clothes.
One look at the guy suggests that he is… erm… particularly excited by Skyclad's set. Or his female companion. Or both. There's definitely room for a joke here about 'getting jiggy'. Self-titled song 'Skyclad' is a definite highlight of the set – and the set is perhaps the highlight of the day so far.
Can headliners Down top that? I wondered, while waiting for them to come on stage late. By this point, the Black Sabbath ale (Trebuchet's tried-and-tested Bloodstock battle-juice) is flowing freely (…down the arm of my jacket, of all places), so I'm wondering about a lot of stuff (it's sticky). It's not too long though, before the Friday bill-toppers take to the main stage and get to work cranking out those fat riffs we've all been waiting for.
Phil Anselmo's vocal performance is incredible, and he works the crowd as well as you could expect as the Sludgy 5-piece plough their way through a weighty setlist. There are horns aloft everywhere, but the real high of the set is when we're treated to a little Pantera – a brutal rendition of 'Walk' boots everyone's teeth in, and the mosh is in full swing. There are limbs everywhere, and it's brilliant.
There's nothing quite like Bloodstock at night, and shenanigans are well underway as I make my way through the campsites. Shouts of 'bollocks' fill the air, growing steadily more urgent, until a huge cheer erupts in their place…. I'm sort of glad I didn't see the outcome of that one. A little later, I head back to the tent, only to make a huge festival error in spilling a full pint of Black Sabbath in the tent. If I was worried about the damp before, now I have a definitive 'smell of Bloodstock 2014' and very little toilet roll remaining; poo rationing is in full effect.
Saturday dawns in a grey drizzle, and I unstick myself from the floor of the tent and hunt for the remainder of the rum. The rum is gone, apart from a little dribble which serves as breakfast. The hangover is a given, but a big slap across the face (and a swig of beer) later and I'm ready for Evil Scarecrow. Following last year's spectacle over on the Sophie stage, they've been given an early main stage slot.
Despite the tender hour, one of the biggest crowds of the weekend gathers to witness a dramatic entrance by demon steed, and it becomes apparent right from the off that Evil Scarecrow have mischief planned; props, toys, insanity – it's all there. Layers of hangover fall away as the Nottingham rabble launch into a hilarious rendition of 'Thundercats', before a little new material in the form of 'Space Dementia'.
"We're turning off earth's gravity!" Dr. Hell declares, and even the most stoic among the assembled Metalheads bark out a laugh. A robo-alien monstrosity navigates the stage as the crowd moonwalk and space-mosh, before more familiar ground is covered in the form of 'Crabulon'. I'm not sure if you've ever seen thousands of grown men and women (and, amongst them, their younger counterparts) scuttle like an army of crabs, but it's probably more entertaining than most of the wonders of the world (prove me wrong).
Inflatable crabs are thrown into the mix for good measure, and the party is well and truly underway in time for the introduction of an accordionist for 'Dance Of The Cyclops'. Evil Scarecrow can get away with anything at this point… and that's before they bust out big-hitter 'Robototron'. So many robots. So many robots. Give it a few years, and this band will be headlining.
(It's around this time that my phone died, meaning that I missed my reminder to head over to the New Blood stage later in the day and, as a result, managed to miss both of Preston's Metal 2 The Masses offerings I'd previously seen earn their sets – Sinpathetic and (victors) All Consumed. Both great bands).
Over on the Sophie stage, Old Corpse Road are delivering with a bit of an iffy mix. Perhaps it's where I'm standing on the fringe of the tent, but it's particularly unflattering on the vocal front, and between these issues and the now-beaming sunshine blazing into the tent, the North-Eastern 5-piece struggle to create a fitting atmosphere for their brand of Black Metal. Despite these drawbacks, there's some great instrumentation on display and, once the mix has been altered somewhat, the gang vocals punch home particularly hard.
It's still muddy-sounding towards the end of the set though – perhaps an unfortunate difficulty of numbers, given their sound is crafted with multiple guitars and keys. I'd be interested to see what Old Corpse Road have to offer with the resources for more extensive sound-checking.
Next, the Jäger stage plays host to fresh-faced female 3-piece (I could've carried on alliterating. Decided not to. True story.) The Amorettes, who draw a reasonable crowd to witness a tight Hard Rock showing, both vocally and instrumentally. They aren't heavy heavy (heavy, heavy), but Bloodstock is renowned for its variety and the crowd seem to be getting into it – particularly when bassist Heather McKay jumps down to wander far and wide, and smell the groundlings. Encouraging stuff from a charismatic young band.
The Mercy House on the other hand, lack a little presence. They're fairly tight but vocally unconvincing, and ultimately struggle to draw a crowd to the Sophie stage during the opening tracks of their set. Over on the main stage, however, Israeli Metallers Orphaned Land are giving a good account of themselves. Again, it's a fresh vibe for the day… and again, we could do without this pesky sunshine for atmospherics (and hangovers).
Despite the appalling lack of miserable weather, some well-executed, diverse riffs alongside wise words of peace regarding current events (the only dispute between front-man Kobi and his Palestinian friend being… 'Who pays for the beer?') elicit deserved applause from the Bloodstock faithful – and although I don't spot much crowd movement, it's a decent set overall, and quite a few people can be heard voicing this opinion once they finish.
Back at the Jäger stage, Northamptonshire lads Darkhorse pump out thick riffs over some outstanding drum-work. Although the vocals struggle to maintain their ferocity towards the tail-end of the set, there's a decent standard of musicianship on display which gets the old head banging a tad. Unfortunately, they lose a little of the crowd over the course of the last few songs, perhaps due to clashes, but it's ultimately an enjoyable performance which leaves the crowd chanting their name…. And the band chanting their own name.
On the main stage, Crowbar's unrelenting barrage of dense chugs rattles the chests and minds of a substantial gathering. Front-man Kirk Windstein roars at us like a goaded lion-beast, and while there's not a lot of movement on stage, there are a great many banging heads across the soggy plain that is the arena. A few mosh-pockets spring up here and there, but a lot of people seem to be rolling… erm… cigarettes… to enjoy during the Doomy New Orleans' down-tempo moments. Another successful Bloodstock for the 4-piece, following a similarly strong 2012 appearance.
Massive Wagons are a band I've witnessed rock a good many stages with equal tenacity, and it's no different when they take to the Jäger stage (following some Tetris-style manoeuvring to fit the 5-piece up there). Nerves don't seem to be an issue as the Carnforth rabble launch straight into their Hard Rock battery with 'Rising Tides', vocalist Baz somehow finding room to brandish (and thrust, let's not forget thrust) his mic stand at the sizeable crowd, before abandoning it in favour of his point-and-glare tack.
Favourites 'Fight The System', 'Red Dress' and 'Heavy Metal Man' all make an appearance, and the travelling contingent of Wagons heads are having as much fun as the band themselves. In a shocking moment of brutality and anger, Baz boots the stage monitor clean off the stage and has to be held back from destroying anything else in his equipment genocide (aaaaalright, that's not how it happened… it was a complete accident, and the rest of Massive Wagons and the sound engineer were trying very hard not to crease up laughing after an attempt to stand on the thing went awry).
Instrumentally, it's as tight as you could hope for, and the Jäger stage sees one of its strongest crowds of the weekend so far. RIP monitor.
Back to the main stage, where Children of Bodom exhibit an impressive technicality and a great mix of new and classic material. The Finnish Melodic Death (if we're slapping a genre label on it) Metallers bring a pleasing convergence of styles, and a good number of people find themselves moving by the time closing tracks 'Downfall' and 'In Your Face' roll around.
Although I've seen Children of Bodom many times previously, it's been a few years since our last encounter – they really seem to have kicked it back up a notch in terms of performance in the meantime, and the overall sound is generally strong. Can they work their way back into the Bloodstock headline echelon in the coming years? Who's to say. There have been better performances this weekend, but it's far from poor.
The badass riffery and backdrop of embalming tools signifying the return of Carcass (following an 18 year hiatus) sends the muddy revellers into raptures, as inflated condoms and American footballs navigate their way through the air to an oh-so-heavy rendition of 'If You're Happy And You Know It'. There's a brief stoppage due to a man down in the crush at the front, but this is resolved fairly quickly and amicably, before bass-man Jeff Walker drops the ball by saying hello to Sonisphere, then telling us that the next one is 'a bit like Megadeth, but a little bit heavier and a little bit better'.
At first, this seems to be tongue-in-cheek, but further digs at Megadeth ('they're not the only ones who listened to Diamond Head'), Emperor, the festival, and a refusal to cut their set short following the man down in the crowd, leaves a bitter taste in the mouth. It's intense, there's crowd-surfing and some decent pits, but a bit less complaining would have made for a more enjoyable set.
Sophie stage headliners Hellyeah are greeted by an absolutely brimming tent, and the American supergroup get straight down to business, Chad Gray hollering 'Cowboy Way' at us down his megaphone as more people try to stuff themselves into barely existent gaps in the crowd. I'm watching with Massive Wagons bassman and boozer Bowz, who's particularly fired up to see former Pantera/Damageplan stick-hitter Vinnie Paul in action.
Vinnie doesn't disappoint; in fact, he's a machine, driving the groove along spectacularly. Ironically, many a beer is spilled during 'Drink Drank Drunk', but nary a smile is shed (thanks not only to the spectacle, but also Bloodstock's lack of hugely extortionate drinks prices… take note, other fests) before the crowd get stuck in to shouting along with 'Hellyeah'. A thumping set, and a quality way to round off my Saturday before heading to the Serpent's Lair 'til kicking out time (…oh, god, I sang Beastie Boys, didn't I?).
Day 3: Sunday. It rained all night, but I don't seem to have a hangover. I'd say, on balance, that's not a bad result. Opening the main stage are Arthemis, who gather a smallish crowd. Despite the lack of numbers, some neat musicianship and a tonally meaty sound win the audience over, while front-man Fabio's cheerfully camp interactions raise a few smiles amidst glaring hangovers. It's nice to see the Verona 4-piece having so much fun, and as more people trickle into the arena the numbers swell. Good start to the final day.
On the Sophie stage, October File bring a Post-Rock influence to proceedings, entering to a long intro track featuring eerie strings and slowing everything down before exploding into life. It's certainly a different sound to the one Belgium's Aborted begin to crank out on the main stage. I opt for the latter, and step into an uncompromisingly heavy world advertising the refrain 'Raise The Dead, Kill The Living'.
Aborted's rhythm section are particularly on point, with JB Van der Wal tickling the bass along while Where's Wally nails the living hell out of his technical drum-work. It sort of makes sense to me now that Where's Wally is always hiding, he's obviously just been trying to sneak off and practice his drumming, and it seems to have paid off big-time… well, until he pulls off the hat, and reveals it's not Wally at all (it's Ben Kedene, to be exact).
The rain seems to have finally stopped mid-way through the set, and a good deal more people show up for a dose of blast-beats and breakdowns from the 'core influenced Death Metallers, witnessing a strong finish.
Following a much-needed espresso to stave off the third-day fatigue, it's time to check out the Netherlands' ReVamp, who bring Progressive and Symphonic elements together with the sumptuous vocals of Floor Jansen. Unfortunately, there are some major sound issues to contend with, resulting in several prolonged periods without vocals and a mix very nearly as muddy as the field itself. Despite these difficulties, ReVamp still manage to put in a fine performance, with a varied set-list playing brilliantly to the strengths of Jansen's operatic and harsh styles of delivery.
Again, it's a great disappointment that they suffered with technical difficulties, as otherwise this set is a perfect example of Bloodstock's diversity in encompassing the Metal spectrum.
Again, technical difficulties make an ugly appearance during Biohazard's set, and there are perhaps more techs than members of the band on stage for large portions of the set. Biohazard ease their way past this with their usual strong showmanship and a lively stage presence. A cover of Bad Religion's 'We're Only Gonna Die' pleases the Hardcore fans, before an invitation to the crowd instigates a full-scale stage invasion (either that, or the New York Crossover merchants make a snap decision to take on a few hundred more techs and stage hands). It's absolute madness, a sight to behold and one of this year's moments of festival magic. Any murmurs of discontent following the end of the set are aimed at getting the sound issues properly fixed.
Avatar take to the main stage a little earlier than anticipated, having been initially billed for the Sophie stage earlier in the day and moved, due to Graveyard's arriving late on site following flight delays. My first thought is something along the lines of 'it's a good job they had plenty of notice, those buttons must take forever to do up' as the Swedes' eccentric nautically-themed wardrobe precedes their equally eccentric stage show. It's akin to nothing we've seen this weekend, as Johannes Eckerström leers and waggles his tongue at the relatively meagre crowd.
If I'm honest, it's a little cabaret and not the best of performances musically when compared with other bands across the weekend, but some interesting guitar work and Eckerström's bouncing around like Gothenburg's answer to Noel Fielding certainly makes it all worth watching.
Over on the Sophie stage, Stormzone begin with an almost empty tent. It's a shame, as their classic Heavy Metal sound really does the trick, with frontman John Harbison delivering some outstanding clean vocals. Before too long, more people flock towards the riffs; good to see, as the Northern Irish 5-piece are getting their Rock on with great big smiles and some quality harmonisation. There's a bit of a Dio vibe that emerges, possibly from the style of vocals, and the newly expanding audience are happy enough with that. 'The Legend Carries On' might, funnily enough, carry on a bit too long in a live setting, but not long enough to detract from a thoroughly convincing performance.
The sun rudely appears from behind the cloud cover to bathe the main stage in natural light for Obituary, altering the mood of the Floridian Death Metallers' time with us somewhat. It's a well-executed mix of material, with some brand new stuff offset by the mosh-mongering styles of tried-and-tested material such as 'Back To War'. From where I'm stood, John Tardy's vocals struggle to make it through the mix – although I'm unsure whether this is due to more sound issues or just a reality of the bipolar weather, which is now a little blowy (naughty).
Either way, the congregated Death Metal fans are given a balls-out showing, and large pits to closing track 'Slowly We Rot' confirm their appreciation.
Next, I manage to catch the end of Enk Elination on the Jäger stage. Their brand of Melodic Metal is definitely one I'll be having a closer look at, with powerful lead vocals from front-woman Elena topping a mix that seems very bassy. They finish before I can get a definitive grasp on their sound though, so it's time for a beer before Amon Amarth!
[quote]Whereas most crowds will sing
the words to a song, Megadeth's
break from tradition a little bit
by singing the riffs[/quote]
The most impressive stage setup of the weekend definitely goes to Amon Amarth, who bring some stunning scenery to the party. A pair of draconic serpent-heads spew smoke onto the stage (which would have been more impressive were it not for the wind whisking it instantly away), while great gouts of flame burst forth on occasion to hammer home the Viking Metallists' riffage, beginning with the well-received 'Guardians of Asgaard'. All of this creates an atmosphere worthy of a headline set, the bands' clambering atop the great serpent heads adding yet another dimension to the Swedes' novel stage show.
Although Johan Hegg's vocals are perhaps not the best we've seen today, his reserved style of fronting is befitting of the band's image and style (and he'd most likely have been set on fire if he'd ran around a bit more, so there's that). We get a top notch drum solo from Bloodstock's most tired-looking drummer (can someone give that man that man an espresso?), before the real highlight of the set for the crowd comes in the form of 'Twilight of the Thunder Gods', delivered and received with a righteous aggression. And a giant war-hammer. What a show.
Finally, it's time for Sunday headliners Megadeth, who are late onto a stage dominated by projector screens (showing all manner of Megadeth related clips, including – rather hilariously – Wayne's World). All lateness is forgotten after opener 'Hangar 18' kicks things off to a gratifying start, before launching into a set crammed from start to finish with classic tunes. Whereas most crowds will sing the words to a song, Megadeth's break from tradition a little bit by singing the riffs.
Either way, it pleases the Californian Thrash titans immensely, and they power through riff after riff, song after song, roared on by the boisterous Bloodstockians (that's a word now, the dictionary can screw off). It's getting late on when they break out 'Public Enemy No.1' to cash in their 'crowd of the weekend medal', before a strong and unexpected finish on a cover of Thin Lizzy classic 'Cold Sweat'.
A pleasure, as always, Bloodstock \m/
(When he's not quaffing deeply of the METAL chalice, Jed Saint promotes rock/metal events. For details of his latest, see Hey Preston! here.)

Jed the Music Ed. is a Music Promoter/Booking Agent and general fixer with Rawkus Events. Jed's interests include a constant and reckless over-caffeination, irrationally spontaneous travel plans and maintaining an over-expensive (borderline hoarder) PC/retro gaming habit.